The future of grilling is...
Software and hardware
Photo credit: Cookshack
CHANGES ARE COMING.
     And they are going to be driven by the Millennials and the Hipsters.
     They're the ones who have lived a mostly digital life and they are bringing it to outdoor cooking - in a big way.
     "Those who've been involved in tech, they've applied it to cooking," said Mac Swogger, owner of Best BBQ Grills in Raleigh, N.C.
APPY COOKING
     Punch the word "grilling" into the Apple App Store and 59 results come up. Type the same thing into the Android Apps section of Google Play and you'll find "more than 1,000 results."
     Grilling is going to change over the next few years. Not necessarily the cooking, but the way things are cooked.
     The days of standing around a grill, opening the hood and manually checking a meat's temperature are coming to an end. Swogger said of those people who are willing to let go and trust in their technology, "they're going to be at a concert and they'll be able to say to their friends, 'check out my pork shoulder, it's at 145 degrees and it'll be ready when we get home.'"
     One app is already setting grillers free. iGrill is a grilling and cooking thermometer and app for Apple and Android devices. A thermometer sends data to the app via a Bluetooth connection to a smartphone. Users have the ability to set timers and temperature alarm limits, and graph the rise of grill and meat temperatures. The app also gives the user the ability to share information through Facebook or Twitter.
The iGrill is an app-enabled wireless Bluetooth meat thermometer. Featuring temperature preset, alarms and graphs, it allows you to monitor your food from up to 200 feet away via an app that can be downloaded for free from the Apple App Store and Google Play Store. Image credit: iDevices LLC

Small, electrically powered smokers are making barbecue more accessible for people living in urban areas that may have restrictions on propane. The Cookshack Smokette Elite has an electronic temperature controller and meat probe. It has the capacity to cook up to 25 pounds of meat.


Thermoworks' BlueTherm Duo is the company's new Bluetooth-enabled thermometer that gives users the ability to monitor the temperature of a grill or smoker from an iPhone, iPad or iTouch. Alarms can be set to let cooks know when food is done - or even getting close to done. It features interchangeable Type K thermocouple probes, which offer more versatility during the cooking process.

     Jesse Black, manager of public relations and social media for Thermoworks, said the reason the future belongs to gadgets and the technology that supports them is because "everyone has to have the best grill and accessories - so there's no chance of overcooking the main course. With the cost of food going up, backyard barbecuers can't afford to burn those brats, or cremate those burgers."
     Thermoworks is introducing in June the BlueTherm Duo, a thermometer that is "able to monitor the temperature of your grill or smoker from your iPhone, iPad or iTouch. Set alarms to let you know when your food is done - or even getting close to done." Black said while it will compete with the iGrill, cooks can "use interchangeable Type K thermocouple probes, which means you have a lot more versatility during the cooking process."
     Black said there is a lot of promise in apps because they can and will continue to give people the confidence and skills to cook better. "You'll be able to up your game, doing things like the pros," he said. "Celebrity chefs will build an app around their way of cooking, and you'll be able to use the same cooking process as Bobby Flay and Alton Brown."
     "If you want to look at the people doing really good networked thermometers and computerized cooking, look at BBQ Guru with their CyberQ Wi-Fi," said Joe Brown, New York editor for Wired magazine. "It allows you to create an ad hoc network to your cooker and monitor and actually adjust your flame over your Wi-finetwork."
COOKING HARDWARE
     Brown sees an exciting future in hardware.
     With populations of many urban areas projected to continue to grow into the future, they are also bringing their taste for barbecue with them. Many know the difference in North Carolina-style and Texas-style barbecue and want to be able to cook that way, even though some cities put up roadblocks. For example, Brown said it is illegal to use and transport propane on the island of Manhattan.
     "Cook Shack is the one who is really blazing trails into urban environments right now, with their electric smokers," Brown said. "You have this electric element, it's a wood fired thing, they're compact, they're computerized, they're idiot proof. Once Cook Shack or somebody figures out how to make them less expensive, it's going to be very powerful. The $200 entry point smoker is going to be super interesting."
     Brown said he thinks price will also play a role in what he sees as a trend that will continue to grow: Multiple cooking devices on suburban patios will become even more prevalent.
     He said the relatively low prices of some cooking equipment are giving outdoor cooks the ability to own more than one grill. "People have the gas grill for cooking up a piece of fish for the evening, (and) a charcoal grill for the actual barbecue," Brown said. "The prices are really incredible right now. A Weber Kettle, which is a phenomenally versatile device and arguably one of the best cookers in the history of the world, this thing is available for a hundred bucks."
     Brown foresees products limited to the "pro sphere are going to trickle down, like the BBQ Guru stuff. It's just the ability to monitor your heat and cook from a mobile device. It's just more widely spread."
SMOKE ON THE HORIZON
     The future isn't going to be as easy as picking up your phone and dialing up the perfect temperature. John Crouch, director of public affairs for the Hearth, Patio and Barbecue Association, keeps his eyes open for movements that have the potential to deliver setbacks to the industry.
     As cooking with wood comes back into favor, smoke comes onto radar screens, which raises opportunities to cause trouble, he said.
     He cited recent legislation in southern California as an example. "Outdoor wood cooking will be part of their no-burn days beginning next fall," Crouch said. He sees this as something that will stay in the West and remain as something lumped into laws that have been around that part of the country for the past 30 years: No-burn nights mainly associated with wood-burning fireplaces and a desire to improve air quality.
     "There have been fireplace no-burn nights for 30 years" and Crouch said he hasn't seen the Western laws start any kind of mark across the United States. "We'll continue to fight it. We don't think it's appropriate, and we think we have to flag it for people who think about challenges," he said.
     Brown believes differently. "In theory it is a good idea to limit cooking with wood," he said. By setting certain limits, he thinks people will treasure their wood-cooking more and it will drive demand for products because "scarcity breeds desire."
| | |
| --- | --- |
| | CyberQ Wi-Fi has a built in Wi-Fi Web server that gives outdoor cooks remote access to their meat's temperature from a mobile device or PC. It can send email alerts regarding temperatures. This control comes standard with one pit probe and three food probes. |
| Gas grills are fi nding themselves alongside charcoal cookers in many outdoor kitchens across the country because each offers certain specifi c cooking characteristics that more and more outdoor cooks are starting to appreciate and use as their cooking becomes more sophisticated. | |
| | Outdoor kitchens will continue to grow larger and more sophisticated. In some instances, they can be more functional than an indoor kitchen as outdoor cooks and entertainers can have keg tappers, countertop pizza ovens and more designed into them. |
     But his is a middle-ground view. He said moderation and good foresight are key. "I think people need to be responsible with the way they barbecue," Brown said. "You need wood to make barbecue. If every single person in the world starts burning coal or wood every day then you're back in England during the Industrial Revolution when you've got clouds of ash flying through cities."
FANNING THE FLAMES OF GROWTH
     Crouch is excited about the future of the industry. "Fundamentals that built a strong grilling business are there," he said. "What I see amongst HPBA members is more specialty retailers, the kind that can sell high-end products getting back in and renewing the category. Where they had one line, now they're taking on two or three, so that's bound to accelerate the process (of growing back to pre-recession grill shipment levels). And doing more and more complete backyards and islands."
     Mitch Slater, president and founder of Danver Stainless Outdoor Kitchens, agrees with Crouch. "Truly designed outdoor spaces are picking up speed the past four to five years," he said. "There are multiple cooking products being introduced so all people can satisfy their passion for cooking outdoors."
     Surrounding those cooking products will be ever more elaborate outdoor kitchens. "The expectation among homeowners is that they want to be able to do all of the things outdoors that they can do indoors and then some," said Russ Faulk, vice president of marketing and design for Kalamazoo Outdoor Gourmet. "They'll be looking for the outdoor dishwasher, the food-safe refrigeration, pizza ovens and grills that can cook with more than one fuel at a time, adding new dimensions to the foods they are cooking. They want these things because they want to feel as comfortable cooking outdoors as indoors."
     Pressed for a prediction on when he sees the industry bouncing past its 2007 peak of 17.5 million grills shipped, Crouch said, "We'll surpass 2007. How soon we beat '07, that's for the marketing guys."
     "We'll get there," he said, certain that the industry's future is a bright one.
Related Content By Author
Subscribe to
Casual Living eWeekly
Receive the news you need to know about the trends in the industry delivered right to your inbox.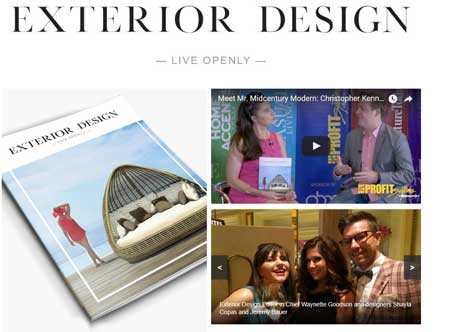 See our new publication! Exterior Design promises to showcase the best, most innovative product design across all key categories of outdoor. With a unique vision and a focus on fashion, design, luxury and style, it's a must-see magazine for forward-thinking designers and high-end retailers. See the latest issue!
September Digital Edition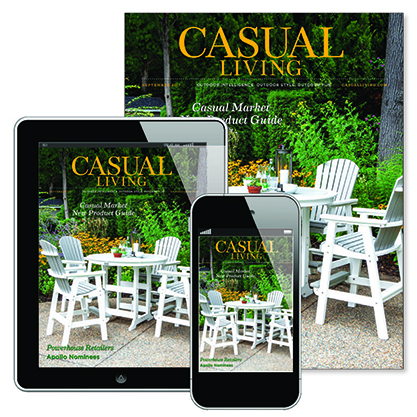 Don't miss the September digital edition of Casual Living! This month, we focus on trends—what's hot now, what's on the horizon and how they affect your business. Editor in Chief Waynette Goodson offers an overview of some of the biggest emerging trends, Features Editor Jennifer Bringle looks at the blurring line between indoor and outdoor spaces, and Assistant Editor Alex Milstein explores the influence of full-line retailers on the casual category.
Also in This Issue:
• @Market: Get a taste of some of the innovative new products making their debut at Casual Market Chicago.
• Exclusive Research: We give you a research trifecta with our annual Powerhouse Retailers, E-tailers and Full-line Furniture Store reports.
• Design 101: Designer Libby Langdon explains how fashion can inspire the outdoor room.
August Digital Edition