Peterson Principle
R.H. Peterson's American Outdoor Grill provides an example of its commitment to manufacturing high-quality products in the United States.
The Robert H. Peterson company's premium gas grills and gas fire logs oft en appear on network shows that specialize in home improvement and building. The company also offers distributors a generous co-op advertising program to help them to promote in their local markets.
     "We do national advertising, although not quite so much as companies like Nike and Coca-Cola do," said Jerry Scott , VP of sales and marketing. "This year we're going to have an advertisement in the Grammy Awards magazine. We're going to be in the NASCAR yearbook and the NFL Hall of Fame Book."
     Part of the 200-plus employee, Southern California-based manufacturer's message is its Made in the USA commitment. "There's always the temptation because of the cost savings in producing overseas, but you lose the hands-on quality inspection and assurance capability when you do that," Scott said. "Because we're making a high-end product that's very specialized, we wanted to maintain hands-on control to be sure the very best product possible is what goes out the door and is sold to the consumer." One such investment is the development of the American Outdoor Grill, which was added to provide a more economical, all-stainless steel grill produced domestically.
     Inside its 240,000-sq.-ft . facility in City of Industry, the R.H. Peterson Company combines old tried-and-true techniques with state-of-the art equipment. For instance, a computer-controlled laser machine cuts stainless steel while another sophisticated machine bends the metal and punches it. "Obviously we have an operator there to be sure the computer doesn't goof," Scott said. "As they say, to err is human, but to really foul something up requires assistance of a computer."
     Hand-painting its Real-Fyre gas logs represents another long-standing commitment. "We've looked at automating that technique, but again, when you talk about product differentiation, we believe our gas logs are so realistic that people oftenti
Real-Fyre gas logs provide realistic fl ames.
mes can't tell if you've got wood or if you've got Real-Fyre gas logs in the fireplace," Scott said.
     Founded by innovators, today's R.H. Peterson Company continues to successfully set its own course while others go in opposite directions. Many other companies began moving away from early-buy programs in 2009, but Peterson's early buys continue to be healthy and growing.
     "I know there has been some talk in the past about the fact that it's passé and it's going away, but with our customer base we've found that is not the case and we're very pleased," Scott said. "I think this country has gone through a pretty heft y recession. In the industry, we've lost some good companies and good retail stores, but I sense a growing optimism in the marketplace. We're seeing that optimism translated in more early-buy commitments."
     Such commitments allow distributors - primarily specialty hearth, patio and barbecue shops - to bring in product and have inventory when the season hits. The Peterson Company sweetens the deal with freight and discount programs that allow dealers to increase their profit margins when the product is sold.
FROM FIREPLACE TO MARKETPLACE
     Bob Peterson founded the Peterson Company in 1949, after he drew upon his metalwork experience from World War II and his familiarity with making fireplace hoods and screens.
     "The story is that he was at a restaurant owned by a friend where the focal point of the restaurant was a wood-burning fire. His friend told him one of his frustrations was that he had a wonderful staff but he could not get them to keep the fire going," Scott said. "Bob began to think about that problem and realized that the restaurant for cooking and heating ha
Current corporate leaders, from left, Leslie Bortz, president; Jon Bridgwater, executive VP; Jerry Scott, VP, and Tod M. Corrin, senior VP.
d natural gas, so he went back to his workshop and fashioned what we believe was the first modern gas log set."
     Once Peterson's invention was installed in the fireplace, his friend was delighted with the results. After customers began spreading the word, Peterson soon realized he had created a business.
     Harold Keck also was familiar with metalwork and prefab fireplaces when he developed the
Fire Magic
grill. Also working in Southern California, Keck became concerned when he would see "lovely brick enclosures for outside grills but the grills were just rotting away and falling apart," Scott said. "He thought there has got to be a market for a high-quality charcoal grill that would last as long as the brick enclosure that held it."
     With that in mind, Keck founded the
Fire Magic
Grill Company in 1937. His son Bob later came into the business and introduced gas grills into the Fire Magic line. In 1982, the Peterson Company bought the Fire Magic line from Whittier Steel, which then owned the Fire Magic fireplace and Fire Magic grill lines.
     "Peterson bought the Fire Magic grill line and brought Bob and a lot of the staff over," Scott said. "David Keck, the grandson, soon joined the company. This year we have his great-granddaughter, Bethany, working for the company as well. So we have four generations of Kecks working with Fire Magic. Bob has retired and Harold has passed away. We've got quite a history."
     Certain principles continue to be maintained as part of the Peterson culture. "One is to value our people, whether it's our staff, our suppliers or our customers," Scott said. "Our people are very important and, because of that, we try to give them the best products available. We spend a lot of money in continuing to improve our manufacturing processes."
     "It's the whole science of outdoor cooking and the fact that the grill is our priority product," Scott added. "For many of these other companies, because they do much more business in the indoor appliances, that becomes their priority. You see a lot of innovations in the Fire Magic grill with the Magic View window and the cast stainless-steel burners and the Glow Plug ignition system because that's our focus - outdoor cooking."
     Another factor that continues to shape R.H. Peterson is its two-step distribution, primarily to specialty hearth, patio and barbecue shops.
Grill islands like this one are customized to refl ect the style of the home.
     "The Peterson Company is dedicated to the specialty retailer," Scott said. "We don't go to the big-box stores for a couple of reasons. One is, although they buy in volume, they also sell at reduced margins. It's important for the independent businessman, I guess like all of us, to make a profit that allows them to stay in business. So we try to do some very good cost accounting and try to create efficiencies, so although our product is high-end, we set up programs and policies that help our entire chain of distribution be able to make a comfortable profit."
     The value of relationships formed with distributors through the years is another consideration. "These folks are the ones who keep us informed about what's going on," Scott said. "They'll give us a call and say, 'Have you guys ever considered this? Or what do you think about that?' We have a dealer council, an advisory council that we meet with two or three times a year that is a little more formal setting for getting information and feedback, but our executives do a lot of traveling to visit our customers."
     The favorable outlook that began to appear late last year through early-buy commitments is now obvious in other tangible ways. "People are refreshing their stores; they're changing out their displays and bringing them up-to-date," Scott said.
     Companies across the industry were forced to adapt in order to survive the recession and are still operating with those adaptations in place. "So those companies that made it, I think, are going to find themselves stronger in the long run," Scott said.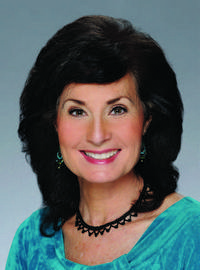 Cinde Ingram
|
Editor-in-Chief, Casual Living
cingram@casualliving.com
Related Content By Author
Subscribe to
Casual Living eWeekly
Receive the news you need to know about the trends in the industry delivered right to your inbox.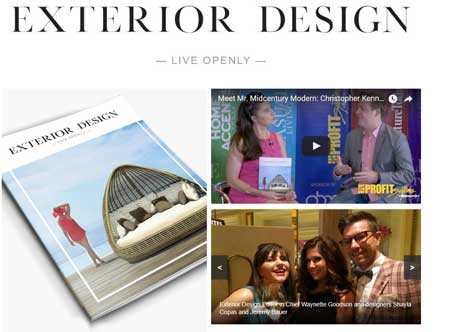 See our new publication! Exterior Design promises to showcase the best, most innovative product design across all key categories of outdoor. With a unique vision and a focus on fashion, design, luxury and style, it's a must-see magazine for forward-thinking designers and high-end retailers. See the latest issue!
September Digital Edition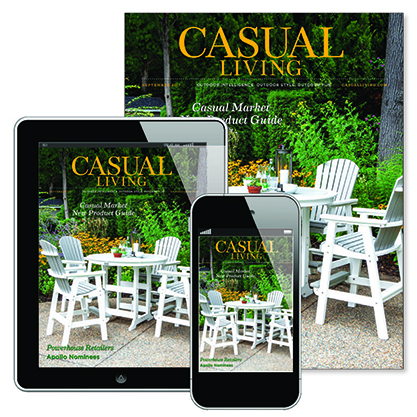 Don't miss the September digital edition of Casual Living! This month, we focus on trends—what's hot now, what's on the horizon and how they affect your business. Editor in Chief Waynette Goodson offers an overview of some of the biggest emerging trends, Features Editor Jennifer Bringle looks at the blurring line between indoor and outdoor spaces, and Assistant Editor Alex Milstein explores the influence of full-line retailers on the casual category.
Also in This Issue:
• @Market: Get a taste of some of the innovative new products making their debut at Casual Market Chicago.
• Exclusive Research: We give you a research trifecta with our annual Powerhouse Retailers, E-tailers and Full-line Furniture Store reports.
• Design 101: Designer Libby Langdon explains how fashion can inspire the outdoor room.
August Digital Edition