Rooftop retreats
Urban outdoor rooms gain attention, offer rising sales opportunities
The focus in outdoor living has long been placed on homes surrounded by rolling backyards, expansive decks or endless waterfronts. Less thought has been given to accommodating urban dwellers who are looking to eke out an oasis above the ground. But, change is in the air.
Whether a balcony, terrace or rooftop, these urban retreats are as cherished and coveted as any backyard. For some, they represent an entertaining extension to what are often limited interior spaces. As a lifestyle, these sky-high spaces are not entirely new, but the outdoor spaces are receiving a great deal of renewed attention.
"The category is becoming more popular," said Dottie Simons, general manager and buyer for Dodds & Eder of Oyster Bay, N.Y. "Our clientele previously had been more traditional with some having a second home in the city with terraces. However with exploring the middle market, we are finding there is an opportunity for sales to the younger client that lives in the city full time and is looking to dress and enjoy their outdoor spaces."
With today's economic climate, retailers are pursuing every sales opportunity and realizing the potential of urban spaces.
"Europe figured it out 20 years ago," Rebecca Cole, television personality and New York City landscape and exterior designer, said when asked if retailers were missing an opportunity. "Once the trend hits, there is a lot of turf to cover."
Furnishings that fit
Size is a fundamental consideration when furnishing rooftops, balconies or terraces. Not only are these urban sites sometimes cramped, but also the logistics may be limited by the size of a doorway, stairwell or elevator.
"Size is an issue, but there now are pieces available for whatever size rooftop or balcony," said Bruce Erickson, vice president of Williams Patio Furniture in Chicago. "From small 36-inch dining sets to complete deep seating groups, we have done it all."
Rooftop spaces require customization as most are carved out of what is left after the building's mechanical components are taken into consideration. But solutions can be found.
"Synthetic wicker does well for us as it is available in sectionals," Simons said. "We can build centers and corners on rooftops with sectional pieces. For balconies, Gloster offers a line that is well-suited due to its weight and contemporary design for maximizing seating in linear spaces."
Sectionals, recognized for their versatility of design and use, are a growing category for manufacturers.
"As styles and material options increase in line with the trend for developing roof top gardens and chic urban hideaways the (category) will certainly continue to grow stronger," said Braddan Johnson, Gloster marketing manager.
Erickson prefers cast aluminum and teak for rooftop customers. "Our buyers (in the Chicago area) are looking for weight due to the wind and feel safer when heavier pieces are chosen."
With each selection, weight is coupled with ease of care and low maintenance for the year-around exposure. For tables, narrow styles allow more space for other decorative components. When choosing table tops, the retailers point to cast aluminum or teak.
Urban customers also look to sling seating for rooftop spaces as cushions require extra care and storage. "Most urban customers do not have a place to store things," said Cole, whose clientele include celebrities and NYC businesspeople. "So, furniture that can look good all year round, even without cushions, is best."
When storage is needed, large decorative units are available that coordinate with outdoor furnishings. "Our storage units have been extremely popular with not only the backyard setting, but in more metropolitan locations also," said Rory Rehmert, vice president of sales and marketing, Pride Family Brands. "They can be used to accommodate cushions or any items that require protection from the elements."
In urban settings, minimizing environmental impact is always important.
"With the urban setting comes the need for environmental consciousness," said Greg Benson, CEO, Loll, designer of recycled material component products. Loll was selected for a downtown Chicago luxury apartment's rooftop deck high above the windy city. Environmental consciousness is being practiced throughout urban locales and this is carrying over into products requested to adorn rooftop retreats.
For rooftop styling choices, the metropolitan locale often dictates a more contemporary look. "I think the design of our products fits well with modern and contemporary construction," Benson said. "Many new green buildings are designed with a modern aesthetic."
Simons also sees contemporary styling as most requested for their customers.
"We are using simple curved furniture or furniture with a floating effect and a combination of materials such as metal and plastic and 'green' recycled component construction," Cole said. Contemporary lines can be softened through the use of accessories. "There is room for soft design for the rooftop with the use of plants, fabrics and decor items such as table settings to make it soft," she said. As far as coloration, Cole sees a trend for hot colors including citrons, bright orange and hot pinks to brighten the space against the steel and glass landscape.
Urbanscape accents
Although a retreat may be defined by furnishings alone, as with today's terrestrial outdoor rooms, accessories to enclose, equip, heat, light or pamper also are available for the urban decor. When addressing accessories, weight and size again must be considered. Due to the open-air positioning of rooftop spaces, creating division or definition can be achieved through the use of gazebos or arbors. These structures also are being adapted to provide much requested shade.
"Umbrellas can fly off and do not work for these spaces," Simons said. "We are seeing the use of pergolas with fabrics and draperies or awnings for shade."
Solution-dyed acrylic awning fabrics are designed to work with and complement casual furniture fabrics. "Coordinating fabrics allow the homeowner or designer to put together a rooftop retreat that brings together both the seating area and the shading system, whether that is a retractable or fixed awning, cabana or a pergola with draping fabric," said Jeff Jimison, vice president of sales for Shuford Mills, maker of Outdura fabrics.
The outdoor kitchen is a growing category for alfresco living and entertaining everywhere. Rooftops are no exception.
"Regardless of urban, suburban or country, kitchen products are more fully packed with features and accommodate small spaces," said Russ Faulk, vice president of marketing and product development for Kalamazoo Outdoor Gourmet. "Full luxury can be realized within as small as a 45-inch space."
Kalamazoo Outdoor Gourmet has created a complete outdoor refrigeration collection with nothing larger than a 15-inch footprint including refrigerated drawers, keg tappers and ice makers.
"As far as accessories, fire pits based on the building's requirements work nicely for the evenings," Erickson said. "O.W. Lee offers many with a contemporary or urban look."
Simons sees outdoor lighting as a good seller for rooftops. Providing lighting with a green message, National Geographic has launched a Preserve Our Planet Hybrid Lighting Collection of energy efficient outdoor lighting that works in the urban environment as it promotes energy conservation, home safety and cost-efficiency.
Other accessories that can soften, enhance and complete rooftop retreats include everything from spas to tabletop. Seeing the potential of the urban market, Tervis Tumblers has introduced a Metropolitan collection that features contemporary styling and colors.
Surfaces in the sky
Putting the rooftop retreat truly over-the-top are the latest in surface innovations that can transform concrete slabs into the beauty and pleasure of a walk in the park. For aesthetics as well as to combat the intensity of the sun on rooftops, one popular option is "water-free" synthetic grasses.
"Our Heatblock technology keeps the synthetic grass surface cool and safe for children and pets while it still has the soft feel of natural grass," said Jeff Sears, franchise developer for SynLawn.
For a more deck-like look, synthetic brick or decorative pavers are also being used on rooftops.
"VAST Permeable Composite Pavers are one-third the weight of concrete pavers, easy to install and low maintenance compared to wood," said Don Hayes, ACC Supply Co., Inc. The pavers are constructed of post-consumer recycled rubber and plastics.
Cole, the recent award-winning designer of the San Francisco Flower and Garden Show's roof garden, likes the ease of modular green panels like the Green Grid from Weston Solutions.
Elevation isn't everything
In some urban areas, a rooftop retreat does not always involve an elevator ride.
"We are seeing new construction in which the home's lawn is so limited that the owners are decorating the garage's rooftop as the outdoor gathering space," said Julie deLeon, designer for Chicago's Specialty Gardens. The firm has seen such a surge in rooftop living projects that it created a Rooftop Living Lifestyle initiative to recognize products, materials and services that "articulate a lifestyle about the energy above the city's streets."
Working closely with retailers that provide the products within RLL, deLeon is seeing tremendous growth in the trend. "Designing for rooftops has become a majority of my work," said deLeon.
Each day, ever-increasing numbers embrace urban living nationwide. A tremendous opportunity is growing for products that enhance their sometimes limited but no less enjoyed outdoor spaces.
As a category, urban outdoor décor is one with true potential for casual manufacturers and retailers. The forecast for continued growth is definitely looking up.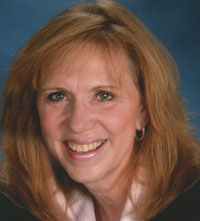 Laurie Rudd
|
Contributing Writer, Casual Living
info@laurieruddpr.com
Related Content By Author
Talking Outdoor Trends with Designers Kelli Ellis and Eddie Ross

More Videos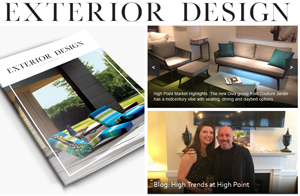 See our new publication! Exterior Design promises to showcase the best, most innovative product design across all key categories of outdoor. With a unique vision and a focus on fashion, design, luxury and style, it's a must-see magazine for forward-thinking designers and high-end retailers. See the inaugural issue!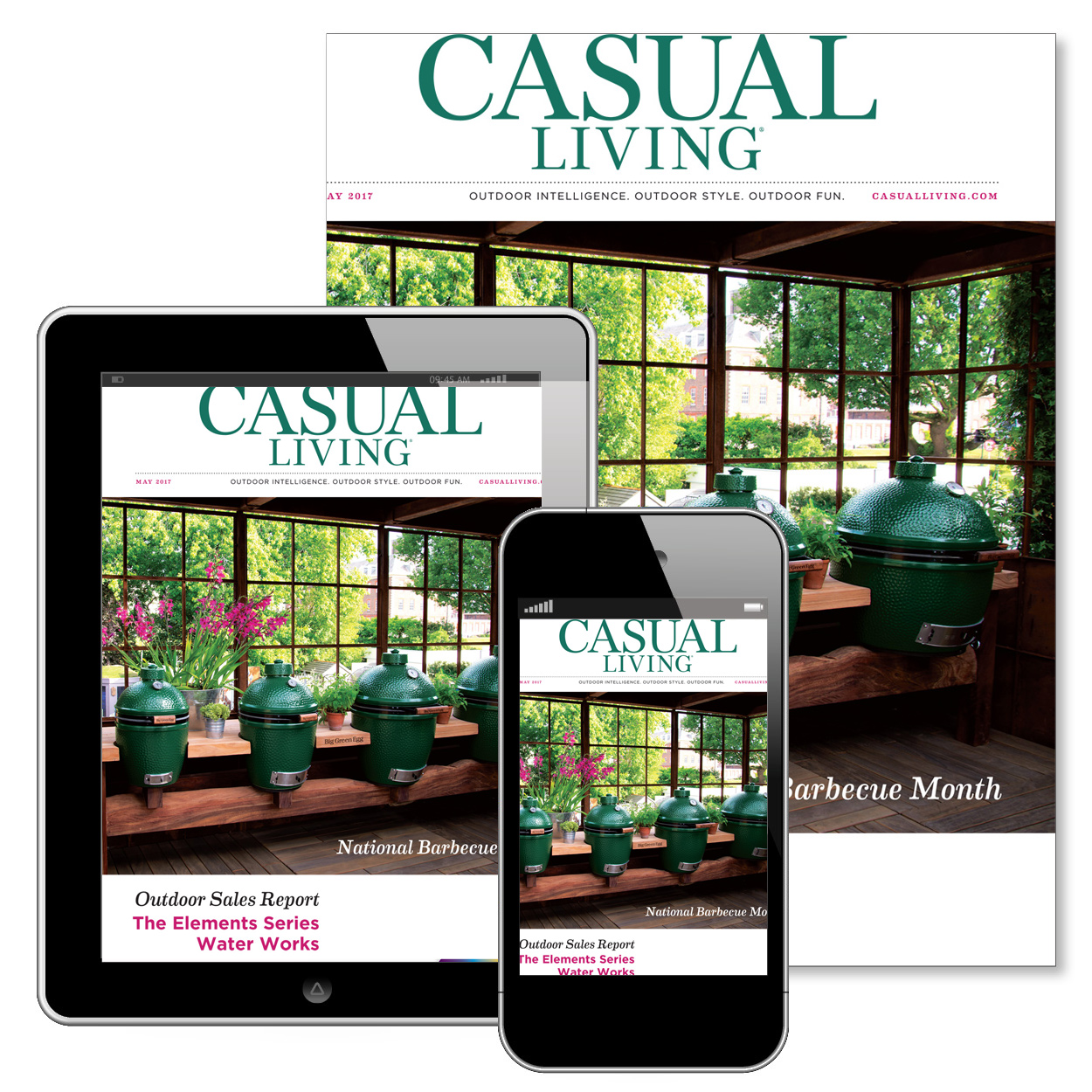 Don't miss the May digital edition of Casual Living and our third installment of the Elements series—Water. Also, contributor Laurie Rudd shares the latest in fashionable fountains and water features. And lastly, designer Libby Langdon shows how adding a little water—fountain, bubble wall or even a peel-and-stick beach scene—can up the ambiance in any showroom.
Take a moment to subscribe!
May Digital Edition