Spring into action: Tips for opening salt water pools
How To Column
Bob Harper, March 1, 2010
Stores that sell pool products soon will be full of customers who are opening their pools for the season. Giving salt water pools the right start each spring is critical, as it sets the stage for the entire summer. Retailers have the opportunity to educate customers about the right steps to take and products to use during this process.
While salt water pools have unique water chemistry and specialized equipment compared with traditional chlorine pools, the process for opening includes a few key steps that can greatly enhance the swimming season. Here are some tips to pass along to your customers:
1. Clear the cover.
Debris should be removed with a leaf net and water should be pumped away before removing the pool cover. Pool owners often make the mistake of directing that water into their pool, but it may be full of invisible organic matter that will create chlorine demand in the pool and cause the associated headaches and expense.
2. Clean and setup. Next, clean the pool and adjust the water level to about halfway up the skimmer face. All equipment should be checked, properly connected and turned on. If the filter wasn't cleaned prior to closing the pool, it should be cleaned now. For salt water pools, the electrolytic chlorine generator (ECG) should be put back in place if it was removed during closing, but it shouldn't be turned on until after salinity levels have been checked (normally the last step).
Allow the pump to run for at least 24 hours to thoroughly circulate the water. This will help clear hazy water and filter out any remaining debris.
3. Shock with chlorine. This is standard practice for traditional chlorine pools, but a relatively new recommendation for salt water pools. During the season, the ECG produces a constant amount of chlorine while the pump is running but it may not produce enough chlorine initially to overcome the demand at spring opening that is created by organic material in the pool. A chlorine shock should solve the problem.
4. Use treatment products. After the shock, salt water pools should be given a dose of treatment products to protect against scaling, staining and corrosion. Spring is the best time to add these products to keep finishes and surfaces well protected. Be sure to recommend products that have been specifically designed for salt water pools. They will hold up against extreme swings in pH, high levels of chlorine and relatively high temperatures within the ECG.
5. Test and balance. Pool owners should take a water sample from a spot in the pool that is elbow-deep and away from the return lines, and bring it into your store for testing. Now is the time to adjust key water balance factors such as pH, total alkalinity, calcium hardness and cyanuric acid. Salt water pools require one additional step – testing for salt levels. Maintaining a salt level within the recommended range given by the ECG manufacturer is critical for proper ECG function.
6. Use pure salt. If more salt is needed, be sure to recommend high quality salt for salt water pools. Many commodity salts contain naturally occurring contaminants that can hurt your pool. Organic contaminants can cause scale, cloudy water and chlorine demand in the pool. Inorganic contaminants such as manganese, copper, iron, nitrates, silicates, sulfates, calcium and metals can affect water clarity, dissolution rate, stain and scale potential, and other important water balance factors. So, salt purity really matters.
Be prepared to recommend only ultra-pure mechanically evaporated salt for pools and to reassure customers of the salt source.
When the water is balanced, and the salt levels are right, pool owners can run the ECG on its highest level of chlorine output for at least 24 hours to establish a level of free chlorine between 1 ppm and 4 ppm. Afterwards, the output can be decreased to maintain the proper chlorine level, per manufacturer instructions.
7. Ongoing maintenance. While salt water pools require less maintenance than traditional pools – because chlorine is produced continuously by the ECG rather than manually added – they aren't maintenance free. For residential pools, recommend weekly testing for pH and chlorine as well as monthly testing for total alkalinity, calcium hardness, stabilizer/cyanuric acid, metals and salinity levels to ensure they are maintained at the proper levels, according to ECG manufacturer instructions.
Related Content By Author
Subscribe to
Casual Living eWeekly
Receive the news you need to know about the trends in the industry delivered right to your inbox.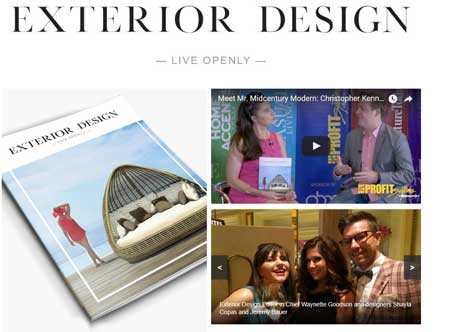 See our new publication! Exterior Design promises to showcase the best, most innovative product design across all key categories of outdoor. With a unique vision and a focus on fashion, design, luxury and style, it's a must-see magazine for forward-thinking designers and high-end retailers. See the latest issue!
September Digital Edition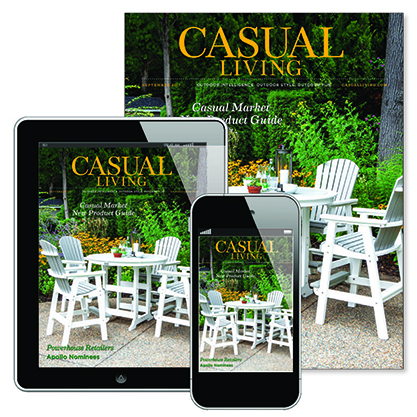 Don't miss the September digital edition of Casual Living! This month, we focus on trends—what's hot now, what's on the horizon and how they affect your business. Editor in Chief Waynette Goodson offers an overview of some of the biggest emerging trends, Features Editor Jennifer Bringle looks at the blurring line between indoor and outdoor spaces, and Assistant Editor Alex Milstein explores the influence of full-line retailers on the casual category.
Also in This Issue:
• @Market: Get a taste of some of the innovative new products making their debut at Casual Market Chicago.
• Exclusive Research: We give you a research trifecta with our annual Powerhouse Retailers, E-tailers and Full-line Furniture Store reports.
• Design 101: Designer Libby Langdon explains how fashion can inspire the outdoor room.
August Digital Edition