Jane Seymour visits Acacia Home & Garden
Retailers and designers visited with well-known actress, author and artist Jane Seymour on Sunday at the same time they reviewed the first pieces of her co-branded Garden Gates Collection.
 


Jane Seymour, center with Acacia Home's Lorraine and Alex Te and their two daughters, Katrina, left, and Roxy.
Seymour autographed copies of her new book, "Open Hearts," inside
Acacia Home & Garden
's High Point showroom, IHFC W346.
"I wanted something different and elegant that would work in the American market," Seymour said of the collection. "What I really like about it is that it is really elegant and graceful and would work indoors or outdoors, wherever you would want to use it."
Seymour said she personally likes the outdoor woven part of the group, noting the cuddle chair would accommodate her petite frame equally as well as the larger size of her husband, James Keach, who also visited the Acacia showroom during her appearance. Keach took a seat in the swivel rocker, adding his assessment to others who were describing its comfort level.
Despite his reputation as a tough critic, retailer Jerry Stroupe of Inside Out in Nashville, Tenn., ranked the swivel rocker at the top of his comfort chart.               
A modular cast and hand-wrought aluminum dining group, incorporating the same open heart design featured in Seymour's jewelry line, was on display featuring a new Vintage Gold finish that Acacia worked with Sherwin Williams to formulate.
While the finish was not shiny, "You notice a little touch of sheen," Seymour said. She pointed out that the heels she was wearing had a similar subtle glimmer.
"When it's outside in its natural light, the metallic finish picks up the high color," said Diane Christensen, Acacia's director of sales.
Acacia President Alex Te and his wife Lorraine were all smiles, saying they were excited to see the retail response to their latest branding partnership. Te had decided to debut the outdoor furniture line now rather than wait until the fall Casual Market so dealers in Florida and other Sunbelt states who place orders this month can expect delivery in early September.          
"This is just the beginning," Seymour said.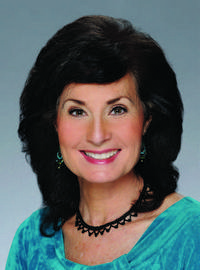 Cinde Ingram
|
Editor-in-Chief, Casual Living
cingram@casualliving.com
Related Content By Author