Winter Grilling
Sales show consumers shop for and use grills year round
When the temperatures drop, barbecue lovers turn up the heat. Year-round grilling is making business less seasonal for grill retailers and manufacturers in the United States and Canada.
     Retailer Gary Bertassi of Grillers Hall of Flame in Old Indian Orchard, Mass., has seen the fast-paced New England style of high-temperature grilling grow steadily over the 30 years he has sold grills to customers in western Massachusett s, northern Connecticut and occasionally southern New Hampshire or Vermont. He laughs as he recalls a comic from a few years ago showing someone shoveling a path in the snow from their deck to their grill. For serious grillers, such efforts are now more commonplace.
     "Cooking is a passion for people," Bertassi said. "We have a large client base that at least espouses to us that they do grill year-around. In the summer months, it's more to keep the smell or the heat out of the house. In the colder months, it's just because they enjoy the taste of barbecue."
     Across the nation at Sam's NW BBQ Co. in Tualatin, Ore., owner Sam Hays has found winter months busier than summer for his 5-year-old barbecue business. "People are coming in and they think they are an oddball, but I don't see it as a time-sensitive purchase," Hays said.
    Hays said he always keeps barbecues, barbecue equipment and grill accessories on his floor. "It keeps them coming in and it gives them an opportunity to see that next grill they would like to have down the road," he said. "With folks enjoying the bene fits of the gadgets, it encourages them to use it year-round. They've spent the money and want to get the most out of their grills." In addition to encouraging more purchases, having a full range of grill products is crucial to the success of his business.
     "Not keeping a full stock of inventory would be ridiculous," Hays said. "For five to six months out of the year, we're drenched with rain. Instead of just lazing around the house, grilling can justify spending time outside. You've still got to eat year-round, why not eat what you like? Besides, grills are going to perform better if you're using them regularly."
Staying outside to watch the grill in extreme conditions is optional with Napoleon's three-in-one Apollo Smoker Grill, which has multiple vents for temperature control and eyelets at each grill level for inserting a temperature probe.
     Napoleon Appliance Corporation is among the manufacturers that encourage dealers to keep grill products on their floors year-round and to follow its brand through by also carrying its other products. "It's important for them to have good quality product that drives the consumer back for more," National Sales Manager Ted Scott said. "Having really good grill accessories and products like barbecue sauces, cookbooks and wood chips draws the consumer back into your store. Good accessories bring in good margins."
     While winter grilling is not a new concept for
Napoleon Gourmet Grills
, it is expanding the Canadian-based manufacturer's outdoor business. "We understand the cooler temperature challenges," Scott said. "We build grills that are going to last the test of time. They get hot and stay hot. Napoleon's product is warranty guaranteed to perform and endure the nasty weather conditions. Some of the things we encourage are heavy-duty fire boxes, designed to take the cold, as well as charcoal grills and infrared technology, made to get hot fast so people don't have to stay outdoors to watch the grill through the entire cooking period."
     Richard Brooks, owner of Brooks Custom Kitchens in Westchester, N.Y., recommends that his dealers include outdoor displays. "A working demo always paints the best picture," said Brooks, who has recognized a trend in people grilling during the coldest months for the last five years or more.
Brooks Custom offers outdoor kitchen options in stainless steel and Verdicrete, an engineered concrete.
     "We find that the best way we can help our clients is by giving them the information they need to spec an outdoor kitchen/grill setup," Brooks said. "We hold classes on alternative materials used for countertops, and we stress which materials (concrete, stainless) can be used for outdoor applications, and what to expect. Once they have the knowledge behind what materials can deal with weathering, they feel more con fident selling it to customers."
     From its headquarters in City of Industry, Calif., RH Peterson manufactures products like
Fire Magic
built-in grills that enable year-round grilling because "your grill is always ready for you," VP of Sales and Marketing Jerry Scott said. "I think the concept of the outdoor room is still something that people are wanting for their homes, even if you can't enjoy it 365 days like you can here in Southern California," Jerry said. "We're seeing it - even up in Canada, the Northwest and the Eastern Seaboard - people wanting to create that backyard paradise that, when the weather permits, they have it there ready to go."
     When asked what year round grilling means for RH Peterson's business, Jerry said, "It's very positive. There was a time where our products, the gas logs and the grills, were very seasonal and you could almost draw a line as to when you would switch manufacturing from one product to the other. But today, that line is very blurred. Both with the logs, vented and vent-free, and with the grill, we're seeing an overlap and a full-year demand for the products rather than the seasonal demand that historically was traditional."
     Ron Boch, CEO and owner of The Patio Place with seven locations in Palm Desert and Fresno, Calif., said he has found customers "will not be as hesitant about grilling outdoors if they have a source of heat out there and so we have sold grills to people who have purchased fire pits from us. When you anticipate going outside and it's 35 degrees or cooler, you don't relish the idea of barbecuing but if you've got a source of heat out there, those fire pits heat up an area very quickly - almost instantaneously. We've got fire pits that go 120,000 Btus. RH Peterson bought a company called Designs by Garry and we love those fire pits; they really crank."
Sam's NW BBQ Co. keeps grills and grill accessories on its fl oor yearround.
     Last fall, RH Peterson acquired Designs by Garry, which "basically brings fireplaces, fire pits, fire tables and urns to help warm the backyard and that makes it a much more inviting place even when the weather starts to get cool," Jerry said. "People are looking at holiday recipes and rotissing the turkey for Thanksgiving and maybe putting the prime rib on the grill for New Year's. Those have become traditions. You have family involvement in preparing the holiday meal, which I think is fun as well."
     RH Peterson finds many retailers decorate their stores for the holiday season, embrace the idea of holiday cooking and have recipes available for their customers, Jerry said. That helps end-consumers "to understand that grilling is a pleasure that can go all year round."
     Ted Scott noted one of Napoleon's regional managers in Houston, where the summer months get so hot residents consider that their severe season. "We developed outdoor products designed to operate in all seasons," he said. "Most consumers would rather be outside grilling and cooking than in the kitchen. But it's more than just about grills. We're all part of the outdoor room. We have a whole line of patio heaters, torches and other products that are all bundling that outdoor room extension. It's all about filling up the shopping cart, embracing the category and pushing it. To present and demonstrate shows that you're serious. It's something that makes them a specialty retailer and something if you don't do, you're not a destination and you're not going to get repeat customers.
     "If you went out and purchased a fireplace from us in the winter, you may return at other times of the year to buy one of our other products," Ted said. "We started in the outdoor world 30 years ago, and it's really been growing since the beginning. Our original product was sold through our hearth dealers, and when we added grills and other outdoor products we didn't consider them to be seasonal."
     Bertassi said he noticed an increase in winter grilling about 10 years ago. Grill sales kept his 3,000-sq.-foot retail selling space busy last fall as temperatures dropped to freezing or slightly below freezing at night. "We can usually tell from people coming in for grill parts," he said. "In early November, we actually sold more grills than we did fireplace products."
     Looking ahead, Bertassi expressed optimism about year round grilling and grill sales. "I personally feel that when it comes to the BBQ, people are not going to pass up on that. You can look at it as being somewhat recession proof. People are going to stay more in their backyard."
     At RH Peterson, the outlook for 2013 and beyond was equally positive. "I think everyone is hoping that the economy will continue to improve, and I think it is," Jerry said. "As people begin to look at home improvement, certainly the backyard is a place to look at for expanding the idea of the outdoor kitchen to include living spaces. The fire pits and fireplaces can expand the amount of time you enjoy your backyard even in the fall and the early spring.
     "For the outdoor room industry, I think things will continue to get better," he said. "There are so many more options available today for people to take advantage of that retailers have a greater sales potential per customer than they've ever had before. They need to be sure they're a part of that as an independent retailer because so many of the box stores are very seasonal."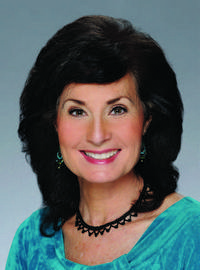 Cinde Ingram
|
Editor-in-Chief, Casual Living
cingram@casualliving.com
Related Content By Author
Introducing the Barclay Butera Collection for Castelle

More Videos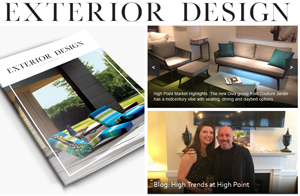 See our new publication! Exterior Design promises to showcase the best, most innovative product design across all key categories of outdoor. With a unique vision and a focus on fashion, design, luxury and style, it's a must-see magazine for forward-thinking designers and high-end retailers. See the inaugural issue!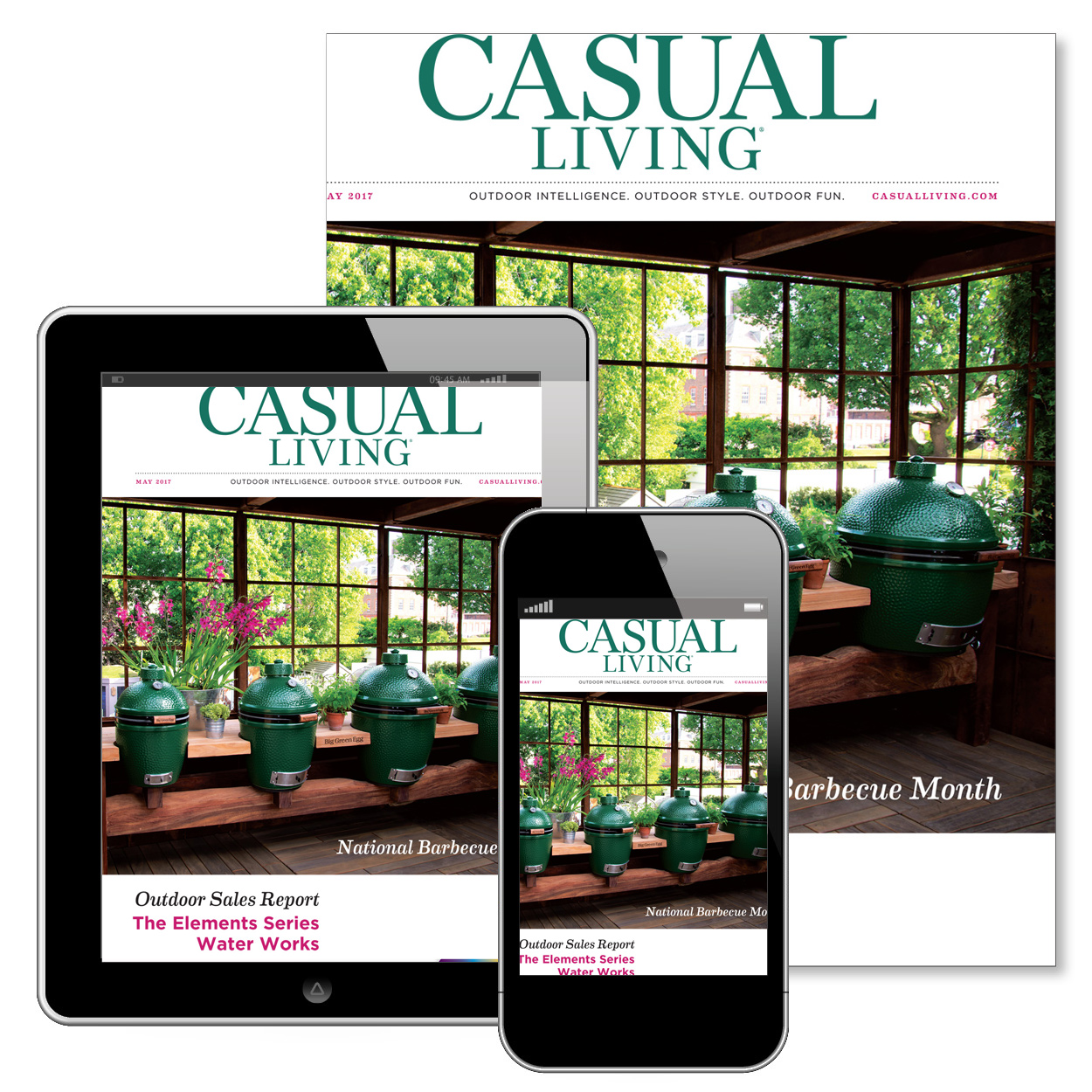 Don't miss the May digital edition of Casual Living and our third installment of the Elements series—Water. Also, contributor Laurie Rudd shares the latest in fashionable fountains and water features. And lastly, designer Libby Langdon shows how adding a little water—fountain, bubble wall or even a peel-and-stick beach scene—can up the ambiance in any showroom.
Take a moment to subscribe!
May Digital Edition