Wayfair.com
Leading the way online
Just before this story went to print, we learned the terribly sad news that Jessica Arnold has recently passed away aft er courageously fi ghting a batt le with cancer. She will be deeply missed by her colleagues at Wayfair who fondly remember her as a strong leader, mentor and cherished friend.
WAYFAIR LLC IS THE PARENT COMPANY FOR
Wayfair.com
, where approximately 2.5 million consumers go each week to browse and shop more than 5,000 home furnishings brands. Headquartered in Boston, the 10-year-old company was founded as CSN Stores by Niraj Shah and Steve Conine, Cornell University alumni and former technology consultants. Today Shah is the CEO of the company, and Conine is chairman and chief technology officer.
     Since 2002, when it launched its first site, RacksAndStands. com (media stands and storage furniture), the company has steadily added product categories, online stores, employees, office space and pro fits.
     In 2006, CSN broke $100 million in annual sales for the first time. By the end of 2011, total sales topped $500 million, up 31.6% from 2010's total sales figure of $380 million. In an interview with Furniture Today, Shah said the company is on track to surpass its 2011 sales numbers, as its expansion of both personnel and product continues.
     The year 2011 was a pivotal one for the company, as Shah and Conine combined more than 200 online specialty shops under the CSN Stores umbrella and rebranded as one destination site,
Wayfair
. com. They raised $165 million in venture capital, opened warehouses in Utah and Kentucky, and launched flash sale site Joss and Main, offering 72-hour sales of luxury home goods. Today, Wayfair is the second largest online housewares and home furnishings retailer, and the 50th largest online retailer in the United States, according to Internet Retailer.
     Steve Oblak, Wayfair vice president-category management, oversees 20-plus categories and all the buyers and merchandisers for those as well. In response to questions from Casual Living, Oblak said Wayfair added the outdoor furniture category sometime in 2006-07, soon before he joined the company in 2009.
WHERE DO YOU SEE THE CATEGORY GOING?
More consumers are thinking of the patio or deck as another room in the house. It is an extension of the dining room. We're seeing lots of interest in outdoor dining including tables and chairs, conversation sets and outdoor fireplaces.
WHAT KEY TRENDS ARE EVOLVING IN THE CATEGORY?
     We're noticing the transition from indoor-focused furniture manufacturers who are extending their product lines to include outdoor offerings because they recognize a real opportunity. There is also a blurring of the lines between indoor and outdoor so we are seeing more multipurpose furniture that can work in either environment.
     While at the
Las Vegas Market
last summer, Jessica Arnold, Wayfair's director of category management for furniture and home décor, explained the supply side of Wayfair's expanding product catalog. Arnold, a Dartmouth College grad, spent four years at Microsoft as a product manager before returning to Dartmouth's Tuck School of Business for her MBA. Upon graduating in 2010, she started with CSN Stores as a senior category manager, overseeing the residential bedroom and dining room furniture business, the company's largest category. In 2011, she was promoted to oversee nine categories that include "everything from chandeliers to bud vases to canopy beds."
HOW MANY BUYERS DID YOU BRING TO THE JULY LAS VEGAS MARKET? There are eight buyers with us. On our team, we divide within furniture and décor. We have nine categories so there's a buyer for each category and also an assistant that works on that category. Each buyer has their charge and a focus for what they're working on and looking to source. At each market, we have a lot of meetings with existing suppliers to talk about how business is going, new products they're bringing out, what they see in the market, the trends, etc. We also meet with new people we've wanted to get on board, and look for interesting and unique products.
WHAT WERE YOU LOOKING AT THIS WEEK? Primarily furniture at this market, but I also cover the accent pieces and home décor. It seems like many manufacturers are building out a high-end brand within their selection, so that's something we're keeping an eye on - how are they positioning that, where the products are being sourced from, and what are customers looking to use those products for.
Jessica Arnold, Wayfair's director of category management for furniture and home décor
WHAT WOULD MAKE YOU DECIDE TO CALL ON OR PLACE AN ORDER WITH A NEW VENDOR? Brands are important. There's a limited number that consumers are deeply engaged with, so that's a big factor - making sure we have our key brands on site. It's also about selection. Some of it is about walking through the showroom to see if you can find something no one else is doing. Maybe it's color, maybe it's technique, but that's where it helps that each buyer on my team knows their catalog so well, they can see something and know immediately if that item will sell or not.
BESIDES LAS VEGAS, WHAT OTHER MARKETS DO YOU SHOP? High Point, Dallas, New York gift , New York textile, Atlanta
HOW MUCH OF YOUR PURCHASING IS BASED ON DEMAND FROM YOUR ONLINE SHOPPERS? We have a ton of data that helps us understand our customers better and improve the experience and selection for them. We know what customers are clicking on and what they ultimately buy, what sections they browse the most on our site, which emails have the highest engagement, etc. And we can tell based on the images used in our emails if people are highly engaged with one style vs. another. Right now we're looking for more transitional, mid-price-point upholstery and more Asian-inspired décor. Next show it will likely be something else.
WHAT DOES THE WAYFAIR SHOPPER LOOK LIKE? We've been around since 2002 and obviously our shoppers change over time. Across e-commerce, women make the majority of the purchasing decisions for the home, especially in home goods, and this is consistent with what we see. However, we're gaining traction with a growing segment of young shoppers who are furnishing their first homes and apartments and are comfortable purchasing things online, big and small.
WHAT ARE SOME OF THE BIGGEST CHALLENGES TO SHOWING AND SELLING HOME FURNISHINGS ONLINE? One of our strengths is having really educated salespeople. All our customer service people are in house. We don't outsource anything, and we have around 400 customer service people in Boston and Utah to cover both time zones. We are constantly sending them information about new products and new lines, and they know they have a direct contact line to us. If they have a customer looking at a Palliser sofa, for example, we'll send fabric swatches to the customer so they can see the texture of the fabric and the differences between grades of fabric; customer service will walk them through the different cushion options if they're looking for down- fill versus foam, etc. Having salespeople who know the different quality levels of the brands helps guide consumers to what they're looking for.
WHAT MAKES YOU DIFFERENT FROM YOUR ONLINE COMPETITORS? First and foremost, selection. We have over 5 million products on our site at a variety of price points and styles. Our ability to offer customers items whether they're into modern, traditional, live in a big house, small apartment, etc., is something few other sites are able to offer. The second piece is sales, service and delivery, because we stay involved with every step of the process. When the customer calls in, we know exactly where their order is, if it's in the warehouse or on the truck, when it's going to be delivered, etc. That's a big piece of ensuring the customer experience goes smoothly.
IN 2011, WAYFAIR HIRED KRISTINE KENNEDY FROM BETTER HOMES AND GARDENS TO LEAD ITS EDITORIAL ENGAGEMENT. HOW IS THAT GOING? It's a huge focus. We've successfully launched a couple of original pieces and have about 20 or 30 more that have been written and will launch in the coming months. We created a piece on our involvement with The Ellen DeGeneres Show in which Ellen donated a house to a single mom and Wayfair furnished the entire thing. Kris and her team put together a really nice spread for each room in the house, showing the different items that were in each room, how it all came together, how the designer mixed low-end and high-end, and it really looked fantastic. That's the kind of thing we're looking to engage with consumers more - having them come to us for ideas and inspiration, not just for their home décor needs.
TODAY, WAYFAIR EMPLOYS MORE THAN 1,000 PEOPLE. IS NIRAJ (SHAH) STILL INVOLVED IN THE DAY-TODAY OPERATIONS? Yes. He's very hands-on - behind the scenes working with each manager, making sure that the right people are working on the right projects and that everything is prioritized accordingly. He's also involved in our selection and buying. He sends me new leads for products that he sees in magazines and wants us to pursue, and I'd venture to say he knows the catalog as well as any of my buyers.
WHAT WAS IT LIKE TO REBRAND FROM CSN STORES TO WAYFAIR? The transition and rebranding was a pretty big step for us and de finitely a little nerve wracking. And we raised $165 million in venture capital last year, which was also a new experience. But it's allowing us to do new things - like investing in editorial pieces and more traditional media advertising.
WAYFAIR HAS WON SEVERAL AWARDS FOR ITS QUALITY OF WORKPLACE, THE LATEST BEING A WORK-LIFE BALANCE AWARD FROM GLASSDOOR (SOCIAL JOBS/CAREER SITE). AS AN EMPLOYEE, WHAT MAKES IT SO GREAT? I think what makes Wayfair a great place to work are the tools that it provides as a technology-focused company. We're able to work remotely as needed, and each person has a lot of independence with regard to scheduling. More than anything, the Wayfair culture encourages camaraderie. Each team gets funding from the company to go out together every month for dinner, bowling or after-work drinks. You get to know your colleagues really well, which makes the team environment that we work in much more fun.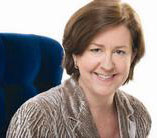 Susan Dickenson
|
Editor in Chief
sdickenson@homeaccentstoday.com
Related Content By Author
Introducing the Barclay Butera Collection for Castelle

More Videos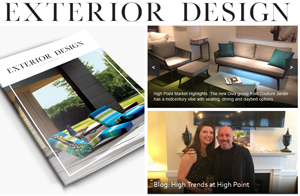 See our new publication! Exterior Design promises to showcase the best, most innovative product design across all key categories of outdoor. With a unique vision and a focus on fashion, design, luxury and style, it's a must-see magazine for forward-thinking designers and high-end retailers. See the inaugural issue!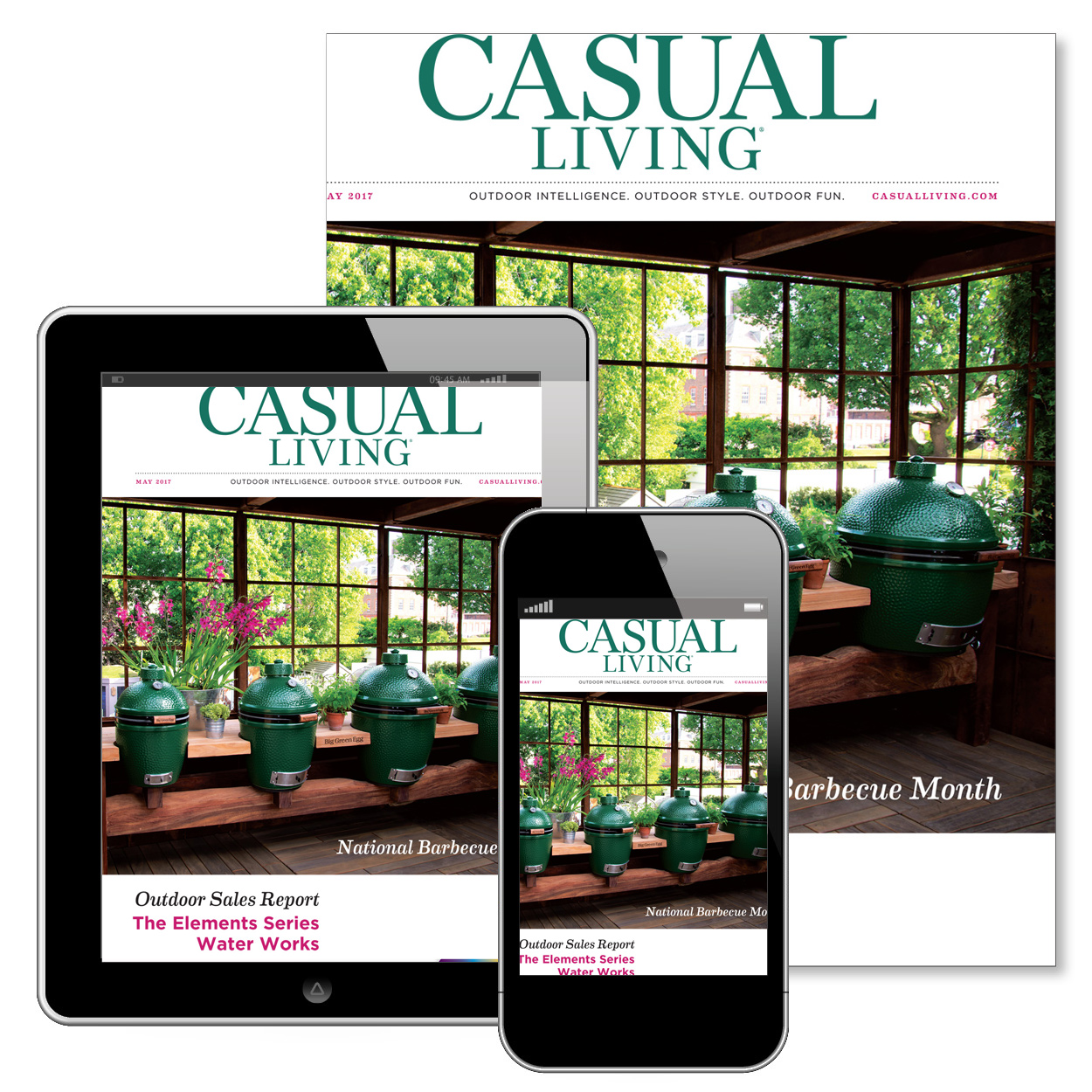 Don't miss the May digital edition of Casual Living and our third installment of the Elements series—Water. Also, contributor Laurie Rudd shares the latest in fashionable fountains and water features. And lastly, designer Libby Langdon shows how adding a little water—fountain, bubble wall or even a peel-and-stick beach scene—can up the ambiance in any showroom.
Take a moment to subscribe!
May Digital Edition