New Products for 2009
2009 New Product
The swooning U.S. economy has prompted many casual furniture manufacturers to be aggressive with their product design and development in an attempt to capture consumers' attention. Their efforts were on display Sept. 15-18 at the International Casual Furniture & Accessories Market in Chicago. 
Acacia Home and Garden
The Cabana Joe's Nyali Sofa has a transitional style, combining rattan and bamboo with an antique natural finish. Space 8-4077
Agio International
Veranda all-weather wicker pieces include multiple textures and weave designs, weather-resistant cushions with an upholstered elegance. Wicker-framed tables have elegant glass tops. Part of Agio's Reserve Collection. Showroom 1628
Part of the Everwoven all-weather wicker collection, the Saint Tropez group features handsomely textured Chestnut wicker woven by hand over durable tubular aluminum to produce its elegant features and comfort. Space 8-9080A
The Cannes Square Coffee Table is made of solid teak with a natural finish. The wood comes from harvested trees grown on Indonesian plantations that follow sustainable-yield practices. Space 7-7102
The Riviera Collection evokes the beauty of the French Riviera. Its simple design draws on the southern European style and is versatile enough to look at home in a number of outdoor environments. Space 8-7078
Stackable chairs and drop-leaf tables in the Terrace Mates Adena Set have aluminum frames and are available in light or dark resin wicker. Each set includes an OFF-THE-WALL BRELLA half umbrella and custom cast base. Space 8-8082
The contemporary Winnetka Collection, part of the new Chicago Collection, is inspired by the Art Deco architecture of the Second City. Each piece is made from natural cast stone and is available in one of 11 hand-applied patinas in addition to natural cast stone. Showroom 15-062
The Tribeca collection offers a clean and contemporary look in sling and deep seating. Extruded and cast aluminum construction makes each piece durable and perfect in an outdoor environment. Space 8-7106
Colonial Mills, Inc.
The renaissance indoor/outdoor braided-texture rug collection features 100% Sunbrella solution-dyed acrylic fabric. Each rug is manufactured with a flat-braid construction, creating a durable, reversible rug. Sunbrella's UV-resistant color pigments are blended into high performance fiber giving it strength to resist fading, water, moisture, or mildew while retaining the softness of spun cotton. Space 8-1043
This Wrought Iron Scroll rug is part of the Everhome Collection. These plush cut-pile outdoor/indoor area rugs feature 1 million points per square meter and a tonal color palette. Made with 100% heat-set Courtron polypropylene, Everhome rugs are UV stabilized, mold and mildew resistant. Space 7-9078A
Design Decor Corp.
The Ellis Bistro Set can fit on a balcony or any other small space. Chairs come with a mesh seat, making cushions optional. The wrought iron frames are hot-dip galvanized and powder coated for added rust resistance. Space 8-1048
The Portofino Bistro Set offers contemporary style in solid teak, with elements of dark brown synthetic woven fiber used for extra comfort. The tabletop features ebony-like dark wood inlays. Space 8-3016B
The treble clef shape of the Viola Modular Lounge set is inspired by the relaxing power of music. Made of powder-coated aluminum frames and high-density weather wicker, the set transitions from a three-piece ensemble to a comfortable daybed with each piece fitted together. The coffee tabletop opens up to provide storage for a cooler. Space 8-8130
The Deluxe Kid-Gymz swing set features a three-position swing, with 8-ft. wave slide and platform. Large, ½-in. bolt-through swing hangers and heavy-duty accessories with coated swing chains give the set added durability. Space 7-8065
The new Lacelle Collection allows consumers to upgrade the feet to stainless steel. The collection includes a new item for Ebel, a recliner. Showroom 15-121
Pillows in the Sanibel Outdoor Pillow Collection are made of stain-resistant, water-resistant and fade-resistant Sunbrella fabrics and feature neutral colors that offer added versatility and style. Space 7-6036
EMU USA
This wrought-iron chair by designer Patricia Urquiola blends classic and modern design elements. Made in Italy, the chairs are available in white, turquoise, green, yellow, orange and black. Space 8-4076
Erwin & Sons
Doubling as a glass-topped table, the Bahama Winds firepit/coffee table offers consumers value year-round. The propane tank is conveniently stored underneath and out of sight. Meanwhile, the 43-x-34-x-22-in. table comes in a range of furniture-matching finishes. Space 8-1114
Ferra
Ferra's rattan high table and chairs are made of rattan and aluminum materials and come in a versatile coffee tone. Space 7-7046.
FiberBuilt Umbrellas Inc.
The Aruba Umbrella features an extra large vent design for improved air flow wind redirection. This is especially useful in locations where continuous breezes and gusts can challenge or damage standard umbrellas. The canopy can be made in a variety of colors and styles from Sunbrella's marine-grade solution-dyed fabrics. Space 8-1106
Gensun Casual Living
The Seville Collection offers clean lines and comfort. The collection includes dining, bar, balcony and chat pieces, along with both deep and sectional seating. Seville also comes in 12 frame finishes and more than 200 fabric selections. Showroom 16-116
The Swivel Rocker Armchair, part of the Halifax Collection, is the first motion piece of its kind in teak furniture. It features smooth rotation and a well-balanced spring rocker mechanism. A 48" round conversation table accompanies the armchair. Showroom 1768
The Z side table from the Chris Bruning Signature Collection is made entirely from salvaged root segments cut into uniform blocks. The modern design highlights the beauty of teak with a nature-inspired light-toned honey stain and the character of textured bark.
The Ineo Armchair has the look of woven wicker but is made of a solid mineral polymer composite that makes it easier to clean. Sturdy aluminum legs are designed to make the chairs stackable and perfect for use indoors or out. Space 8-7130
Jardin de Ville
The Town & Country Collection features hand-woven wicker furnishings available as components, allowing a full range of customization in scale and style. Thick cushions and oversize accent pillows are made with weather-resistant Sunbrella fabrics and available in standard colors (white, charcoal and red) or can be customized with other colors and patterns. Showroom 1553
The Valencia Living Set, a sleek woven-teak combination, features a modern, intricately woven design that can fit with any decor. Available in bisque brown or natural weave. Space 8-6066
The Ipanema day bed features a transitional design in solid teak. Designed by Glyn Peter Machin, the Ipanema collection is distinguished by traditional curves, sweeping arches and contemporary, stainless-steel accents. Showroom 17-107
Koverton Classics
The Eclipse Dining Collection is made of tubular aluminum. The back design of the chair features prominent curved extrusions arranged on the same vertical plane. The effect of each extrusion casting a shadow over the other inspires its name. Space 8-8062
Lander Brazil
The Eden Stone Mosaic Table Top, part of the Copacabana Collection, is hand-cut and handmade of semi-precious stones. Space 8-1129
Laneventure
The Bethesda Wicker Chair from the nostalgic Palm Beach Collection was inspired by a design trip to France by Palm Beach-based designers Mimi McMakin and Brooke Huttig. The chair is hand-woven of natural rattan with elaborate latticework and a striking checkerboard design. Showroom 1544
La-Z-Boy Outdoor Select
The Kingswood Collection includes a fully woven three-position recliner that combines indoor comforts with the performance of a weather-resistant outdoor chair. Showroom 1791
Lloyd/Flanders Inc.
Dramatic, yet simple lines define the pieces in the Resort Collection. Created in Sun Loom Vinyl, this contemporary design offers luxurious seating comfort and rugged durability. Showroom 1650
The patented firetower design of the LoFerno provides more warmth from the same amount of wood and an exciting visual display of flames. The firetower section sits freely inside the firebowl and can be easily removed with the handles at the top. The firetower is designed to hold wood upright, providing a cleaner burn and radiating more heat. The firebowl and firetower of the LoFerno are made of ¼-inch solid steel plates for maximum durability. Space 7-8083
The Casbah Club Chair features woven resin on an all-aluminum frame. The removable canopy has lotus finials and curtain ties. The chair offers comfortable seating with PVC strapping and polyester fiber cushions. Showroom 1766
The Monte Carlo Lounge Chair and Ottoman features a curved slat-back design with shaped arms and tapered legs. Finished in REVE Mocha, Cinnamon or White, Monte Carlo is a timeless look in Brazilian Cherry (Jatoba wood). Space 8-7046.
Old Hickory Furniture Company
The historic No.67 Grove Park Rocker, first introduced in 1910, was featured along the verandas of the Grove Park Inn in Asheville, N.C. Here, it has been updated with a new synthetic DuraWeave. Space 7-8062
The Firenze Lounging Collection consists of deep seating cast aluminum pieces that are generously proportioned and upholstered. The collection includes armchair, loveseat, sofa, swivel rocker, ottoman and overstuffed 8" cushions offering luxurious comfort. Showroom 1789
O.W. Lee Co.
This chair is part of the wrought iron Silana Collection of deep seating, side tables, stools and dining furnishings. The durable Venetian scroll design features a sturdy mesh foundation and a contoured back for lasting comfort. Showroom 1786
The historic design of the Franklin Rocking Chair is combined with modern styling to generate an heirloom-quality piece. A relaxed angle to the back and a long rocker foot provide a smooth, comfortable ride. Durable shorea hard wood and tenon joinery ensure it will last for years. Space 8-7098
Palm Springs Rattan & Garden Classics
The Island Way Collection features a high back design and generous rattan arm. The full collection of seating, dining, bar, buffet, plasma TV stand and etageres make the ultimate statement. More than 100 fabrics are available. Space 8-2004
All-weather hand-woven PVC wicker shades highlight the Tahiti collection of weatherproof lamps. Resin construction with heavy-weighted bases and two-level dimming switches ensure these lamps will enhance any outdoor living area. Unbreakable polycarbonate light bulb enclosure allows use of standard 100-watt light bulb. Floor lamps are 60" tall and table lamps are 34" tall. Space 7-6054
Patio Renaissance by Sunlord Leisure Products
The Venice Lounge Chair is made from industrial-grade, powder-coated aluminum and features hand-painted details for the look of wood. Clear coated to protect against wear and tear, the chairs are available in two wood finishes – Bark and Teak. Each chair comes with a 15-year structural warranty and five-year finish warranty. Space 8-3062B
The Long Island Adirondack Chair, made from the company's high-performance and low-maintenance recycled material, features a curved back, wide seat and paddle arms for maximum comfort. It comes in six vibrant colors and six standard shades. Space 8-1086
The Jakarta Collection presents a formal look thanks to intricately cast legs and tailored cushioning. Each piece is fashioned from durable woven aluminum. Showroom 1754
Protégé Casual
The Tenerife Collection offers sophisticated design and value with its transitional circles and binding. The cast/tubular combination is a full collection with unique and comprehensive tables to complete a design and comfort-oriented theme. Space 8-6120
Rock Wood Casual Furniture
The Totem Round Lounge Chair and Ottoman, designed by Kirsten White, includes a completely woven interior. Available in two exclusive woven colors: Silky White and Antique Bronze. Showroom 1760
The Rug Market
Rugs in the Outdoor+Indoor Collection are tested to the highest standards for colorfastness, flammability and anti-bacterial resistance. They are also warranted for wear performance and guaranteed to withstand varying weather conditions. Outdoor+Indoor rugs include the nylon Terraza Collection. Space 7-7052
SCHOU USA
The Norway Collection balances the clean lines and durability of powder-coated aluminum with the intricate craftsmanship of a teak tabletop. The collection features multiple table sizes and chaise lounge plus stacking and folding aluminum and textilene chairs. Space 8-8030
Sealaska Natural Living
The Aura Dining Table, part of the Natural Elements collection by Tramontina, combines rich 100% FSC certified Cumaru and delicately curved accents. Space 7 – 7054
The Atmosphere Pendant is made of an inner outdoor fabric shade and UV-resistant resin wicker woven around a wire frame. It comes standard with an outdoor plug-in power cord, but can easily be hard wired. The hardwire canopy kit is included. Space 8-7086
The new Nevada dining set in Java Brown is made of woven synthetic fibers that are chemical and UV resistant and all-weather proof. The high-tensile-strength furniture is safe for the environment and 100% recyclable. Pacific Cube and Hudson seating collections also debut to the casual industry. Space 8-2030
Pasadena is a collection of synthetic wicker and aluminum outdoor furniture available in a mocha brown finish. Showroom 1785
Sun Garden
The Curve Easy Sun combines a patented design that is easy to operate with a new canopy design in a 13-ft. parasol. Space 8-7120
The Fusion Sling Aluminum extrusion chair offers supreme height sling with lumbar and knee support. Available in hundreds of fabric and sling combinations. Available domestically or by container. Space 17-105
The Momentum Deep Seating Cushion Collection features clean contemporary lines, wide comfortable arms and extra deep plush cushions. It includes an attractive and comfortable hidden motion system. Showroom 1776
The Milano Collection features contemporary pieces with stainless steel frames and woven resin. The chaise bed and other pieces are designed by Christopher Panichella. Space 8-4083
Tommy Bahama Home
This adjustable chaise lounge chair is made from all-weather wicker that requires little to no maintenance. Showroom 1625
The AKZ13 offers 133 square feet of shade coverage, perfect for applications where more shade is desired. It features an easy-to-use crank lift, 360° rotating hub and a patented tilt lever for multiple tilt positions up to 54°. Available in many fabrics with a bronze frame color. Showroom 1655
Tropitone Furniture
The Windsor Collection has a frame of simple, curved lines accented with dramatic, sweeping angles. Designer Frederic Doughty drew inspiration from the wrought-iron railings of staircases in Brownstone-style homes on the East Coast. Showroom 1780
The Crescent Lounge is flanked by four crescent shaped ottomans and features more than 100 square feet of plush cushions, throw pillows, sheer drapery and full open air shade coverage. Constructed of Armor-Wall-Aluminum framework, stainless steel hardware and marine-grade components, the Crescent Lounge can withstand any outdoor environment. Space 8-7034
The New Caledonia solid granite coffee table is 44" x 24" and available in 15 colors. Space 8-1085
The Wave Runner Lounge Rocker, shown in a honey finished HDPE faux wicker design over a powder-coated aluminum frame, is virtually maintenance-free and comes with an optional headrest pillow. It is generously proportioned at 25 x 79 x 41 in. Showroom 1626
Whittier Wood Furniture
The Hudson Adirondack chair offers a contemporary spin on an outdoor classic. Designed with sustainable yellow balau hardwood, the chair weathers to a neutral gray. Available as a set with the Newport Side Table. Space 8-1065
Terrace is a new wrought iron collection inspired by a traditional garden-style look and feel. It includes dining and deep seating and is also available in a sling dining option. Each piece is made entirely of solid iron stock. Showroom 1534
Related Content By Author
Subscribe to
Casual Living eWeekly
Receive the news you need to know about the trends in the industry delivered right to your inbox.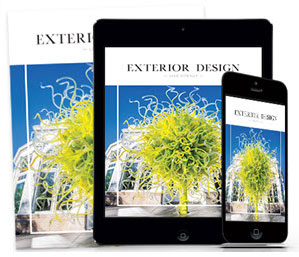 A new season means a fresh look at outdoor luxury in the fall issue of Exterior Design. From the Hollywood Hills to the penthouses of New York, we explore the most opulent outdoor spaces, products and designs. The Fifth Room has arrived in high style, and you don't want to miss it! See the latest issue!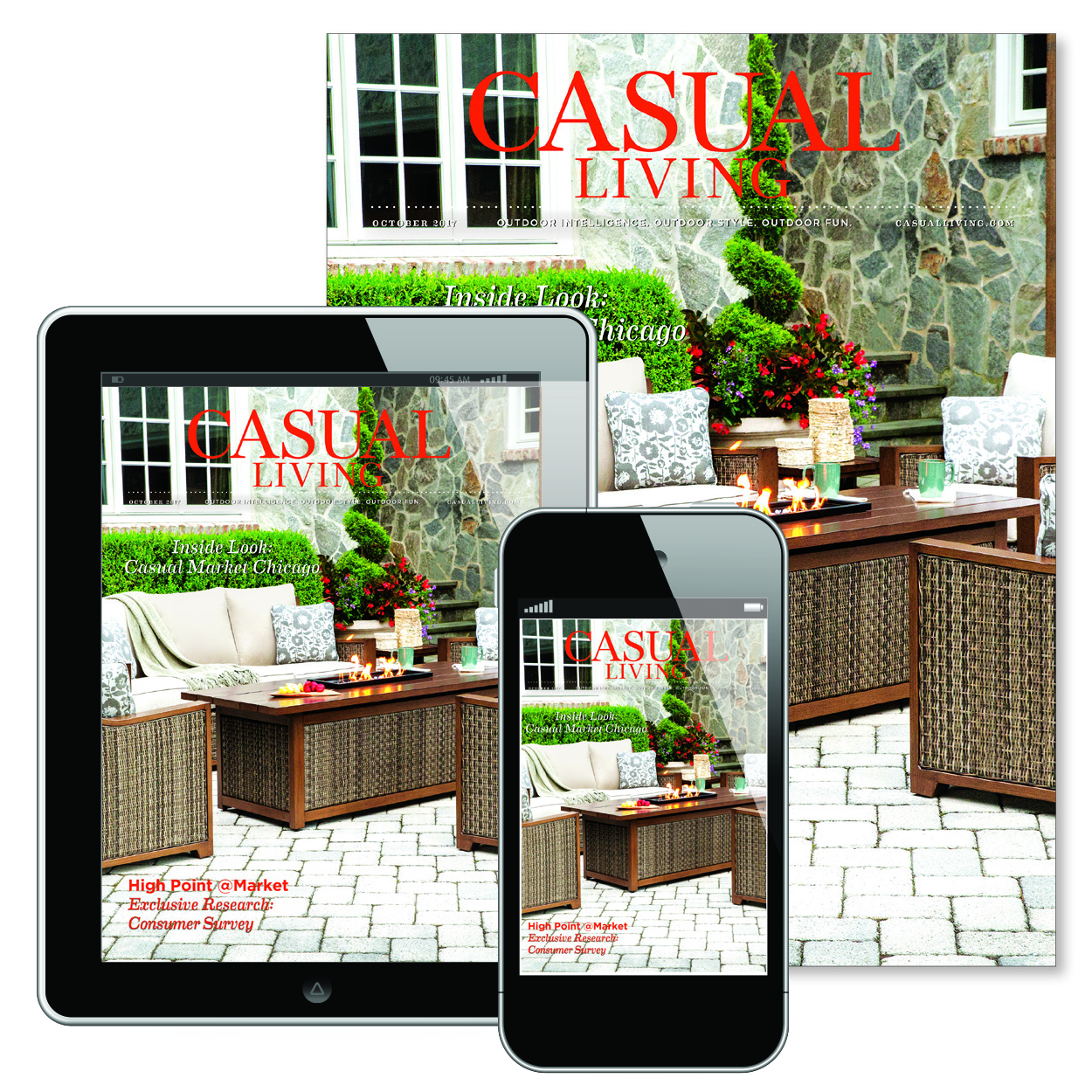 Don't miss the October digital edition of Casual Living! In this month's Market Issue, we'll bring you all the highlights of Casual Market Chicago, from innovative new products and hot trends to this year's award winners and a taste of the party scene. Plus, you'll get a sneak peek of all the product debuts at High Point Market.
In this issue:
Consumer Survey: Did you know three out of four consumers read online reviews before purchasing outdoor furniture? That's just one of the shopping insights shared in our exclusive report on consumer buying habits.
Designer Viewpoint: A North Carolina designer creates an outdoor space for a modern-day Brady Bunch. • Barbecue Lifestyle: Our grill guy gives tips on extending the season through the holidays.
Focus On: Patterns punch up the style quotient of outdoor accessories.
October Digital Edition