Position to stand out and stay strong
Retail Rescue, part 3
Brad Lloyd, February 4, 2010
With your company/product name established, it is time to tackle another wordy task: Creating a Unique Selling Proposition (USP).
 
When a customer says, "50 other companies sell the same products and services as you do. Why should I do business with you rather than one of your competitors?" your USP gives the answer.

Every product, business or service needs a positioning statement that makes it stand out from the competition. It is up to you to discover this element of uniqueness. If you can successfully differentiate yourself, your business and products from your competition, the road is clear to a flood of prospective buyers and a tidal wave of profits. 
Steps to USP success
While most business owners understand they need a USP, they just do not know how to develop one. It is a shame because the process is fairly simple, although you will have to put on your creative "thinking cap." The following four-step approach should help you create an effective USP without too much mental wear and tear: 
Step 1 – Get to know your competitors' USP
Seek out potential competitors online, in the phone book and in newspaper/magazine ads. Select three to 10 businesses that are doing well and try to determine their USP. Some will not have a clear USP, of course. If they don't, try to identify the features or services that they stress in their messages.

Now comes the tricky part: Look for the gap in their products or services that you can bridge. What area of the market is not being serviced where you can make your mark?

Believe it or not, you may be able to sit down with a competitor and talk. You need to always be thinking of new ways to get information about your competitors.
Step 2 – Get to know yourself
Sit down and brainstorm with your staff, family and friends about elements that should be included in your USP. Don't judge the ideas, just write them down. Stimulate discussion with questions like:
* What do we do better than our competition?
* What have our customers said about us?
* What praise do we often get from our customers?
* What endorsements from celebrities or well-known organizations do we have or could we get?
* How does our business model differ from our competition? 
* What market category or niche is not being served by our industry?
It is helpful at this stage to interview and survey your current and past customers. Ask them why they bought from you rather than your competition. What are they looking for in a provider of your product or service? What is important to them when making a buying decision? What feature or benefits do they value most or would like to see added to your product or service?
Step 3 – Record your ideas
Write down the key points of your USP concept. Focus on the benefits to your customer. Develop a list of five to 10 possible positioning statements.
 
Once you've created some concepts, show this list to your staff, friends and current customers. Get their input and use suggestions and comments to narrow your USP concept down to a single main differentiating concept. Less is sometimes more.
Once you have settled on the unique and compelling feature of your product or business, begin to distill it down to one paragraph that clearly communicates and sums up why your customers should buy from you. This paragraph can be used on your Web site and in your marketing materials where you have more room to explain the unique benefits you bring to your customers. 
Step 4 – Integrate your USP into everything you do  
Once you have carefully constructed your powerful positioning statement, put it on your letterhead, business card, answering machine message, Web site and in all advertising and marketing. Every time you talk to your customers, employees or suppliers, you should mention your USP.
Proven USP categories to emulate
As varied as positioning statements may be in tone and content, they generally fall into one of 10 main categories:

1. Low Price
Guaranteeing the lowest price has been used as a USP for many merchants. However, cutting profit margins too deeply is rarely healthy for a business or product. So unfortunately many who have chosen low price for a USP are no longer in business.  The philosophy is low margins, but high volume. 

If your business is small, however, you run the risk of setting off a price war.  Larger players in your market who, due to economies of scale, can afford to match or beat your prices short term can easily force you out of the market long term. So think twice before focusing on price.
Wal-Mart: Always Low Prices. Always.
Kmart: Where Smart Shoppers Shop.
2. High Quality
The quality USP is based on a high margin, lower volume philosophy. This USP is often found hand-in-hand with other USPs such as Superior Service and Strongest Guarantee.
 
One brand that immediately comes to mind when you think about quality is the international watch leader Rolex. Rolex also has a short USP statement that communicates volumes.
Rolex – Quality Takes Time
Haverty's—Furniture built for life
3. Superior Service
Customer service is a wonderful way to add value as well as develop long-term loyalty so superior service is an excellent USP. What I am talking about here is the "above and beyond" type of customer service. To surpass the competition, you must go beyond simply satisfying customers. You have to amaze them.
A good example is the Web-based business Rackspace Managed Hosting. Rackspace sums up its USP statement in two words. Rackspace – Fanatical Support
4. Size/Selection
Providing the largest selection of items can be a powerfully effective USP. 
The classic example of this is Amazon.com. For years Amazon's USP was: Earth's Biggest Bookstore & much more Now! Even though they were not the first and today they have intense competition from both online and brick-and-mortar bookstores such as Barnes and Noble, Borders and B. Dalton, Amazon.com still leads the pack in online bookselling because they clearly differentiated themselves early on by being the biggest.
 
5. Convenience
By removing as many obstacles to ordering, receiving or using your product or service as possible, you are placing the customers' convenience at the center of your business model. The convenience USP is based on centering your business on your customers' needs.  

A good example of the convenience USP is Schwan's, a purveyor of frozen foods. Schwan's USP statement sums up their commitment to customer ease and convenience. Schwan's – Shopping should be easy. Cooking should be fun
6. Knowledgeable advice, recognized authority
This type of USP communicates the idea, "I am the top in my field. You can trust my knowledge and experience." It works well for professionals and other skill-or service-based organizations.

You have probably seen the wild infomercials for Mathew Lesko's book, "Government Grants and Giveaways." His USP statement makes his claim to be the leading expert.
7. Custom/Most Options
Personalized is a powerful option in a mass market world. That makes the offer of more options and custom-building to individual specifications powerfully alluring in a USP.

One company that made a name for itself by using customization is Ping Golf Clubs. Ping's USP statement reflects its commitment to custom fitting their products to their customers' needs. Ping – "The leaders in custom fit, custom built golf clubs"
8. Speed
The speed at which your product or service is delivered can be a powerful USP in today's fast-paced world. Offering overnight or second-day shipping as your standard service can give you a strong competitive advantage.
 
Federal Express changed the shipping world when it began guaranteeing overnight delivery of packages in this powerful USP: FedEx – "When It Absolutely Has To Be There Overnight"
9. New and Unique
Sometimes your product is so new and unique that the product itself is the USP. Being the original or first mover in the market is a USP nobody can duplicate. An online example of this is OilOnline.com. OilOnline.com – "The Original Online Source for the Oil Industry"

Inevitably, a competitor will emerge with a knock-off or copy of your product, but until then you can promote the newness and uniqueness of your product as the USP. 
Do not become too attached.
When the competition heats up, you can switch your USP so that it positions your business as the first or original one of its kind.  
10. Strongest Guarantee
A clear, strong guarantee turns what is assumed into what is assured. Your goal is to make your guarantee so strong that it makes what your competition offers seem stingy by comparison.

Craftsman Tools is a prime example of this USP category. Like all carefully crafted USP's, the Craftsman statement leaves no doubt what their main advantage is. Craftsman Tools – "Hand tools so tough, they're guaranteed forever"
The 'U' is for ubiquitous
Once you have determined your USP, it becomes of paramount importance this message is communicated in all of your advertising and marketing. 

* If you run media ads, your USP can be illustrated in the headline and in your ad copy.
* If you do telemarketing, then the telemarketers or your salespeople can communicate it.
* If you have salespeople, your USP must be in their sales presentation.
 
The same headlines can be used in radio ads, television commercials and magazine display advertisements.
Once is not enough
You may find it valuable to have more than one USP. This would depend upon the markets that you go after or the mix of products you carry. For example, if you offer casual furniture in the summer and fireplace or Christmas in the winter. Sizzling Summer Sales — It's Time to Cash-In!
Watch out for words
Beware of positioning statements that may express double meanings. In the example above, using the words "cash in" with seniors could sound like you're talking about death.

After you have collected as much information as you can gather, it's time to ask yourself:
* What can you offer that your competitors don't?
* What can your business do now that fills a void or offers something no one else in your industry offers?
* What are the reasons people do business with you?
USP Think Tank
Selection, price, guarantee ... these can all be part of your USP and your extended "brand identity." Create a benefit-rich positioning statement that zeroes in on a key need of your target market. These may include a USP based on size/selection, your guarantee, service, pricing or discounts.
Every successful USP has three characteristics:
1. The appearance of uniqueness. The feature you decide to promote in your USP does not have to be unique to your product, but it has to seem like it is.
2. Usefulness. The appearance of uniqueness is not enough. If the distinguishing feature of the product is not desirable, no one will want it. In deciding on your product's USP, it is better to select some feature that isn't entirely original and make it seem unique than it is to select a feature that is unique but useless.
3. Conceptual simplicity. It's good to remember that you have to sell the USP -- and nothing sells that is difficult to explain.
What about your USP?
Is it unique, useful and simple?
Does it clearly define what sets you apart from your competition?
Can you prove it to your customers and prospects?
Brad Lloyd, owner of Brad Lloyd & Co. Ltd., has more than 20 years of experience as a retailer and sales representative for some of the top manufacturers in the casual furnishings industry.
Related Content By Author
Casual Friday: Furnitureland South's expanding outdoor showroom

More Videos
Subscribe to
Casual Living eWeekly
Receive the news you need to know about the trends in the industry delivered right to your inbox.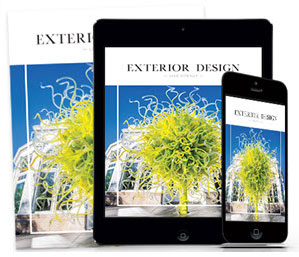 A new season means a fresh look at outdoor luxury in the fall issue of Exterior Design. From the Hollywood Hills to the penthouses of New York, we explore the most opulent outdoor spaces, products and designs. The Fifth Room has arrived in high style, and you don't want to miss it! See the latest issue!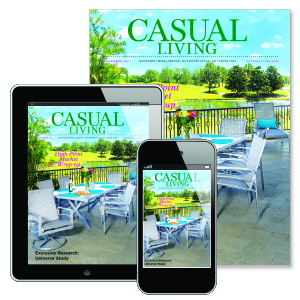 Don't miss the November digital edition of Casual Living! In this month's issue, we look to the future of retail with a spotlight on technology. Assistant Editor Alex Milstein breaks down the basics of artificial intelligence (AI) and augmented reality (AR) and how they're changing the furniture shopping experience. We also explain how building engagement on social media channels can boost business for retailers.
Universe Study
You've waited two years, and it's finally here! Casual Living's biennial Universe Study offers a comprehensive snapshot of the outdoor category, highlighting its growth across all segments from furnishings to shade to grills.
Also in This Issue:
• Designer Viewpoint: A Beverly Hills backyard gets a glam makeover, thanks to renowned designer Christopher Grubb.
• Market Report: Our editors give you the inside scoop on all the new outdoor introductions at the High Point Market. Can you say Cobonpue?
• Casual Insights: Kathy Wall of The Media Matters offers insight on refreshing your brand.
November Digital Edition