Barbecue Buying Bust
Listen and demo to satisfy consumers' requests
Getting the right grill is especially critical when it is to be built into an outdoor kitchen. Since there are no width and depth standards, replacing an unsatisfactory grill could result in significant remodel expenses.
David Bakke is an avid outdoor cook from Norcross, Ga., who was recentlyin the market for a grill. Hedidn't know the shopping experiencewould leave his wallet$1,000 lighter than anticipated,resenting his salesperson andthe barbecue he bought.
     An editor at Money Crashers,a website that strives toeducate individuals in makingwise personal finance choices,Bakke advises people how toget the most value for theirmoney. In the market for anew grill, he did his researchbut also put his trust into asalesperson he perceived to bean expert that would steer himtoward the right grill.
     "I was looking for a bettergrill, and I had my brand namechoices down," Bakke said inan email interview. "I was lookingfor help from the sales repbecause although I love to grill,I'm not an expert, especiallysince features and accessoriesseemed to get added all thetime."
     The biggest mistake in theprocess came after he told thesalesperson the two brandshe had in mind. "As soon ashe heard that, it seemed likehe was determined to sell me[the more expensive grill]. Iconsider myself to be a professionalgriller, but I also havea budget to deal with," Bakkesaid. "I definitely felt pressured,but after he told me of all theadded features and benefits, Ieventually took the bait. I spentabout $1,000 more than I hadplanned."
"Have a test-drive grill at the store that people can cook on. Someone having the ability to try the grill out first increases the likelihood they'll have a better understanding of how it works and they'll have a better understanding of whether or not they'll like it," said Don Sivesind, vice president of sales for Kalamazoo Outdoor Gourmet.
     Retailers typically haveonly customer service to setthemselves apart from thecompetition. When that part ofthe business breaks down, theylose a major advantage. Accordingto the National RetailFederation Foundation andKPMG LLP's Retail Horizons:Benchmarks for 2011, Forecastsfor 2012 report, nearly 67% ofcompanies surveyed rankedcustomer satisfaction as thetop strategic initiative for 2012.Similarly, 82% said customerservice strategies would betheir top priority in the comingyear, up from 75% the prioryear.
     "Clearly the retailers whomaster the one-to-one customerapproach will be in a muchstronger position to gain walletshare," Mark Larson, KPMG's global head of retail, said in a statement.
Stop, Shut Up and Ask Questions
     "I have four words" for[Bakke's] situation: 'Listento the customer,'" said BruceBjorkman, director of sales andmarketing for MAK Grills, ashe put the onus of the bad situationon the salesperson.
     Bakke agreed that the salespersonshould have listenedbetter. "He seemed more intenton convincing me to buy thegrill that he wanted me to buy- and presumably with a muchhigher commission for himself- than letting me explain myspecific wants and needs andthen making the best choice."
From the 20-lb. pellet hopper to the Warmer/ Smoker box, MAK Grills' 2 Star General is loaded with features. Imagine being able to cold-smoke gourmet cheeses, nuts or meats as well as easily grill the most satisfying steak you've ever had, bake, roast or smoke.
     Giving the right kind ofservice is a serious situation.More than 14 million grillswere shipped in 2012, accordingthe Hearth, Patio & BarbecueAssociation. That figurealso represents the number oftimes salespeople can gain acustomer and ongoing businessor lose one and take a reputationhit.
     "Salespeople tend to fallright into the sell mode and don't bother asking questions ,"Bjorkman said. "I'm thatsame way. I constantly have toremind myself to stop, shut upand ask questions. That's theonly way you're going to be ableto discover what that customerwants and needs."
     "The first thing I ask themis: What do you cook on presently?Because I want to getan idea of what their realm ofexperience is, what they are cooking on now," Bjork man said. "So that as I am explaininghow my grill operates I canrefer that information to whatthey are familiar with and providecomparisons between mygrill and their present grill."
     Outdoor cooking is takingon increased complexity aspeople become more and moreinformed about food. Goneare the days of selling a grill merely by being able to recite each grill's features and benefits as if saying by rote a Hail Mary after confession.
     Bjorkman said his sales questions range from asking customers what they typically cook when using their presentgrill to what they want to cookon a new grill and why. "You'vegot to take a series of questionsto uncover experience level, thedesire that customer's got," hesaid. "That's going to be able tohelp you focus your presentationas to what product you'vegot that will help meet thatdesire and need and want."
"Show them something new that they've never encountered before that may meet their needs. And by doing that you open up a whole new realm because we all love to discover new products and new things," said Bruce Bjorkman of MAK Grills.
     "It's not a difficult thing ,"said Bjorkman. "These aresimple, easy, basic questions,but if you listen to what thatcustomer is going to tell you,the more the customer talksthe more they're going to tellyou what it's going to take tosell them a grill."
     Don Sieving, vice president of sales for
Kalamazoo
OutdoorGourmet, recommendsbacking up the questions evenfurther. "You have to gaugetheir cooking level before youget started showing themgrills," he said. "How much ofa foodie are they? How muchdo they cook indoors? Let'ssay you have someone who isa big time indoor cooker andthey are starting their outdoor experience, well, there's a good chance they're gonna become pretty serious grillers. So I might be talking to themabout bigger, better grills than Iwould someone who's cookingoutdoors once every three orfour weeks."
     Pete Dines, owner of Homeand Hearth Outfitters in Denver,sees those foodies in hisstore, he said. "They're interestedin the different cookingtechniques. They know aboutnatural charcoal. They knowabout pellet grills. Six years agothey didn't," he said. "It's beengreat having the customersget into food. Now they needsomething we have."
He cautions against irrationalexuberance when selling,though. Dines believes inbalancing excitement with beingas factual as possible. Makesure customers understandwhat the grill can and can'tdo or you're out there at theirhouse explaining it, he said.
     "You don't want them comingback at you, Dines said. "It'sa miserable experience andyou're not making any moneydoing that."
LIGHT THE FIRE
      One way of managing consumerexpectations and generatingexcitement for grills is to have demonstration, or "liveburn"models that customers can cook on. Giving customersthe ability to cook on a grillbefore they buy is interactive orevent marketing.
"Like on a Primo, [customers] want to set it up [at home] and get going. You'd be crazy if you didn't ask about charcoal. And there's tools to sell," said Pete Dines of Home and Hearth Outfitters in Denver, one of the grill company's dealers. He believes part of good customer service is asking all the questions, even the ones that lead to add-on sales.
     According to Event Track,a 2012 Annual Forecast & BestPractices Study by the EventMarketing Institute, 95% ofsurveyed consumers said thatparticipating in a recent eventmade them more inclined topurchase the products beingpromoted.
    Dines said he has salessuccess when he gets customersover a hot fire. "We havelive-burn models. Customerscan see it work and taste thefood off of it. Customers likethe demonstrations on theweekends," he said. "It's usuallya positive experience thatgives you the ability to build along-term relationship with thecustomer."
     Sivesind said one of the bestthings a dealer could do is havelive-burn grills that allow peopleto try the grills first. "Have atest-drive grill at the store thatpeople can cook on," he said."Someone having the ability totry the grill out first increasesthe likelihood they'll have abetter understanding of how itworks and they'll have a betterunderstanding of whether ornot they'll like it."
     Bjorkman suggested taking the interactive experience one step further with a grill loaneror rental program so customerscan experience it in their ownhome before they buy.
     "If you want to sell moregrills, why not institute what'sknown as the puppy dog close,"Bjorkman said. "Have a try it-before-you-buy-it program where people can either rentthe grill for a nominal priceover the weekend. Or you havea loaner model that they canborrow and cook on over theweekend to see how the grilloperates and whether or notthey like how it operates anddoes what they want it to do. Bydoing that you're only helpingto differentiate yourself in themarketplace because few retailersdo that. The other thing isyou're going to increase yourgross sales because you're actuallyallowing people to havesome full experience withouthaving to plug down a wholebunch of money to do that."
     It's a program Bakke probablywishes he had available tohim.
Related Content By Author
Casual Friday: Furnitureland South's expanding outdoor showroom

More Videos
Subscribe to
Casual Living eWeekly
Receive the news you need to know about the trends in the industry delivered right to your inbox.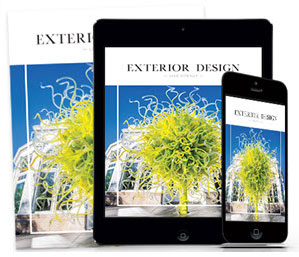 A new season means a fresh look at outdoor luxury in the fall issue of Exterior Design. From the Hollywood Hills to the penthouses of New York, we explore the most opulent outdoor spaces, products and designs. The Fifth Room has arrived in high style, and you don't want to miss it! See the latest issue!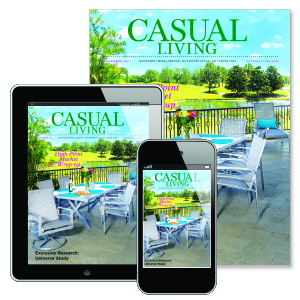 Don't miss the November digital edition of Casual Living! In this month's issue, we look to the future of retail with a spotlight on technology. Assistant Editor Alex Milstein breaks down the basics of artificial intelligence (AI) and augmented reality (AR) and how they're changing the furniture shopping experience. We also explain how building engagement on social media channels can boost business for retailers.
Universe Study
You've waited two years, and it's finally here! Casual Living's biennial Universe Study offers a comprehensive snapshot of the outdoor category, highlighting its growth across all segments from furnishings to shade to grills.
Also in This Issue:
• Designer Viewpoint: A Beverly Hills backyard gets a glam makeover, thanks to renowned designer Christopher Grubb.
• Market Report: Our editors give you the inside scoop on all the new outdoor introductions at the High Point Market. Can you say Cobonpue?
• Casual Insights: Kathy Wall of The Media Matters offers insight on refreshing your brand.
November Digital Edition