From retail roots, Palm Springs Rattan & Garden Classics grows
Palm Springs Rattan & Garden Classics began because of Leader's Casual Furniture's need to stock consistently high quality indoor and outdoor furniture that differed from its Florida competitors. Over the past two decades, it developed as a supplier who understands retail needs and serves more than 250 retailers across the country.
Tami Newton drew from her own education and experience working with her parents Jerry and Linda Newton in their Leader's Casual Furniture retail store chain as she developed the wholesale division, at first in response to retail friends who toured their stores and wanted to buy their specific proprietary products.
For years, the Newtons had sourced only for their growing chain of casual furniture stores and did not want to share their supplier secrets. Later they decided to use what they knew to help other retailers.
They considered their own expectations of suppliers and reps before opening the wholesale division in October 1998. Even before they took their first trailer of furniture on the road and set up massive displays in other retailers' parking lots, they knew good communication, quality control and honest answers would be keys to their success.
"We tell people the truth and we communicate to them, good or bad," Jerry said. "A lot of these veterans in the industry respect that. It's really simple: Ship on time, tell them what's happening and make sure the quality is right."
While their parking lot displays attracted lots of attention from passing consumers, when Palm Springs Rattan & Garden Classics takes its products on the road now, it's into expanded showrooms at markets in Atlanta, Chicago, High Point and Orlando.
"Our roots are retail," Jerry said. "I think the advantages we have by being on both sides of the fence far outweigh the disadvantages. Obviously, because we have our own showrooms here we don't need anybody else distributing our products in our own backyard, but that leaves plenty of open territory. Some of our best accounts are in Florida, comfortable distances from our showrooms."
Another advantage is the wholesale division offers more than 100 fabrics with no up-charge and the customer's own material can be used for any item at no extra charge.
Linda said the company's retail experience used to build the wholesale division helps other retailers. "It does give them the ability for the quick ship; it gives them larger quantities of in-stock products and it gives them things that have been tested and proven," she said. "It even gives them access to all our high quality four-color point of sale graphics. That can be a big expense for a small retailer."
Customer service calls to Palm Springs Rattan & Garden Classics are answered 14 hours a day including weekends and holidays. Tami recalls instances of retail customers calling with a question on Sunday afternoon and then saying her immediate answer helped them close the deal. "When a quick answer will help close a sale, we're there for you," she said. "We have grown very steadily. I never want to disappoint my original core group of customers."
Tami and her staff spend time collecting three to five competitive freight bids for every outgoing shipment. She said, "If it does bid out high, we go that next step and call the customer to say this is the best bid I'm getting, is it OK to ship or would you like to add? What would you like to do?"
Many times retailers say they want to add products to fill up the shipment. "Now their percentage on freight is down where they like it and everybody's happy, just by that little bit of extra effort," Jerry said. "Again, communication is not always good news, but it's the facts and not a surprise. I believe we can all make good decisions if we have the facts."
Once an order is shipped, a freight confirmation is sent to the customer with the tracking number, a list of pallets/boxes included and the freight charge they can expect to pay when the order arrives. "As a retailer, we wish everybody would do that," Jerry said.
A 50,000-sq.-ft. extension onto its 100,000-sq.-ft. distribution center in Largo, Fla., is currently being completed. The expansion adds storage space and more loading docks for shipping.
The flow of merchandise is controlled through an automated and computerized system with bar coding and serial numbers on each of the 3,000 to 4,000 pieces processed daily. More than $12 million worth of inventory is stored in the distribution center, which has 57-foot ceilings and six or seven levels of racks filled with a full selection of products and accessories. Up to five fabric choices and three finishes are kept in stock so they can be shipped within two weeks – four weeks if they customize the fabric selection.
"The better organized it is, the better it flows and we get that domino effect," said Kathy Horner, distribution director, who joined the company 14 years ago.
Part of the staff of 170 employees at the distribution center is dedicated to assembling or wrapping furniture while others make 2,500-3,000 cushions each week, using computer technology for a streamlined operation. The company also uses rewards and competitions to motivate constant improvement on various productivity measurements.
"It's a peer pressure thing as well as a management tool," Jerry said. "Every time we measure a task, we watch the weaker performers improve. Then the top performers say, 'They're not going to beat me,' and they get even better. It's such a simple concept, but we have fun with that kind of stuff. It's really motivational for everybody to find new ways to reward them."
It's part of the culture of Palm Springs Rattan & Garden Classics.
"We do it all through the company, including the shipping department, the preparation department and the assembly department – all of those people are measured," Tami said. "When it comes to the wholesale division, I measure my representatives and how much they sell so they have goals to meet."
In addition to individual goals, cross-company goals are set and when met, every employee gets the same amount of money as a bonus. "When we pull together as a team, then everybody gets the same reward," Tami said.
"It takes all of us to get the job done," Jerry said. "It's neat to watch people who come from other companies and they say, 'You treat your people so nice here.' We believe that's a much better way to do it: measure, reward, treat everybody like a human being, listen to them and respect their opinions."
Linda designs most of the product while she, Jerry and their son Tim travel overseas to work hands on with their factories, some of which have been valued suppliers for more than 20 years. Last year, Palm Springs Rattan & Garden Classics introduced half-inch glass tabletops with a multilevel, deep-carving. The company has a patent pending on the deep-carving process and is offering three different sizes and designs.
"One of the things we like to do is give our customer a lot of ways to make money," Jerry said. "It's only fair they can get some markup on their side."
For instance, retailers who show a five-piece dining set with a 48-inch round polished-edge glass tabletop may be able to convince their customer to pay a little more for a beveled edge or a chipped glass edge. "What we will do is just charge the difference in our cost of $12 to $13," Jerry said. "So maybe they hit a $799 price point on the dining set but they can bump up $50 for this beveled glass that only costs them $12. Up goes the margin. Now that's old time marketing."
Distribution center in Largo, Fla.
Lifters are used to pull product from racks
Recent expansion allows room for growth
Additional docks will keep product moving
Cay Sal Sling, above, one of Palm Springs Rattan & Garden Classics' new aluminum dining sets includes a double-stitched sling with exaggerated lumbar support. Below, a curvaceous design in all-weather vinyl wicker makes Sand Key memorable.
Tapping into its retail roots, the company's delivery trucks double as billboards. The driver at right shows the right spirit as he delivers products.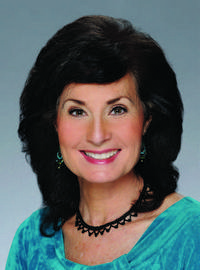 Cinde Ingram
|
Editor-in-Chief, Casual Living
cingram@casualliving.com
Related Content By Author
Subscribe to
Casual Living eWeekly
Receive the news you need to know about the trends in the industry delivered right to your inbox.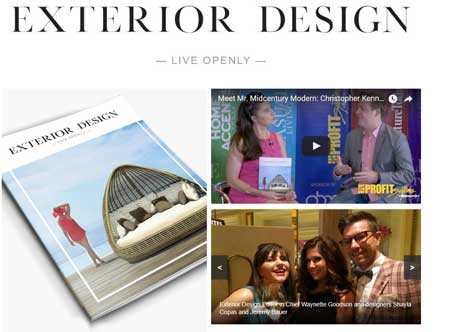 See our new publication! Exterior Design promises to showcase the best, most innovative product design across all key categories of outdoor. With a unique vision and a focus on fashion, design, luxury and style, it's a must-see magazine for forward-thinking designers and high-end retailers. See the latest issue!
September Digital Edition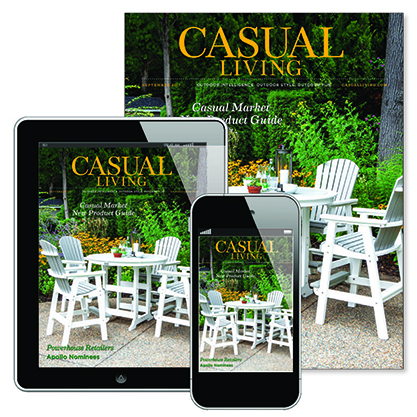 Don't miss the September digital edition of Casual Living! This month, we focus on trends—what's hot now, what's on the horizon and how they affect your business. Editor in Chief Waynette Goodson offers an overview of some of the biggest emerging trends, Features Editor Jennifer Bringle looks at the blurring line between indoor and outdoor spaces, and Assistant Editor Alex Milstein explores the influence of full-line retailers on the casual category.
Also in This Issue:
• @Market: Get a taste of some of the innovative new products making their debut at Casual Market Chicago.
• Exclusive Research: We give you a research trifecta with our annual Powerhouse Retailers, E-tailers and Full-line Furniture Store reports.
• Design 101: Designer Libby Langdon explains how fashion can inspire the outdoor room.
August Digital Edition