Hospitality Beckons with room For growth
OUTDOOR AREAS OPEN UP CONTRACT CHANNEL
Suppliers to the contract and Hospitality channel are forging ahead to furnish outdoor areas following a few years of economic recession and a slow return to renovations. Manufacturers who supply the segment now report an improvement in the level of products being requested along with a healthy increase in orders and, finally, new construction.
"We've certainly seen an up-tick in the last 18 to 24 months, particularly on the hotel side," said Nick Ades, director of hospitality sales, Woodard Furniture and Craft made International. Pent-up demand began building during the lull that started in 2009 when new constructions screeched to a halt and renovations got put on the back burner, he said. Owners stepped away from requiring Property Improvement Plans when they lacked the income to justify paying for them, but the sector started to pick up its steady pace in 2012-13. "Now, I think '14 is primed to be a really strong year," Ades said. "Occupancy is up at the hotels. The room rates have climbed. Restaurants are starting to see increased traffic."
The perspective that many delayed projects have been revived was repeated by several other outdoor furnishings manufacturers that serve the commercial side of the business.
"We're finding that not only are they coming back to life, but they are not surprised when we have to revise quotes to reflect current pricing," said Pamela Clark, director of contract sales for North America, Gloster Furniture.
"They're embracing that, and sometimes they are expanding the projects that they were working on. Now we're finding they are eager to refresh the entire property and not wanting to do it half-heartedly, but to do it with a lot of vigor."
"Contract and hospitality seem to have a revival happening," said Tami Newton, who handles sales and marketing for Leader's Casual Furniture with 19 retail locations in Florida. "I believe there is a lot of pentup demand for properties to refurnish and/or refurbish their properties. We have seen an increase in new restaurants, hotels, motels and growth in general in the past few months. In addition, the homebuilders are coming back around and the communities that have the common area recreation are contacting us as well."
Contract/hospitality sales have been strong for Telescope Casual Furniture, according to Greg O'Brien, assistant contract sales manager. "The contract market has a lot of potential, and we are enjoying the extensive opportunities we have been realizing in this channel," he said.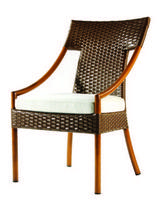 Deltropico Designs Intuition
Skyline Design reported improvements in the high end of the contract market. "Many hotels/resorts are investing in creating luxurious outdoor spaces," Marie Napoles said. "Our season is off to a great start. We are quoting many contract/hospitality projects."
The contract channel accounts for the majority of business for some outdoor furniture manufacturers, including Veneman Collections. "We deal with some of the bigger hotels and resorts," Veneman President Bill Markowitz said. "They work through in-house designers and it's almost exclusively custom projects."
Custom has always been a big part of Deltropico Designs' strategy in hospitality/restaurant seating. "But for the last 12 months, our custom business has reached new heights far past our expectations," said Steve Morrison, national sales manager, Deltropico Designs. "In recent years, properties have delayed their outdoor furniture purchases waiting for the economy to start its recovery. This recovery is now in full swing."
IN THE SHADE
Signs of pent-up demand have been evident over the past two years, said Jeff B. Dorough, vice president of sales and marketing, Treasure Garden and Shademaker. "We are now seeing these projects finally being approved and orders being placed in the first quarter. Usually these orders are not placed until May/June, so that signals a good sign for the balance of the year," he said.
Patrick Troy of TUUCI agreed that procurement teams are again spending money on higher quality products. "These new projects and renovations to existing properties have come with a good deal of specifications for outdoor furniture and shade projects."
Bill Bongaerts, president of Beaufurn and Shelter Outdoor, saw demand grow for outdoor furniture between 1998 and 2002 as outdoor seating became more popular in the United States and cities across the nation granted permits for outdoor dining areas. "The nonsmoking regulations for indoor certainly gave a push for outdoor seating where smoking was allowed, but outdoor restaurant seating in general was becoming more popular and fashionable in the U.S. because consumers really enjoyed it," Bongaerts said. "Outdoor dining is now pretty much expected and taken for granted in the restaurant business and part of any typical restaurant anywhere in the U.S. With outdoor seating came the need for shade, and thus, umbrellas."
After recognizing that need for shade, Bongaerts launched Shelter Outdoor to supply high-tech, made-to-order outdoor living shelters, smaller cabanas and umbrellas. "The very latest push is for adding options such as heaters to the umbrellas themselves so that the restaurant can extend their outdoor use in colder weather," he said.
"Outdoor furnishings and shade products are clearly a growing category for the contract/hospitality side of the business," said Natalie Scott , Outdura VP of sales and marketing, casual furniture. "Looking at the HD Expo exhibitor list today versus seven to eight years ago is evidence of just that."
Sling seating chairs and chaises are selling best for Telescope Casual. "Our Marine Grade Polymer products have been very strong in contract applications, and are gaining strength due to the exceptional value these products offer the customer in terms of quality, style, finish and durability," O'Brien said. "All segments of contract sales have been picking up well, with the hospitality segment being most notable. Telescope has seen a strong increase in the number and size of contract orders we have been receiving and fulfilling this year."
MOVING UP AND OUT
Hotels are the frontrunners, most vendors said. Others said they have benefitted from an even level of demand from hotels, restaurants, cruise ships, country clubs and other contract projects.
"Hotel properties have always been a big part of what we do on the commercial side," Gloster's Clark said. "We are seeing more and more of the hotel properties being serviced by purchasing management companies. In the past, many of the hotel properties were becoming more involved in direct purchasing simply because they wanted to only replenish or replace small areas. Now, they are stepping out of that and handing it back over to designers and specifiers to take care of the properties. So that is exciting to see.
"We are also finding that the cruise lines are becoming active again," she said. "Not to the extent of what we saw about four years ago, but we're definitely starting to see that area pick up. Restaurants also are becoming a big part of what we're doing now."
"We are seeing good sales at many resorts, restaurants and in gated community projects," Dorough said. "A few large restaurant chains are pending as well as other famous public spaces."
Deltropico Designs has shown record sales just about every month for the past year, Morrison said. "We are seeing a much improved demand for all product categories: poolside furniture for hotels and resorts, restaurant occasional deep seating and dining chairs/ tables, and all of the above for country clubs." Hospitality is still leading the pack, but he added, "It is good to see the country clubs across the U.S. coming back strong for new furnishings."
Because outdoor living is accepted and expected anywhere in the U.S., Bongaerts said he sees this as a growth area not only for restaurants but also in residential, office and public meeting spaces. "With that trend, we see a definite need for covers such as shelters that offer motorized roofs that open and close as needed, and with screens that can be added to the sides for wind protection and also heaters as options," he said.
Vendors were split when asked which outdoor products are selling best.
"Designers and procurement teams have moved away from the discount route for outdoor furniture and shade," Troy said. "The outdoor areas still take a backseat to the interiors, but there has been a significant focus on creating unique outdoor areas using higher quality furniture and parasols. Hotels and restaurants are spending money to get the quality and durability because it makes the operation of their properties easier and keeps outdoor areas looking on par with their brand standards."
Orion is Shademaker's best-selling cantilever style. "Everyone loves the 360-degree rotation, the simplicity of design and the ability to mount in concrete or in ground," Dorough said. "The European design is growing in popularity, both in contract and in our residential markets. Our other best-selling style is our Corona series – the ever popular aluminum market style that is everywhere in the marketplace, whether in restaurants, cafés, bistros or poolside."
Shademaker will introduce three new styles this month at HD Expo, he said. To support the category, the company also is attending more local NEWH shows and has more Shademaker sales reps in the field calling on more dealers than ever, Dorough said.
For Leader's Casual Furniture, the best-selling contract items continue to be chaise lounges, tea tables and dining. "I have also seen an increase in all different types of commercial environments adding seating with fire pits," Newton said. "In fact, recently many Marriott and Hilton properties have added fire pits to their outdoor restaurant areas – and/or waiting areas – to make guests more comfortable and create an added ambiance."
"As we've seen on the residential side, we're seeing more of a shift away from traditional outdoor dining to a lot more deep seating and casual areas," Ades said. "The hotels will always have the pools and that's always going to be a strong part of our market, but we're seeing more of every type of property build in these outdoor chat areas."
With its acquisition of
Whitecraft
,
Woodard
expanded its offerings of wicker/outdoor woven furniture, which is still a strong category. The company also integrated more modular product into its line. "The sectionals have transcended into hospitality, where before they had been more residential," Ades said.
Another big growth market is assisted living, Ades said. "Those properties have really stepped up their game in terms of what kind of product they're buying and how much of it they're buying. They're really trying to create an outdoor living space for their people that are staying there. It's kind of what we've seen on the residential side: Take that indoor room and move it outdoors.
"There has been an emphasis put on the outdoor room perse as it relates to the hospitality market, but it's also the level of product that you're seeing put outside has gone up," Ades said. "We've obviously benefitted from that and I think we will certainly continue to benefit from that."
Clark said one of Gloster's largest growth categories for both residential and commercial uses is outdoor lounge, seating pieces meant to be fully exposed to the elements all year round. People are using those products not just for outdoor and rooftop lounge areas, but also in hotel lobbies, atriums and nightclubs.
OUTLOOK INSPIRATIONS
Several manufacturers were happy to report double-digit sales increases this year along with high expectations for future sales.
Shademaker's 2014 sales are forecasted at 15% over 2013, Dorough said. "We see continued growth in the commercial, hospitality segments," he said. "Our outlook for the category is positive and we are aggressively moving forward with new styles and more programs than ever before. We think 2014 will be a very good year for Shademaker."
Telescope views the contract segment "as a wonderful opportunity for growth, as there is great potential in the contract market due to the extensive customer base as well as contract customers' continual need for new outdoor furniture to keep their property updated and looking great," O'Brien said. "Telescope's three main initiatives for supporting and increasing our contract sales include offering and manufacturing exceptional products for the contract market, attending a variety of contract-related trade shows, and offering our Big Apple Marathon promotion, which is a contract-specific promotion we run Oct. 1 through March 31 to encourage contract sales during these months."
Leader's Casual Furniture reports a large increase in contract activity in general throughout the state of Florida and up the East Coast into New York and New Jersey, Newton said. "There are properties that are just ready to create a new look and there are others that know they just need to do something to bring attention and desire for the customer to want to spend their discretionary dollar," she added.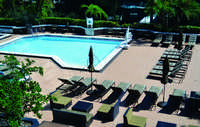 Leader's Casual Furniture supplied this Hilton pool in Tampa, Fla.
Embroidered pillows, such as ones monogrammed with the letter "H" for Hilton, are among the touches that help build the brand of a commercial property, Newton said. A flag system
Tropitone
introduced last year is another hospitality development that allows upper level guests to signal when they want a specific service. "It is a silent way for the guest to give a signal without disrupting both the guest or service professional from whatever they may be currently involved in," she said. "I think it is brilliant and certainly a way for the property to earn more dollars per square foot and provide an added level of service."
For Beaufurn, the demand for PVC wicker furniture leveled off due to competition from inexpensive imports, but Bongaerts filled that void through addressing the need for shade. "Being protected from outdoor elements while sitting outdoors is a big thing for public spaces and restaurants,"he said. "It enables them to extend their season through the fall and early spring, and also serve guests during inclement weather conditions. The outlook for luxury outdoor structures is huge, especially for high-quality, customizable products."
TUUCI is equally optimistic about growth in the contract segment, Troy said. "TUUCI has had a strong presence in the contract segment since the early days of the company due to our quality materials, durability and unique designs – but we continue to re-engineer and improve our products, and constantly seek ways to better manufacture the ultimate umbrella suited for even the toughest contract environments."
Everyone asked agreed the hospitality segment offers lots of opportunities ahead in various directions.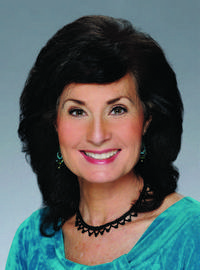 Cinde Ingram
|
Editor-in-Chief, Casual Living
cingram@casualliving.com
Related Content By Author
Casual Friday: Furnitureland South's expanding outdoor showroom

More Videos
Subscribe to
Casual Living eWeekly
Receive the news you need to know about the trends in the industry delivered right to your inbox.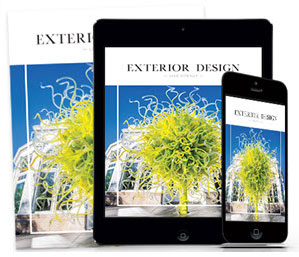 A new season means a fresh look at outdoor luxury in the fall issue of Exterior Design. From the Hollywood Hills to the penthouses of New York, we explore the most opulent outdoor spaces, products and designs. The Fifth Room has arrived in high style, and you don't want to miss it! See the latest issue!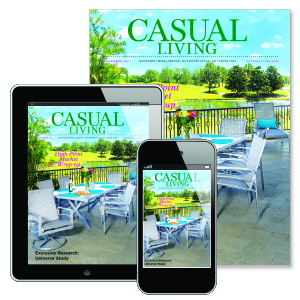 Don't miss the November digital edition of Casual Living! In this month's issue, we look to the future of retail with a spotlight on technology. Assistant Editor Alex Milstein breaks down the basics of artificial intelligence (AI) and augmented reality (AR) and how they're changing the furniture shopping experience. We also explain how building engagement on social media channels can boost business for retailers.
Universe Study
You've waited two years, and it's finally here! Casual Living's biennial Universe Study offers a comprehensive snapshot of the outdoor category, highlighting its growth across all segments from furnishings to shade to grills.
Also in This Issue:
• Designer Viewpoint: A Beverly Hills backyard gets a glam makeover, thanks to renowned designer Christopher Grubb.
• Market Report: Our editors give you the inside scoop on all the new outdoor introductions at the High Point Market. Can you say Cobonpue?
• Casual Insights: Kathy Wall of The Media Matters offers insight on refreshing your brand.
November Digital Edition