Growing Global Partnerships
For Mutual Benefits , Profits And Long-term Success
GLOBAL BUSINESS PARTNERSHIPS require the same sort of commitment and shared vision as a marriage in order to provide long-term benefits to the partners, their customers and end consumers.
The concept of a marriage relationship was echoed by several top outdoor furnishings manufacturers as they discussed what features they look for when choosing a global partner. As they explained how they sustain those partnerships and described what would lead them to end a relationship that isn't working, it was clear that there are many facets that are invisible to the retailer and the end consumer but are hugely important to taking a product from concept through production and shipment.
FINDING THE RIGHT ONE
Treasure Garden CEO Oliver Ma, who has built many partnerships around the world, looks for those who have integrity and are honest, determined, loyal and sincere. The partner's business should be committed to quality and pursue innovation with a strong research and development team.
"Their business and personal philosophy has to be right," Ma said. "They need to believe in the sharing concept, share the same global vision and not be limited to one region, area or country. A partner must have a longterm plan and a commitment to the casual industry."
Trust is the crucial ingredient for Pride Family Brands CEO Steve Lowsky. "We look for a partner who has been in business for a long time, who is focused on quality and lead time," he said. "You have to have trust because a partner will be exposed to your intellectual property."
Longevity and reputation were top considerations for other companies that supply products to the United States.
"Agio USA has had one global company that we have done business with, and the personal relationships go back 38 years," Agio President Bob Gaylord said. "Handshakes can be an amazing contract if both parties have the same long-range view of business."
Doug Peppler, senior vice president of Agio, stressed the importance of joining forces with a known entity. "It's always reassuring to partner with a company that has been in business for a while and has a sound track record," he said. "Also, it is very important to be sure anyone you partner with has the financial resources to accomplish the short-and long-term goals established in the relationship."
Veteran retailer Gary Ecoff, who works with his brother Lyle to develop outdoor products for Emerald Home Furnishings, named a list of factors the company considers in a global partner. "Integrity first, then financial stability, ability, capacity and working conditions," he said. "We look for manufacturers to become partners. Without the focus of mutual cooperation, there is no prospect for a long-term relationship."
John M. Hunt, president and CEO of America's Backyards, considers two primary factors when he looks toward bringing a manufacturing partner on board to create product. "First, I am looking for recognizable brands and/or companies," he said. "These partners not only have great sales teams in place, but also they own market share. Then we look at potential volume. We easily create 50 to 70 collections each year – some specific to manufacturers, others exclusive to our retail partners. Our manufacturing model is geared to high capacity higher-end goods. So retailers we build for must have the opportunity needed to fit within that model."
The total of U.S. imports out of China reached $1.85 billion by the end of 2014 and accounted for 90.6% of outdoor furniture imports, according to numbers gathered by the U.S. Customs Service, U.S. Census Bureau and U.S. International Trade Commission.
While Gloster's aluminum frames are manufactured in China, 90% of its woven products are made in Indonesia. For shipping efficiencies, Gloster can combine its teak furniture, which may be flat packed, with cubes of woven goods to increase the breadth of product per container.
"First and foremost, we look for a quality manufacturer," Gloster President Eric Parsons said. "The product that comes out has to fit the quality standards Gloster is known for; that narrows the field. Cost is always an important factor. Another is their ability to work with our team. If we're too small a fish in their pond, it could affect production of our orders. We have our own relationships with our factory and with our woven suppliers. To gain better control of the quality of furniture going out, we developed an inspection company of our own, which is located inside the factory."
Ratana also relies on skilled Asian weavers. "We definitely look at a partner's economics and political stability and, of course, their brand name and reputation in the industry," said Winnie Ng, U.S. and contract sales manager. "We also look at their business ethics, vision and infrastructure along with their management team, production capability and sustainability. We need to see how they can continue to supply quality while having a cost-effective supply chain and having the technology and the skills that might be too costly in North America."
Ratana also considers a partner's "financial capability to make sure they're OK to produce and house our inventory," Ng said.
Steven Ngai, Ratana marketing manager, works closely with its global partners on production and product development. Skilled weavers work regular hours, he said, and do not support work-at-home, cottage-industry practices. Ratana makes agreements to prevent practices considered child labor by the Western world and maintains a quality control office at its global partner's factory.
LASTING RELATIONSHIPS
Treasure Garden's Ma first has to confirm the relationship is one of mutual support because a partner will be sharing the business and even the product patent rights. "We must achieve mutual benefits to make sure sharing of resources and equipment will result in better profitability," Ma said. "By doing that we can be more focused on our business within our strengths and not spend our revenue and valuable assets to develop areas where we do not have strength. When we can focus on our core business, we can diversify the risk factor and set up our manufacturing capacity correctly. Each country has different needs, whether in R&D or manufacturing. By working with them, it can help to open the eyes of our partners."
Building mutual trust and respect includes having respect for each other's culture, Lowsky said. "We have to work with them to teach them our way of producing furniture."
Gaylord, who spends much of his time overseas, repeated the value of picking a trustworthy partner. "If your relationship does not have integrity at every level of the business – from sales and marketing to design, quality manufacturing, standing behind problems, etc. – the relationship will be shortlived," he said.
Creating a partnership requires time, attention to detail and a good team on the ground, Ecoff said. Emerald's office outside of Shanghai has 25 employees who are responsible for communication, logistics and serving as the liaison between the Far East and the United States, and quality control is a major responsibility. "In the factories where we do large volumes, we have a dedicated QC manager at that factory," Ecoff said. "Where there are smaller production volumes, that QC manager will float between several factories according to production cycles. In the end, this cooperation helps to save a lot of time and money by insuring proper quality goods are being shipped."
Despite its strong team in China, Emerald product developers are required to be at its Far East factories six to eight times throughout the year. "There is no substitution for touching and feeling what we are producing," Ecoff said. "Starting with design meetings, then initial sample reviews, then a couple of trips refining those samples and approving production samples, and finally visits to view initial products coming off of the production line. Fortunately, Lyle and I travel together, and we have a blast doing it!"
The potential for miscommunication, as well as cultural differences, make the frequent travel necessary. "This helps to reinforce and build the relationships we have with our factories, and also demonstrates how serious we are about our business," Ecoff said.
Gloster executives think contractual relationships are necessary but have found that to be a totally new concept to many Asian companies.
"As a manufacturer you end up taking on some of that risk," Parsons said. "You've got to do your homework and your testing. We have complete test labs in Indonesia and China. You can't just believe this is a good product by looking at it. When we bring our customers to our factory in Indonesia, they're always amazed at our testing. We have to make sure the product is at the right level to meet the standard for Gloster product. Every manufacturer is at a different level of what would be acceptable; they weigh it differently depending on who you are (as a company) and where you play in the marketplace."
All of the oversight and testing efforts fit into the "success is in the details" expression Hunt used. "Our partners come to us for our abilities and expect that a high level of execution be achieved," he said. "Details in execution in production start with proper jigs and molds. As a factory, we literally make every component part except some that we purposely bring in from the U.S. if the quality is better than what we can produce or source in Asia, such as spring plates. As such, it allows us to not just manufacture a beautiful product, but we ship it on time. Our partners count on us delivering a product on time.
"Lastly, we are very hands on," he said. "I personally watch production and process daily. I stay in the factories almost daily by traveling into China for up to seven months each year during peak season."
GAINING AN EDGE
"Building a successful company that means something real to the consumer base is not something that happens overnight," Gaylord said. "A strong global business relationship gives you a better chance of having the longevity that is meaningful, and especially to our customers."
For the past year and a half, Gloster has benefitted from its partnership with Dedon, which increases the knowledge base of both companies while matching the quality level and sourcing efforts. "It's like dating: You don't always marry the person you date, but you learn more from the experience," Parsons said. "From a contractual standpoint, you make it fair to both sides. It's like hiring a seasoned person versus hiring a rookie."
One of the biggest advantages is its best-value production cost, Ng said. "A top management advantage is the lower inventory-carry cost plus just the capability, the high efficiency in production and product development." In addition, a strong global partner protects the company's image in the marketplace, she said.
Ecoff described the main advantages of a strong global partner as "consistency in product shipments, faith by our customers in Emerald as a supplier and less headaches in the long run."
Hunt considered the question of advantages from two perspectives. "If you're asking me what makes us a strong global partner the answer is: quality you can count on delivered on time! If you're asking what makes a retailer or domestic manufacturer a strong partner, the answer is easy: a known brand to the consumer and/or to the casual furniture industry. Together, this synergy creates the demand and volume we are counting on when we invest critical time and dollars to develop truly great programs."
Lowsky said, "Partnerships enable us to bring great product to market at a great price for the benefit of the consumer."
LONG-TERM SUPPORT
Communication is key for maintaining a good partnership.
"The No. 1 thing is we have to relate to the other partner's position," Ma said. "We work hard to help and support each other to make sure there will be growth in business in a changing economic situation."
Ng also stressed the importance of communication and understanding. "We have to communicate with them about shipping, production and product development," she said. "We have a traveling QC team that works with them at the factory; they work together to maintain visibility. The way we look at it, we know what pricing will sell, what design will sell and what is fashionable. So we have a designer who works at the factory with our global partner's designer to come up with a product that is cost efficient and yet will work in our territory or our area. We come up with new designs with new finishes that are exclusive to us, and that will be our competitive strength, so we're having the product that will support the sales."
Developing global partners who share the same goals with clear roles and responsibilities of how to achieve them is a true benefit, Ng said. "We know this is a seasonal industry so, during the off -season, we have to maintain the factory for them to run 365 days a year," she said. "During the slow season, we're still giving them orders so they can survive and keep the factory going all year around."
By focusing on its partner's needs, each company gains strength, Ngai said. "We are really selective when we choose our partners, but once we've got a good partner we work with them for a long time," he said. "Business ethics and reputation in the industry are important because nowadays the market is very open, and we think knockoff s can't be avoided. We believe we can work together with our partners who have honor, who see our mutual benefit and who will not be doing something behind our backs."
Gaylord agreed. "Each side has to have the interests of each other at heart," he said. "There are problems and challenges on both sides; that has to be appreciated by all parties."
"For us to make our partners successful, we have to continue to be innovative and to stay current with product and technology trends to be viable," Lowsky said.
"We're in a fashion business, and we try to stay on the front end of it," Parsons said. "There's a bigger risk trying new partners that are hopefully on the same track we are. Having an ongoing relationship with another company is a lot different than connecting occasionally by telephone."
Hunt said the way America's Backyards sustains partnerships is what has set its strategy apart from others over the years. "Deliver quality products on time at a value second to none," he said. "Our manufacturing model and attention to detail has fueled our growth for many years now, and that won't change."
Ecoffrecognizes that situations change and said in order to address that, "you need to be able to strategize with your partner to continue to be successful together. We understand that the stronger our factories are in all aspects of their business, the better off we are. Ultimately, the business we do together has to be profitable for both of us."
U.S. OUTDOOR FURNITURE IMPORTS BY MAJOR SOURCE COUNTRIES, 2014
in $ millions
2013 revised

2014

% change from 2013
WORLD
$1,983.5
$2,045.7
3.1%
China
$1,822.8
$1,852.5
1.6%
Indonesia
$55.6
$71.9
29.3%
Philippines
$11.6
$15.6
34.5%
Vietnam
$9.5
$12.4
30.7%
Canada
$12.6
$12.4
-1.3%
Italy
$9.2
$11.1
21.1%
Mexico
$10.7
$10.7
0.1%
Taiwan
$12.6
$10.3
-18.0%
Costa Rica
$8.9
$8.9
-0.1%
Spain
$5.9
$8.1
37.9%

MAJOR IMPORT CATEGORIES, 2014

in $ millions
2013 revised
2014
% change from 2013
Metal
$1,549.8
$1,616.5
4.3%
Garden umbrellas
$288.6
$268.9
-6.8%
Rubber/plastic
$66.4
$69.8
5.2%
Wicker/rattan
$46.2
$49.3
6.6%
Teak furniture
$32.4
$41.3
27.2%

Source: U.S. Customs Service, U.S. Census Bureau, U.S. International Trade Commission
% change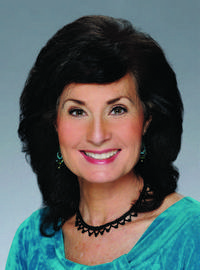 Cinde Ingram
|
Editor-in-Chief, Casual Living
cingram@casualliving.com
Related Content By Author
Subscribe to
Casual Living eWeekly
Receive the news you need to know about the trends in the industry delivered right to your inbox.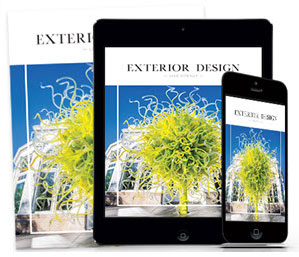 A new season means a fresh look at outdoor luxury in the fall issue of Exterior Design. From the Hollywood Hills to the penthouses of New York, we explore the most opulent outdoor spaces, products and designs. The Fifth Room has arrived in high style, and you don't want to miss it! See the latest issue!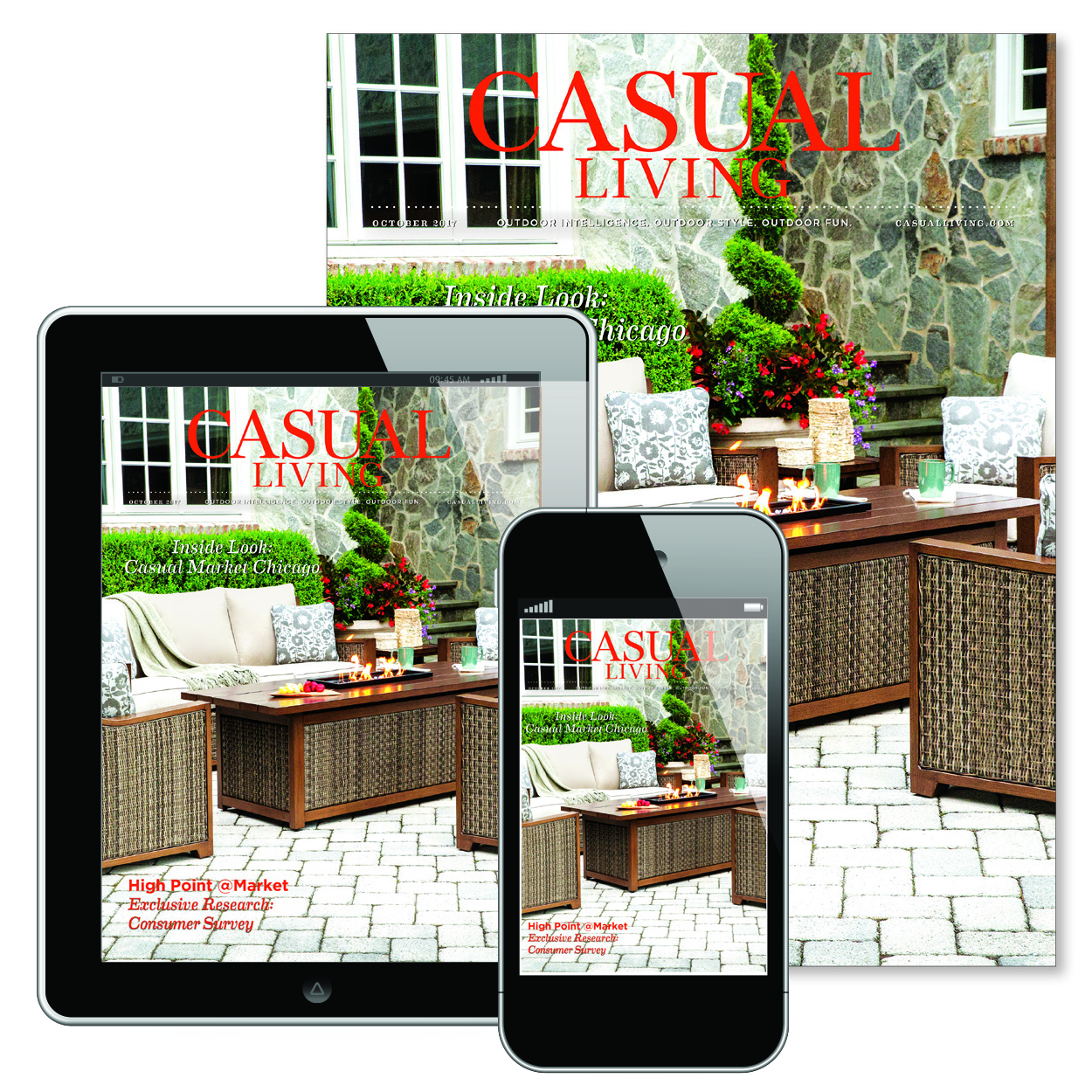 Don't miss the October digital edition of Casual Living! In this month's Market Issue, we'll bring you all the highlights of Casual Market Chicago, from innovative new products and hot trends to this year's award winners and a taste of the party scene. Plus, you'll get a sneak peek of all the product debuts at High Point Market.
In this issue:
Consumer Survey: Did you know three out of four consumers read online reviews before purchasing outdoor furniture? That's just one of the shopping insights shared in our exclusive report on consumer buying habits.
Designer Viewpoint: A North Carolina designer creates an outdoor space for a modern-day Brady Bunch. • Barbecue Lifestyle: Our grill guy gives tips on extending the season through the holidays.
Focus On: Patterns punch up the style quotient of outdoor accessories.
October Digital Edition