Casual Industry Wins New Customers At Las Vegas Market
West Coast Dealers, Dot-Com, Designers, Casino Buyers Roll The Dice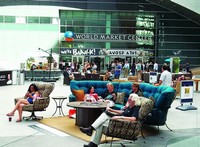 Market attendees took advantage of the outdoor furnishings displayed between buildings despite temperatures above 100 degrees.

CURIOSITY AND THE POPULARITY OF CASUAL
lifestyles played in favor of the Las Vegas Market dedicating two floors to casual furnishings while continuing its outdoor products expansion. West Coast retailers, full-line furniture dealers, designers and e-commerce were the primary buyers who shopped the hot category during the Aug. 2-6 market.
Consolidating casual furnishings on floors 12 and 13 proved lucky for permanent showrooms in Las Vegas, although some of the temporary showrooms less so. The displays were interesting enough to attract a variety of new customers, joining a smaller number of independent specialty outdoor retailers, some of whom had seen the products at the Chicago Preview Show in July.
"It's nice having this a few weeks later to revisit and see things in a new light," California Backyard buyer Mark Smithers said. Smithers said he finds the combination of casual furnishings and gift -ware in one building at World Market Center to be exciting, although he expressed concerns about the ability to attend three markets timed so closely together.
"At Agio, we were literally one of the first ones to sign off and say let's give this a try," said Doug Peppler, senior VP. "This is a real show; it was well-advertised, and International Market Centers did a great job pulling it together. It's perfect timing for our industry." He noted Agio's Las Vegas showroom is 22,000 square feet compared with 18,000 square feet in Chicago and that IMC hosted 18 other manufacturers with permanent Chicago showrooms to walk the market. "This certainly is going to continue to get bigger before it gets smaller."
NorthCape also was pleased with the results of its expansion to a 17,000-sq.-ft . space, which was shared with ScanCom and Terre-Flame. "This show has been great," Sales and Marketing Manager Kim Golson said.
"This show met and beat our expectations," said Jeff B. Dorough, VP of sales and marketing, Treasure Garden. "We saw all of our key West Coast dealers as well as designers and major full-line furniture stores. As the expert in shade, fabric and color, we set up this showroom to teach them how to take advantage of this hot category. Lots of reps and dealers are seeing this for the first time; the people who listen and follow what we show and tell them will make lots of money."
MAKING INTRODUCTIONS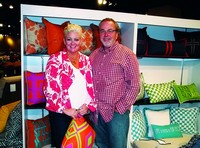 Designer Stephanie Ferguson and John Hunt, president/CEO, America's Backyards & Outdoor Living, pause at the pillow display they coordinated.
Traffic was brisk at the
Summer Classics
showroom, where several new collections made their debut. "I'll have my dealers from Dallas, Houston, San Diego and northern California" along with designers and potential new customers, said Bew White, president and CEO, Summer Classics. "It's been really busy, even more so than expected."
Among the introductions was the Royan group, made with twisted polyethylene N-dura faux seagrass on the sides and back, and Resysta, an eco-friendly material sealed with a scratch resistant coating on the arms and legs. The company also introduced the Ocean collection in teak for its White Label line.
Working with nearly 2,000 more square feet than usual, OW Lee was able to display not only new product, but several existing collections as well, according to the company's president, Terri Lee Rogers. "We're showing more than we do in Chicago, and the retailers say, 'We've never seen it made up like this,'" she said. "We're able to vignette it the way we want retailers to do it."
The company introduced three collections – Italian farmhouse-inspired Bellini, wrought iron Luna and desert contemporary Sol – along with new colors and chair sizes in several existing collections. Rogers said the showroom was quite busy. She described the Las Vegas Market as ''a good venue for us regionally. I think this is a way for us to meet some new customers. We're also seeing some new vendors who have fresh product."
Poly-Wood introduced its Select line, a higher-end collection that includes Harvest tables and benches in three finishes plus Coastal seating in three styles with three fabric colors. "People are shocked when they see it," said Jennifer Owens, senior account manager, Poly-Wood. "It's the next step up for Poly-Wood."
She said the company had seen steady traffic to its showroom during the market. "We've seen a lot of West Coast customers, which is great. We've also seen some international customers as well."
Klaussner Outdoor introduced several collections in Las Vegas. The Cascade seating group comes in a Smoke finish with cushions available in 130 fabrics, as well as Sunbrella cut yardage. The Aspen slipcover sofa has a sturdy marine-grade plywood and aluminum frame with weather-proof Climaplush cushions. "Everything we do with outdoor cushions is designed so it dries quickly and can be left outdoors," said Teresa Buelin, sales and merchandise manager.
Seasonal Living introduced a new upholstered outdoor collection, Fizz. The line features the Flirtini chair, and the Champagne sectional rounds out the first offering of the collection. "It's been very well received so far," said Michael Heath, the company's national sales manager. "It's also custom made in the U.S., which is important to us."
Zuo Modern also introduced several collections, including the Faye Bae, featuring oversized chairs with a woven cord detail in gray and currant. "What we're doing is really elegant and classy," said Serena Martin, marketing coordinator, "and it's very now."
EXPANDING DISTRIBUTION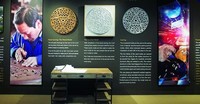 Hanamint's showroom features this 3-D informational panel to educate dealers and demonstrate the art of casting.
At Outdoor By Design, company President Bill Echols saw dealers predominantly from the West Coast but noted visits from Texas and Mississippi retailers. "It's bringing in more people who are totally new to outdoor, and it will open up some new doors," he said.
Distribution expansion also was the primary reason Ebel opened a permanent showroom at Las Vegas Market. ''Obviously our business is stronger east of the Mississippi,'' National Sales Manager Mark Bottemiller said. ''We're seeing both indoor and specialty retailers here. There's a lot of curiosity about it, which is good.''
"We've seen customers here that we have never seen in Chicago," said John Hunt, president and CEO, America's Backyard and Outdoor Living. "We have picked up so many new customers. People who have walked in have just been amazed by not only the product but the cost."
In addition to drawing dealers from the western United States, buyers from western Canada, South America and the Caribbean were shopping the market, said Jim Sica, VP of product development/sales, Patiologic. Patiologic started showing at Las Vegas Market three years ago with a temporary space and now occupies a permanent 12th floor showroom. "I was willing to make this move because I believe this will be so good for the industry if we're consolidated in the same area at this market," he said. "The timing's better for everybody."
Allen Calzadilla, president of Pelican Reef and Skyline Design, also noted the presence of international customers similar to High Point Market. He selected the permanent Skyline Design showroom space primarily because of an unusually high ceiling that allows the tall, eyecatching Sparta group to be exhibited indoors. "I've done this market for five years, and I'm happy with it," he said.
INDOOR PLAYERS MOVE OUTDOORS
International Market Centers reported seeing a significant increase among indoor retailers entering the outdoor category and took a bet on dedicating two casual furnishings floors to increase market efficiencies for retailers, according to Craig Staack, VP of home furnishings leasing for IMC.
Emerald Home Furnishings' customer is primarily the Top 100 furniture stores. ''We're seeing not only Emerald customers, but some who are not Emerald's customers," Emerald Outdoor Director of Product Development Gary Ecoff said. ''We have opened up key customers with major programs."
''We did a very bright and cheery showroom,'' said Russ Sorenson, president, Hanamint and Alu-mont. One wall displays the process of casting aluminum furniture and shows ''it really is an art form,'' he said, the effort being made because more furniture dealers are adding outdoor. "We have seen some casual specialty retailers, and we continue to support them, but there are gaps in our distribution we want to fill," Sorenson said. Hanamint also added digital kiosks to show full ranges of its collections and expanded its cast accessories division.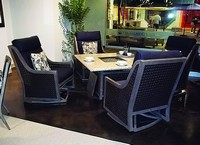 Patiologic gained attention for veteran retailer Jim Sica's designs, including Crawford with dining/chat chairs and fire pit table.
''Overall with the economic situation and consumer confidence growing stronger, we see this as an opportunity,"
Treasure Garden
President Margaret Chang said. ''Treasure Garden is in the fashion accessories business, which is moving toward really colorful trending styles. The High Point and the Las Vegas markets are catering to designers, full-line furniture and international customers so we see this as an opportunity to introduce our concept to all channels of business."
''We think it's important because this market has everything you need now – from mattresses to indoor furniture to outdoor furniture and gift. It's one-stop-shopping,'' said Margarita Chen, VP of sales, Shine Company.
''This is the first time we've shown in Las Vegas, and we're seeing a great cross-section of the marketplace,'' said Bryan Sanches, sales manager, California Umbrella. ''We do so many trade shows in Las Vegas that having a permanent showroom gives us access to a wide range of buyers.'' Noting its new showroom display of opened umbrellas on the ceiling makes good use of space, Sanches said ''You've got dollars on the ground and dollars in the sky."
''I have seen a lot of potential dealers who don't go to Chicago," said Tad Varga, president, Three Birds. ''This opens up our product line and our brand to people we've not been introduced to before."
''We saw more and more people in our industry coming out here and thought it had a big growth potential for us," said Walter Perkins III, CEO, The Hammock Source.
"Our core business is up; it's been very good this year," added Reid Roney, VP of sales and marketing. "Our specialty business is up double digits. We sold more furniture than we thought we would. We're trying to expand our business into the indoor furniture channel, which is why we have a showroom here and in High Point."
"We're seeing new people with new perspectives and a new way of looking at things so it is exciting and encouraging at the same time," said Agio VP of Sales Andy Sokol. "This is helping expedite the ordering process."
Ed McDonald, president, Northeast Casual Marketing, said, "My friends Andy Sokol and Michael Gaylord and some of the other manufacturers I do business with said 'I'm doing Vegas, come out and try it.' It has allowed us to meet with retailers I had not met with."
Alain Bourdages, president, Lounge Factory, said his company comes to HD Expo in Las Vegas every May but this was his first time showing at the Las Vegas Market. ''The trade is moving here," he said. ''We didn't get anybody from the West Coast at the Casual Show, but we're seeing them here, and we are expecting more."
Grosfillex was sharing the temporary booth and also making its first appearance at the Las Vegas Market. ''The trend I see is the shopping model will dramatically change in the next five to 10 years," said Christophe Quenee, VP of marketing, consumer products division. ''We have to evolve with the market, with the world."
''The main reason is it's so close to us," said Lily Z. Chen, VP of sales, Meadow Decor. ''We can concentrate on the West Coast and on indoor furniture retailers who want to get into outdoors."
Retailer Ron Bock, owner of The Patio Place, Fresno, Calif., said he and his staff enjoy coming to the markets. ''We're excited about the season coming up," Bock said. "Consumers are optimistic; financing is available. I'm not afraid to come to the show and write a big order."
MIXED REVIEWS
Charles Curry, VP of sales and strategy, Patio Daddyo, was among those who expressed disappointment with the amount of traffic their showrooms generated. "I would say attendance was down for this show overall," he said. "I don't anticipate us repeating this for casual."
Emilie Cabrera, U.S. sales manager, said Lafuma Mobilier has been exhibiting at Casual Market Chicago for about 10 years and wanted to expand its customer base in the Southwest. "We thought it would be a good time," she said, but those displaying in temporary booths on the 13th floor were not as lucky as they had hoped.
"We do a lot of East Coast shows, and we just weren't seeing West Coast customers," said Sue Pappas, owner, West of the Wind Designs. ''They were having the opening for outdoor at this markets, and I just decided to give it a try."
Vic Jain, VP of sales, India House, said his company has shown its outdoor pillows in Chicago a few times. 'We thought this might be good; we're disappointed."
"I've gotten quite a few really big customers through this show," said Debbi Somers, CEO and founder of Somers Furniture, which is produced in Las Vegas. ''This is the first time we've written orders on the show floor." Somers said she looks forward to showing at the Casual Market Chicago for the first time this month and wondered whether an Elvis impersonator would be accepted there.
FROM RUGS TO SKIES
Building Off Momentum From The recent Atlanta market, rug companies continued the rollout of new outdoor safe floor coverings, along with pillows, lighting and other accessories at the Las Vegas Market, Aug. 2-6.
Showing on the fourth floor of Building C, Surya saw an increased interest in the outdoor part of its business. "As a company, we're definitely growing that category –not just rugs but lamps, pillows and poufs," said Seth King, VP of sales, Surya.
Surya continued expansion, adding several new styles and colors to lighting and pillow offerings this market. "Outdoor seems to be a unique niche, and we'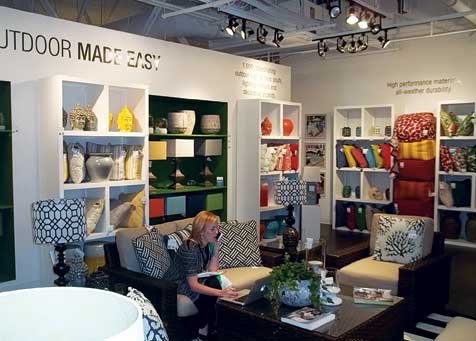 Surya saw an increased interest in its outdoor product and added several new styles and colors to its offerings.
re doing it bigger and bigger and offering more options," said Laura Halpern, sales manager for catalog division.
"We have lots of markets with this one, HD Expo, High Point and Chicago," designer Liora Manné said. "If we didn't have our customers here, we wouldn't come. The casual category keeps growing for us."
Trans-Ocean launched several new rug and pillow designs, featuring on trend textures such as rich cable weaves and colorful outdoor-safe shags. "There are two things important things for floor covering – one is color and the other is texture," Manné said. "It's tactile, and it complements the color."
Bold and brightly colored pillow designs by Stephanie Ferguson Collection added excitement to the America's Backyard showroom. "People do feel like it is refreshing," Ferguson said. "Why not bring on bright colors? It's the outdoor world."
At Nourison, bold outdoor pillows and poufs – designed to coordinate with new and existing outdoor rugs – drew attention in Vegas. The throws and poufs featured bold colors and embellishments ordinarily reserved for indoor styles. "Many coordinate with the indoor/outdoor rugs," said Giovanni Marra, director of marketing and digital strategy. "They have different themes and bright colors and details like rhinestone beading. There's definitely a pop."
KAS Rugs introduced seven outdoor styles in the Escape collection from the Donny Osmond Home line. Osmond made an appearance at the launch party held in the company's Las Vegas showroom during market. "I love this outdoor collection," Osmond said during the event. "I actually have some of these rugs in my own home."
Buyer Marie Churchill of Maisonette, Hastings-on-Hudson, N.Y., said she attended the market because "I needed to spec a few outdoor things, and this seemed like a better place to see furniture and carpets.
Campania has been looking for different venues besides garden center shows to promote its decorative planters and outdoor accessories, Director of Sales Anna Marie Roman said. 'We're seeing a different customer here, including some hospitality. Everybody's now asking for outdoor."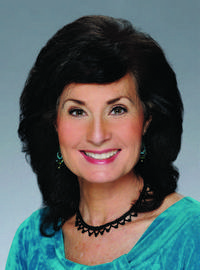 Cinde Ingram
|
Editor-in-Chief, Casual Living
cingram@casualliving.com
Related Content By Author
Casual Friday: Furnitureland South's expanding outdoor showroom

More Videos
Subscribe to
Casual Living eWeekly
Receive the news you need to know about the trends in the industry delivered right to your inbox.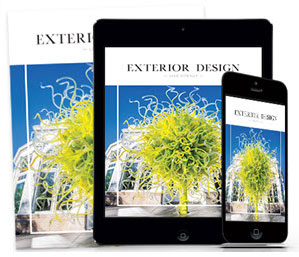 A new season means a fresh look at outdoor luxury in the fall issue of Exterior Design. From the Hollywood Hills to the penthouses of New York, we explore the most opulent outdoor spaces, products and designs. The Fifth Room has arrived in high style, and you don't want to miss it! See the latest issue!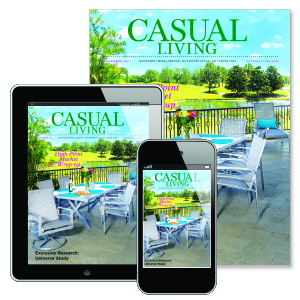 Don't miss the November digital edition of Casual Living! In this month's issue, we look to the future of retail with a spotlight on technology. Assistant Editor Alex Milstein breaks down the basics of artificial intelligence (AI) and augmented reality (AR) and how they're changing the furniture shopping experience. We also explain how building engagement on social media channels can boost business for retailers.
Universe Study
You've waited two years, and it's finally here! Casual Living's biennial Universe Study offers a comprehensive snapshot of the outdoor category, highlighting its growth across all segments from furnishings to shade to grills.
Also in This Issue:
• Designer Viewpoint: A Beverly Hills backyard gets a glam makeover, thanks to renowned designer Christopher Grubb.
• Market Report: Our editors give you the inside scoop on all the new outdoor introductions at the High Point Market. Can you say Cobonpue?
• Casual Insights: Kathy Wall of The Media Matters offers insight on refreshing your brand.
November Digital Edition