Kenyon introduces Silken grill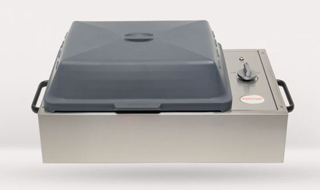 CLINTON, Conn. – Kenyon International, Inc., a specialty electric grill manufacturer, announced its newest product, the Silken Grill. Ideal for those grilling in small spaces with little storage area, the Silken Grill has a collapsible lid to accommodate limited space. In addition to its compact size, the grill's lid and handles stay cool to the touch and prevent accidental burns due to its silicone lid.
"The Silken Grill is the latest addition to our line of unique grilling products that go beyond the traditional backyard BBQ," said Phil Williams, president at Kenyon International, Inc. "For our customers looking to grill in a small kitchen or on the open water in their boat, this new product is the ultimate convenience and completely solves the issues associated with traditional over sized grills."
The Kenyon Silken Grill is designed for use in any environment, with a focus on efficiency in small spaces. The new model is made with marine grade stainless steel and features a sleek Space Grey color lid.
"We originally began manufacturing grills after realizing the boating industry lacked safe marine grilling options, and ever since then we've been dedicated to seeking out new ways to improve the grilling experience," adds Williams. "After realizing so many of our customers utilized our products in unique grilling environments, where space is often limited, we sought to create an even more efficient and space-saving product. The Silken Grill is truly a game changer for our customers."
Related Content By Author
Live at Market with Gary Pettitt, CEO, Seasonal Living

More Videos