Zuo Modern announces Winter Tiki Bar Party during Las Vegas Market
Event to take place in company's new showroom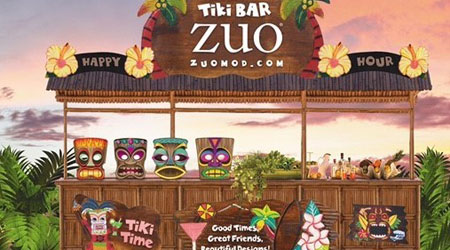 SAN LEANDRO, Calif. – Zuo Modern is inviting Las Vegas Market attendees to a winter Tiki Bar Party, to take place on Sunday Jan. 22, 2017 from 5-7 p.m.
The event will include Tiki themed cocktails, an indoor oasis with Hawaiian island décor and the company's outdoor products. Zuo's showroom is located in the World Market Center on the 8th floor, just off the escalators in space B-880. The company also has a public space on the 8th floor window bay.
See Related Article: Zuo Modern offers new outdoor products at winter markets
"I am extremely excited about the Vegas showroom opening," said Luis Ruesga, Zuo Modern CEO. "We look forward to meeting our showroom neighbors, industry buyers, and friends; as we celebrate our new home with a Tiki-style cocktail party. Words cannot express my many thanks to our Zuo teams and IMC on their combined efforts on this showroom renovation."
The new 11,000-sq-ft. showroom offers a view of the 8th floor escalator with floor-to-ceiling windows along the entrance and main wall, a full kitchen for catering and expanded bar space. Additionally, the new location offers market attendees 95% new product showcase from the brands' fall and winter 2016 collections, while previewing what's in store for summer 2017.
See Related Article: Zuo Modern to open four new permanent showrooms
"I chose a glamourous, golden luxe theme for this the new showroom," said John Perez, visual merchandising director, Zuo. "The stunning Tempaper wallcoverings only work to enhance many of our fall introductions which feature gold stainless steel finishes and I incorporated added pops of color from this year's Greenery Pantone color- symbolizing new beginnings. I can't to see the response at the Tiki Cocktail Party."
Related Content By Author
Live at Market with Gary Pettitt, CEO, Seasonal Living

More Videos