— LIVE OPENLY —
Blog: High Trends at High Point
Hello all of you fabulous designers, and welcome to the Exterior Design website—and my first blog.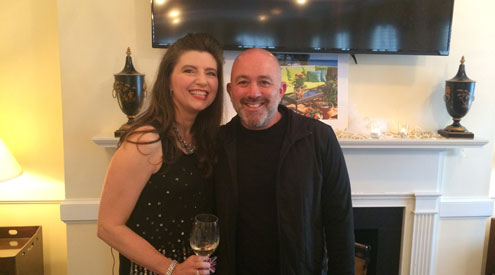 Exterior Design Editor in Chief Waynette Goodson poses with designer Barrie Livingstone.
It only seems fitting to start with our debut at the world's largest furniture market: High Point. We held a magazine launch party Saturday, April 22, at the String & Splinter, where 100 of our closest friends came by to congratulate us on the new book – thank you!
Our No. 1 response: Why hasn't there been something like this sooner? True, the outdoor category has been up and coming since the '60s. But now, YOU, the designers, are influencing it like never before. So we feel our timing is perfect to celebrate the outdoors in high style via its own luxury publication. Every quarter we pledge to bring you the best upscale outdoor projects, designer interviews and products galore! We want to inspire you and your clients to great heights in the great outdoors. (Please peruse our digital edition and sign up below to receive the next issue in July.)
But enough patting ourselves on the back: You want to know about the luxurious outdoor trends at High Point. Here goes . . .
Color Story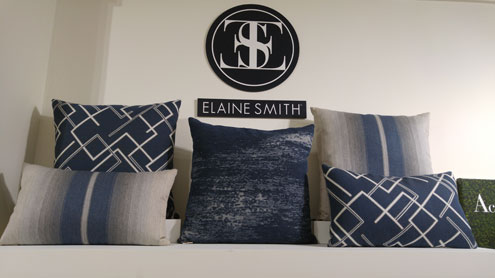 We keep hearing that orange is the new blue. But neither Elaine Smith nor Steve Elton, chief brand curator at Brown Jordan, feels the same. "Orange will never be a color onto itself," said Smith, renowned for her eponymous line of luxe, outdoor pillows.
Smith's InterHall showroom radiated color, from a cool, lagoon palette with soothing aquas, to bright pops of tropical melon, most notably on a new parrot pillow.
"Blue is here for longevity," Smith said. "We'll mix it up with other colors to make it feel fresh. And then there are more saturated shades of blue, such as indigos and cobalts, which are forward-feeling."
Even more interesting to her than color—texture. Metallics and ombres are popular, Smith adds, and her distressed indigo pillow is still a bestseller.
"Blue has the connection with water and the natural elements," Elton explained, noting that Brown Jordan has used orange accents for quite a while. Speaking of bold color, their Deia collection, clad in Lily Pulitzer-esque pink and green was a showstopper, like most all their pieces by renowned designer Michael S. Smith.
Both Elton and Laurie Rudd, public relations for Castelle, agreed that white is increasing in popularity—most notably on the new Barclay Butera collection for Castelle. It's Barclay's first foray into the outdoor space.
"There was a time when we took white out of the lineup, and now it's come back and it's glossy, fresh and beautiful," Rudd said.
Butera combined a navy fabric/white welt with a white frame inspired by a European tile motif, all crowned with golden finials. His new Castelle collection exudes wealth; it's by-the-sea nautical meets Old Hollywood glam.
Americana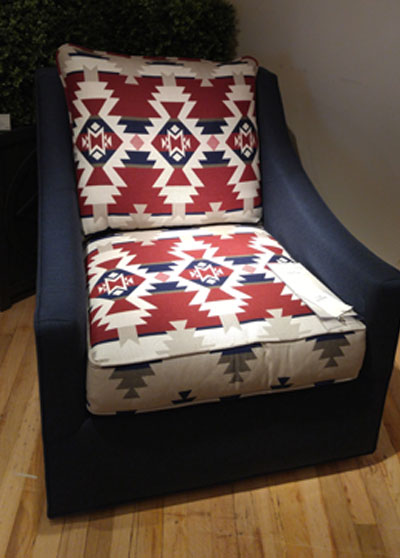 We must take a moment to congratulate Sunbrella on their new collaboration with Pendleton, as in Pendleton Woolen Mills, with the tagline, "Enduring American style since 1863."
For the first time in Pendleton's history, the company has translated its iconic woolens for outdoor use—all thanks to Sunbrella.
"It's a new marriage," said Harrison Hood, residential sales associate, Glen Raven. "It speaks to the heritage of the Pendleton brand. It's very Southwest-inspired."
Sunbrella worked extensively with Pendleton designers to translate seven of their Native American trade blanket patterns into performance fabric. For example, they developed the Lahaina blanket pattern into a range of colors and patterns including a blue check, a chenille and a twill texture.
Best part: the new fabric could be seen in its full glory in the Century showroom, on both interior and exterior pieces.
"The Pendleton pattern is impactful, and we like how livable all the pieces turned out to be," said Haynes King, director of outdoor products, Century. "We're excited about these two great American brands working together, their heritage and having that design aesthetic extended to the outdoors."
Inside Out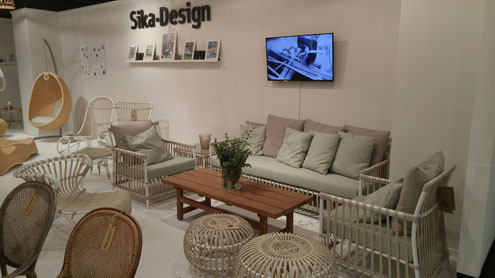 Interior furniture continues to be literally translated for the outdoor space. And we mean literally. At Sika, the outdoor furnishings practically mirrored the indoor pieces.
"There has been so much demand for our frames that we've taken our indoor frames and reproduced them in powder-coated aluminum for the outdoors," said Brendan McCarthy, managing director, Sika.
Case in point, their best-selling high-back chair (another trend: high-back chairs), now has the exact replica for the outdoors. And one of their "icon" designs, the Nanny chair, also has a new version for the 5th room.
A.R.T. Furniture upped the outdoor ante at its High Point showroom, dedicating about 4,000 square feet to the category. Their design strategy: Take the best-selling indoor collections (Arch. Salvage, Epicenters, Morrissey, Cityscapes and Rosèline) and translate them for the exterior.
What's interesting is that not only did they have the sweeping outdoor showroom, they also placed the exterior furnishings in the interior vignettes, so buyers can easily imagine what it would be like to seamlessly transition from the inside out. While their prices aren't expensive, they pride themselves on being middle pricing, only with a high-end look.
"As far as expectations, the performance of our outdoor program has far surpassed our expectations," said Adam Tilly, senior vice president, A.R.T. "We're already making plans for new introductions."
Viva the outdoors!