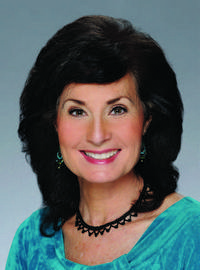 High Point Market report
April 14, 2008
Outdoor designs add bright spots at High Point Market
Designs once reserved for indoor use appeared with new outdoor capabilities at the High Point Market.
"A natural extension" was the way manufacturers described their directions outward.
"Our customer doesn't just live inside," said Pride Sasser, whose accent furniture was among the high-end manufacturers unveiling indoor/outdoor designs for the first time. Dealers' order-writing response to Pride Sasser's eclectic pieces proved he reached some sophisticated, discriminating designers and retail customers while making others sought more familiar shapes.
Extensions to Laneventure's Summer Porch Collection, in WeatherMaster aluminum, received good reception as dealers entered its 8th floor showroom in the Commerce wing of the International Home Furnishings Center.
Whitecraft's Circles Collection debuted and additions were made to its Nantucket Collection, crafted of wicker in a weathered gray finish, as well as its Woolrich Chatham Run group. Dealers seeking the manufacturer found its showroom relocated to the third floor IHFC Hamilton wing, near the Pavilions on 3, which featured temporary showcases of accessories and home accents in Soho style.
Making its debut in the U.S. home furnishings market, Seazons Outdoor gained notice with a sampling of its 22 outdoor collections, providing a choice of six weave colors and featuring Outdura fabrics, stainless steel feet and Dura-glas fiberglass top tables. For more than five years, the manufacturer has supplied furniture hand-woven in Cebu to residential and contract customers across Europe, Asia, Australia and the Middle East. Although it has supplied a high-end U.S. hotel and a dealer with casinos in Kansas City, the company now has opened its U.S. headquarters in Hickory, N.C., said Roger Buff, president, who brings experience from the indoor furniture segment.
BeachCraft Rattan, a division of Capris Furniture, showed off colorful fabrics from sources including Sunbrella, Outdura, Richloom and Rothschild as it introduced six outdoor collections — double the number from the fall High Point Market, when the Ocala, Fla.-based manufacturer entered the category. "We've picked up some additional dealers at this market; some of them were carrying outdoor, but some are new," said Carl Alfrey, vice president of sales and marketing. "The response at this point has been very encouraging. We're convinced the outdoors will be a viable category for us. It's a natural extension of what we do."
Kenian Imports expanded its bamboo and rattan designs, which paired well with Elaine Smith Pillows designs for outdoor and covered areas. The Virginia Beach, Va.-based company lined its colorful Adirondacks, made of Acacia hardwood with stainless steel hardware, outside the showroom entrance.
Ficks Reed also used bright colors on its Double Plunge chaise lounges at the front of its showroom in the Hamilton-Wrenn district. Veneman Collections' new showroom, located next door, offered high-end style for outdoors and in.