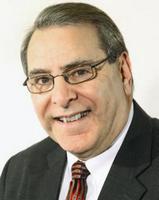 Diving into the category
May 13, 2014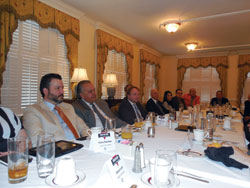 Some of the nation's top furniture retailers, manufacturers and trade show sponsors discussed the opportunities they see during an outdoor furniture roundtable breakfast, sponsored by IMC.
Invariably, the minute I would open our pool each summer, one of my kids would jump in and yell, "Come on in … the water's fine."
When I hosted a breakfast roundtable with leading Top 100 brick-and-mortar furniture retailers who had added outdoor furniture to their mix, I couldn't help but feel that same sense of invitation.
Here's why: While City Furniture, El Dorado Furniture, Furniture First, Grand Home Furnishings, Gorman's Furniture, Johnny Janosik, Levin Furniture and Star Furniture each have their own very successful and very distinct merchandising tactics, they essentially spoke with one voice when it came to how the outdoor category is performing at their retail locations.
In a word: "great."
They also agreed that the segment for casual/outdoor furniture was humming, healthy and headed nowhere but up, which is great for them and possibly less than great for retailers who compete with them.
Many of the retailers who graciously agreed to get up early during the market, indicated that they had either entered the category within the past five years or had re-entered the category after watching the category mature from the sidelines.
I'm sure that many of you who have been around as long as I have find it ironic to see the relationship between the outdoor category and traditional furniture stores come full circle.
Back in the day, outdoor furniture was flimsy, far from easy on the eye and could hardly be called fashionable.
For most traditional retailers, it was a secondary category (and that's being kind), seasonal and the offerings were mostly at opening price points.
Throw in the fact that back then logistics was a relatively unknown word to most brick- and-mortar retailers, and it is easy to see why they tried outdoor, found they couldn't make lots of money with it and subsequently put it out to the curb.
That, in turn, at least on the pages of my book, set the stage for the independent specialty retailers to come in, pick the category up from the curb, dust it off and make it their own.
Over time, the products became more fashionable and formidable and for years, lots of specialty retailers owned the segment by default.
But as they say, that was then … and this is now. And now, a growing number of traditional furniture retailers armed with the whole home mindset are enjoying new revenue streams from recent and current iterations of mid- and upper-priced outdoor furniture.
In turn, a growing number of their suppliers – folks like Lexington Home Brands, Emerald Home Furnishings, Sunny Design and by next market, Klaussner, will reap the benefits of selling fashionable outdoor furniture to focused, sharp traditional brick-and-mortar retailers.
It has been said that change is the only constant.
Nowhere has that been truer than in the backyard – be it yours or that of the traditional furniture retailer.