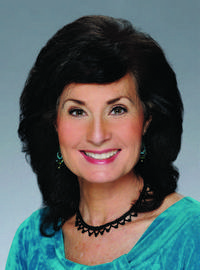 Economic warm up
May 13, 2014
My trip to the beach for Easter weekend was a cold, rainy reminder of the pent-up demand to move outside that everyone in the outdoor furnishings industry has been clamoring for.
After an unusually cold winter, all I wanted was to feel the sand beneath my feet, enjoy the surf and bake in the sun for a couple of days. My sister-in-law had invited us to her home at Holden Beach, N.C., but my husband couldn't go because he had to work. Our son had been begging for a couple of months to take a break from his college classes and go to the beach. Knowing that Easter was relatively late on the calendar, my son and I accepted the invitation weeks in advance and took a chance on the weather. As it turned out, the timing wasn't right because a cold system off the Atlantic Coast brought incessant rain, strong winds and disappointment.
Driving home, the sun finally broke through. I was able to enjoy seeing bursts of color from tulips to azaleas against a backdrop of lush green grass, white dogwood petals and pink cherry blossoms. Closer to home, uprooted pine trees were evident in wooded areas along the highway. My own neighborhood still has piles of broken branches curbside from strong, old trees like oaks and magnolias that haven't yet been completely cleared since the late March ice storms that knocked out power lines and crippled my hometown.
Seeing redbuds, blossoms and blooms return was a good reminder of the spring renewal going on around us. Signs of new construction at the beach also were encouraging.
Nearly all the vendors I talked with about the contract/hospitality segment described a revival in construction, renovation and refurbishing at hotels, which lead the list of contract projects investing in outdoor areas. They reported that the current focus on outdoor areas at hotels, restaurants, country clubs, senior living centers and other commercial businesses has increased requests for and orders of outdoor furnishings and shade products. All were optimistic they would benefit from these improvements in the contract distribution channel.
Spring's thaw is reviving the overall economy, too. Recent government and business reports show the U.S. economy emerging from winter's deep freeze. Banks are making more loans, although not as freely or foolishly as before the recession. Factories are busier than before. Consumers are spending more. The improvement appears to be widespread across the country.
As casual furnishings retailers prepare to benefit from this bounce back, several have shared photos of their stores to participate in our annual Merchandising Awards contest. For the first time, we will reach out to our readers to help pick the winners. After our staff narrows the entries, we will post a few of the top choices online. We're not asking you to choose your own stores or to stuff the ballot box to make sure your friends win, but we are asking the professionals who read Casual Living to select the most effective merchandising displays, the best outdoor areas, store fronts and use of accessories.
This will be a quick opportunity for you to select stores that are presenting outdoor products well to capitalize on the pent-up demand and consumer interest. Now that the weather has warmed along with the economy, let's take advantage of the occasion. The time is right so no one has to go home feeling disappointed.