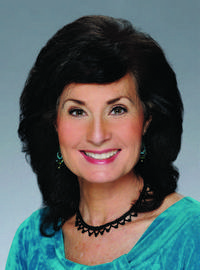 Keep on smiling and selling
June 17, 2014
"That's something you don't see very often," a man commented as he passed by me at the HD Expo.
My sense of curiosity wouldn't let me keep walking without asking, "What's that?"
"Your smile," he said simply. OK, that answer took me by surprise. I had expected him to be referring to one of the new products, the eye-catching displays or even some of the fashion-forward outfits worn by designers, buyers and exhibitors. Instead, he brought it down to the personal level.
Keeping things personal, with an element of inspiration or a bit of non-offensive humor, is crucial to building social media success. Crystal Vilkaitis, owner of Crystal Media, advised retailers on ways to use social media successfully when she spoke to the Furniture First National Buying Group in Fort Lauderdale the day before HD Expo started. Contests and giveaways are good Facebook content, she said, as are before and after photos of customers' homes when you can get consumers to share them. It's all about encouraging "liking" and "sharing" with the goal of getting the customers to return regularly and to share your store's message with their friends.
The photos we studied as we selected winners of our 14th annual Merchandising Awards contest were not of homes, but of stores that sell furnishings for the fastest growing room in the home. As you know, those rooms are often outside the traditional boundaries of the home. They may be on a patio, porch, deck or balcony. They may include a dining set and grill, a chat group and fire pit or perhaps they feature a garden area, spa or pool. The rooms may or may not have walls, but most have some sort of cover overhead and many have rugs underfoot.
The common denominator is that the outdoor room reflects the homeowners' personalities and desires for using the area – whether they intend it for relaxation or entertaining friends and family. It's an informal, happy place.
Those are the kinds of places that brought smiles to the faces of our judges who narrowed the choices of outdoor furnishings stores and selected the best ones. Judges said they would love shopping there as they envisioned the experience at Elegant Outdoor Living in Bonita Springs, Fla. That retailer took first place for Best Overall Merchandising and Best First-time Entry in the multi-store category. You can read more about them and all the other winners, many of which have been recognized and awarded for their outstanding displays over the past 14 years.
For the first time, we invited our online readers to pick their favorites among seven close categories. We will be tabulating those winners while this issue is being printed so we'll be able to share them with you on casualliving.com.
We hope readers will "like" seeing the winners you picked and will "share" the good news, if your store is either a winner or a top contender. In any case, don't forget to keep taking photos of your stores and your customers' outdoor rooms because sharing those images of fun places is bound to encourage others to want their own versions – to ultimately result in better business and bring more smiles.