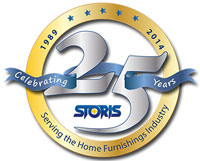 Manage software conversion to be a win for your store
November 6, 2015
Every day retailers find themselves completing tedious tasks they know should take less time. When serving customers, they regret that the processes aren't smoother; as the end of the month approaches, they may think the numbers seem a little off but aren't sure how to figure it out; and finishing yearly physical counts, they realize inventory has gotten out of control.
Situations such as these are happening each day, and, while retailers know solutions are out there that can correct these issues, year after year no changes are made. The reason we hear far too often at STORIS is that implementing new software is "too much to handle right now." Many retailers want to make changes to their technology, yet for some that "better time" just never seems to roll around.
There is no question a software conversion requires a commitment of time and resources. However, the rewards are substantial, and dedicating some additional resources upfront can save you exponential amounts of time and expand your revenue potential for years to come.
As a software company that has completed hundreds of implementations, we constantly hear, "If only we had done this earlier." Retailers can reap the benefits sooner and, with a proactive approach, can make the process as smooth and painless as possible.
A successful implementation is more than possible and can help your business finally get the technology resources it deserves. Software product and service providers know that your business doesn't just stop because you are going through a conversion. Remember: A project manager is an active member in assisting your project, allowing you to continue selling and managing business operations.
One final bit of advice: Choose a software company with staying power.
Unfortunately many retailers are in the situation where they really need to change their software because the technology is becoming obsolete or is not supported. A retailer should choose a company that has a strong commitment to R&D, is in a position for future growth, offers you complimentary upgrades and provides dedicated client services.
A good technology investment will benefit to your business for years to come.
7 steps to successful software conversion
1. Be open to change. Managing a transition starts with the mindset that best practices can make business processes better, and adapting to new ideas leads to growth.
2. Set goals. Knowing what you envision from your new software is crucial to building a plan of action.
3. Outline a realistic project plan. An experienced project manager will know how to balance the smaller tasks and individual milestones that make up the project.
4. Assemble the right team. Getting buy-in from both executives and key people in your operation goes a long way toward user adoption. Those people will help with the momentum and success of the project.
5. Don't just recreate what you have. This is a great time to start fresh, decide what information is still relevant to your business and clean out outdated data. The same applies to daily processes.
6. Communication is everything. Consistent and open dialogue between your team and your project manager is a key to success, including benchmarking progress.
7. Prepare to go live. Take advantage of core training classes, continued education webinars and "go live" support to make the transition seamless.