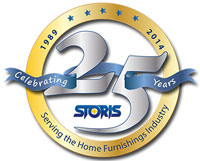 Setting Goals
January 11, 2016
By Caitlin Jascewsky, Marketing Communications Coordinator, STORIS
This is the time of year that people evaluate what opportunities to chase, changes to make and goals to set. While everyone is doing this on a personal level, it is also a time to reflect on what success means for your business in 2016. With new year's goals in mind, here are some questions to help evaluate the state of your business.
Am I on track to meet consumer demand?
We are a software company, so it is obvious we are on board the technology train. There is no denying that technology's importance across retail is growing at an exponential rate as well. Consumers' expectations are greatly influenced by how back- and front-end business solutions shape their experiences. Amazon's expedient delivery wouldn't be possible without advanced logistical technologies and neither would personalized relationships developed with brands that send one-to-one communications based on consumer insights. As technology's importance escalates, make sure your brand is in position to remain competitive.
What direction is my business headed with products?
As a retailer, it is important to stay ahead of design trends and offer product lines that excite your consumer. With increased competition, especially from popular e-tailers, retailers have to be savvy about what their customers want, what price points and when they want it. There are technology tools available to monitor shopping patterns and consumer demand in real-time. For casual retailers, the beginning of a new year is the perfect time to analyze the direction of your merchandise with an eye toward spring.
Does my brand deliver what we promise?
Nothing ruins a brand's chance at customer loyalty more than not meeting customer expectations. An important area for furniture retailers to consider is how accurate you were in projecting and meeting delivery dates, as e-tailers in the industry like Wayfair continue to up the benefits to consumers. Logistical scheduling tools can help you combine warehouse management and customer service. With insights into real-time inventory quantities and route capacity planning, you can be sure to excel at meeting customer expectations in 2016. This is a great way to generate a positive word of mouth and build a strong brand following.
Are my company's business tasks as easy as they could be?
Many business owners may be able to successfully complete necessary tasks, but likely new technology can help complete them in less time, with no paperwork and minimal data entry. Software can help take time away from redundancies and put the focus on strategy.
Is my business in a position for growth?
It is important to reflect on what enabled your business to be successful last year and think critically about what held you back. Take those shortcomings as opportunities to define strategic goals. Savvy retailers develop a realistic plan of action, one that includes checkpoints and milestones, and technology can help you keep an eye on the pulse of your business with real-time intelligence and reporting tools that help discover insights.
Here at STORIS, we are asking ourselves similar questions. Is our technology in the position to deliver a competitive advantage? What can we do to make our internal processes easier so we can focus on product development?