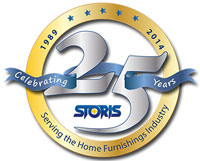 Tap into trends
March 10, 2016
As one of the busiest times of the year for casual retailers approaches, it is a prime time to evaluate rising consumer trends.
The retail environment is rapidly changing as technology and communications shape the way consumers relate to their favorite brands. Last year, the casual industry had an incredibly strong performance, with 4.5% annual growth reaching almost $7 billion (see Casual Living's Universe Study, November 2015).
At Storis, we believe there are some steps retailers can take to help continue this pace of growth. Here are five key trends that are impacting the furniture retail market and ways your business can take advantage of them.
About Experience
Retail is becoming more focused around delivering an experience in addition to great product. Consumers, especially in the Millennial generation, have noted that they will spend more money based on a positive retail experience. What motivates your customers to shop your brand? Define a competitive differentiator that cannot be easily replicated. This could be your involvement in your community or your customer service.
Business intelligence
Retailers that are able to be both proactive and adaptive can make the most strategic decisions. A focus on using advanced business intelligence tools – such as special spread sheets, visual dashboards and report managers – to keep tabs is vital. Visual data is an efficient way to check in on key metrics in real-time. Having business intelligence integrated to your data lets you drill down to the source of information and develop insightful analysis.
Mobile everywhere
Mobile point-of-sale tools are some of the most inquired about, discussed and invested in technology tools for furniture retailers. According to InternetRetailer, 75% of customers are using their own mobile devices in your store to further their research process. Each time your sales associate must find and retrieve information, the chance of losing the sale increases. It is important that your sales team can service your customers as conveniently as those customers can service themselves.
Logistical feats
Most companies can't offer the type of delivery services provided by companies like Amazon, but that expectation of convenience is what retailers are competing against. Retailers can impress their customers by successfully delivering the right product on the promised date and time. Logistical scheduling can help your team set the delivery date correctly from the point of sale by setting up capacity controls to ensure scheduled times and dates are available.
Social engagement
According to Adobe's report on the influence of digital media in retail, 40% of furniture consumers start searching for product on social networks. Pinterest, Instagram, Facebook and Houzz help retailers enhance brand awareness, drive direct traffic to their eCommerce platforms for online sales or encourage in-store visits.
Local furniture stores can promote in-store events to both loyal and prospective customers using social advertising options. Targeting features based on locations, demographics and interests can zero in on your ideal audience.
In addition to these tips, there are other ways retailers can attract consumers. Storis has compiled a full 2016 Industry Trend's Report that includes more in-depth trend analysis and more great strategy. Visit info.storis.com/ 2016Trends for more.