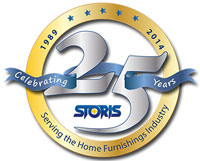 5 ways to manage inventory
May 3, 2016
Maintaining control over your inventory impacts critical aspects of your business from profit margins to customer satisfaction. In a competitive retail environment, inventory management can make or break a business.
There are many advanced inventory management strategies and tactics that work for different business models. However, after almost three decades of helping some of the nation's leading furniture retailers manage their inventory, we know it all starts with a strong foundation.
Set your team's standard.
Motivate your team to practice good organizational habits by leading by example. Always keep your warehouse and showrooms organized, and show an attention to detail for inventory processes.
Train all new employees on proper procedures before they manage elements of your business on their own. Technology can help here by using audit tracking to supervise good behavior. If you notice any mistakes or unusual patterns of behavior, you can investigate, develop solutions and hold employees accountable in the future.
Emphasize precision.
Precise inventory management is affected by the flow of inventory. Processes like selling, purchasing, replenishment and delivery all impact your inventory.
With integrated software, all of these processes can be managed from the same system, which means your inventory will always be up-to-date across your organization in real-time. Using system-wide integration reduces manual data entry errors and helps retailers achieve 99% accuracy.
Adjust as needed.
Inventory management requires flexibility and adjusting to changes in demand. Making adjustments shouldn't slow your business down or impact your inventory accuracy.
Using technology to manage stock adjustments makes it easy and efficient. Perhaps most importantly, your organization knows about changes in real-time.
Changes can include quantities, prices, statuses, location transfers and more. For businesses running more than one location, this becomes increasingly important.
Consolidate operational channels.
More and more furniture businesses are entering the world of e-commerce. For businesses operating across multiple channels, running multiple store fronts or operating a warehouse, we recommend that you evaluate your company's inventory across your entire enterprise. This can help you with meeting demand and maximizing delivering fulfillment. Using a single database for all points of your operation is vital for businesses looking to scale.
Integrate merchandise to technology.
Using software for inventory management is great from an organizational standpoint and works best if your physical merchandise is set up to integrate seamlessly. Simply put, this means label smart.
Design product labels with important information to easily identify pieces. Technology can be used to design labels using the data points in your system to be printed on branded hangtags,
POS labels and inventory barcodes.
In addition, you can print documentation for inventory processes like picking, receiving, delivering and more. Proper inventory management is one of the most fundamental practices of any retail operation, and we know figuring out where to start can seem overwhelming.
Getting started the right way can have a substantial impact on your overall performance and help you toward achieving near-perfect precision.