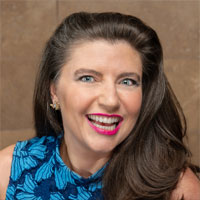 Remember When
October 14, 2016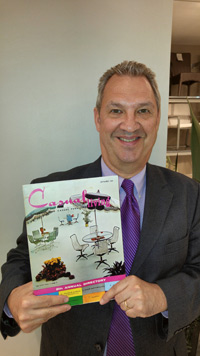 Pat O'Brien and vintage casual
My favorite moment at Casual Market Chicago came not from seeing an innovative new product or from realizing an expanded collection—or in the case of many manufacturers, more than one new collection. It came in the
Anacara
showroom, when Pat O'Brien, someone whom I had never met, told me to, "Wait, right here," he had something for me.
Pat said he didn't know if I'd make it by, but he had brought it just in case. I stood there for a few moments perplexed. "What in the world could he have for me?" I thought.
Then he swung round the corner toting a magazine in his hand with a hot pink masthead: a 1964 Casual Living. Wow! I couldn't believe it! I leafed through the pages, noting all the black-and-white lifestyle ads, such as Telescope's, with models in beehive hairdos splashing in the waves behind their outdoor groupings. So cool!
"Where did you get this?" I asked. Turns out, on a sad note, Pat had found several Casual Livings while going through his father's effects. "My dad was a buyer back in the '60s," he explained. "He helped start the Casual Furniture Retailers Association."
In fact, Brian O'Brien's picture hangs in the Wall of Fame on the Merchandise Mart's 15th floor. For 52 years, he worked at Hoigarrds, Inc., making his way up to executive vice president. In 2003, the association honored him with its first Lifetime Achievement award. O'Brien passed in May at the age of 86.
"We found these magazines in the same box he'd kept important newspapers, like JFK's assassination," Pat explained. "So these were important to him. He read them before he planned any of his market schedules. He said that if products were in Casual Living, they must be good."
I stood there very humbled, suddenly feeling the weight of my new position (this October issue makes my fourth). It hit me the importance, the heritage, of this publication and what it means to all of you, our readers, who strike me as such warm, friendly folks.
So many of you came up to me at market to offer up encouragement or kudos, letting me know that you "love the Casual Friday video series." Doug Wheat of Hauser's Patio shook my hand and told me he appreciates "the energy I'm bringing to the industry." Petey Fleischut of Casual Marketplace let me know she brought her September issue on the plane with her so she could finish reading it before market. At the ICFA gala, Gloster President Eric Parsons and Mike Gaylord, VP of sales at Agio, made sure to come up to say "hello," and offer their support. Thank you all!
Truly, I feel as if I've not just taken on a job as a brand ambassador, I feel as if I've joined a whole new family—you! And I pledge to you that we at Casual Living will do our utmost to continue its legacy and further the outdoor furnishings industry. So please, I cannot stress enough: Call me, write me, fax me, email me, text me and let me know your ideas. We are right here at our desks . . . Keeping it casual.