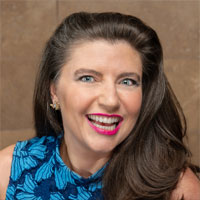 Six Shows: Six Months
November 3, 2016
One thing that has made the biggest impression upon me in my six months in this business—you all work very, very hard! This furniture industry is tough, particularly traveling and working all the markets. I'm proud to say that I've actually completed six markets in six months' time, so I think I've arrived!
Here's my show schedule (below) since joining Casual Living on May 16 and my lasting impression of each one – why it's special and why you should go. I'm also giving each show my own personal "Difficulty Level" from 1-10:
International Textile Association Showtime, June 5-8, High Point—Having the fashion fever, I was like a kid in a candy shop amongst all the glorious fabrics! And I was also quite frankly amazed at how some outdoor fabrics perform—with the water running off them like liquid mercury. I had never seen anything like it! Not to mention the high style of some of the collections, some of which resemble Lilly Pulitzer or Kate Spade fabrics—only for your outdoor sectional. Who knew?!
Why it's important: Manufacturers pick out their fabrics, and designers dive in, too.
Difficulty Level: 2.
ICFA Preview Show, July 12-14, Chicago—My first impression was just how large The Mart is. The property claimed the title of "the largest building in the world," when it opened in 1930, and today it boasts 4.2 million gross square feet. I was relieved to find the outdoor category well-organized on two floors (15 and 16, along with a few on 14), with the temporaries on floor 7.
Why it's important:This show is a great way to get a jump on the season—perhaps you're not ready to pull the trigger on orders, but you can get a good idea of the trends and styles to come. For stores who need those early buys, this show is perfect, and you can get all your orders knocked out at once.
Difficulty Level: 4
Las Vegas MarketLas Vegas Market, July 31-Aug. 4—You'll need your extra-comfy shoes for this whopper at the World Market Center campus, boasting 5 million square feet with the outdoor category a bit more spread out. Then factor in those mile-long walks from your taxi door to your casino door. Thank goodness I'm a Las Vegas girl (I've vacationed there about 20 times, and I probably shouldn't admit that, but who can resist all that neon and kitsch!)
Why it's important: This market is the best way to reach the West Coast. I think Kyle Williams, national sales manager, The Hammock Source, put it best: "We're strong in the South and Southeast, and we're trying to get into the West Coast. This is our main goal here."
Difficulty Level: 5
spoga + gafa, Sept. 4-6. Cologne, Germany—So this show was tough because I hadn't travelled internationally in quite some time—and never to Germany. So for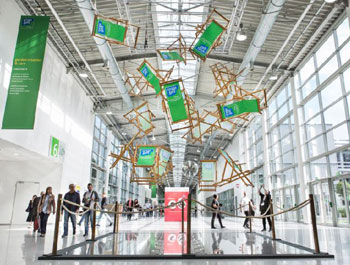 spoga + gafa
example, on my way to the airport, I realized I needed an electric adapter. Once I got my travel legs on, the going thankfully got easier. What I'll remember about this show is the enormity of it, so large that our press tour had to take busses to get from one end to the other. Also, the level of innovation and invention was off the charts: After just having attended three shows, I continued to see product I'd never seen before.
Why it's important:
According to spoga veteran Bob Sayre, executive vice president,
Yotrio
: "Back in the 1990s, spoga was extreme. Wild reds, oranges, all kinds of crazy colorways that were so different, they didn't have a chance in the U.S. or Canada. The show was also very dense on wood. Now it has become a global market. You can see wicker sets and dining sets that could go to the U.S. today. There's a much larger crossover than ever before. Used to be you could come every three years, but today, if you're in mass retail, you need to come every year."
Difficulty level:
10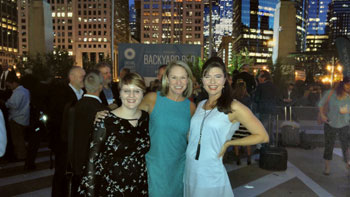 Waynette (right) having fun at Casual Market Chicago with Casual Living Online Editor Bridget Driscoll (left) and designer Libby Langdon (center).

Casual Market Chicago, Sept. 20-23—OK, this is the Big Show in the outdoor category. Anybody who is anybody is at this show. I was amazed at how it felt twice as big as the Preview Show. And I loved all the pomp, circumstance and networking surrounding it, from the Kickoff Backyard BBQ to the OW Lee Casino Night to the ICFA Gala and Fabric Fashion Show. It was so much fun! Admittedly, my life passed before my eyes several times as I was trying to emcee the fashion show without coughing, sneezing, stuttering or pronouncing a name wrong—but I made it through with the help of longtime industry veteran Connie Lineberry. (Thanks again, Connie!)
Why it's important: It's the perfect timing with the season to get buys in for next year, and it's the only market strictly for the casual industry. Buyers are here who don't attend other markets. Of note, the Mart recently reported a 10% attendance increase over last year.
Difficulty Level: 6
High Point Market, Oct. 22-26—This show was the stopper—it nearly killed me! Who knew there were so many buildings devoted to furniture in downtown High Point? 180!!! I should have worn my FitBit. With about 60 outdoor manufacturers exhibiting, it was honestly hard to make it around to see everyone, and I constantly forgot to schedule time for lunch (my apologies to Lexington for scarfing down that ham sub during our meeting). Most impressive about this show was just how many new collections we found in each showroom, a departure from previous years.
Why it's important: This market is interesting because it attracts such a high designer and international clientele—alongside full-line furniture stores. So manufacturers have to work extra hard to appeal to both. I love color, so I enjoyed seeing the collections that I'd first reviewed at Casual Market appearing in such bold hues and fabrics.
Difficulty Level: 8