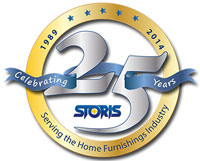 Four Ways to Win the e-Commerce Game
November 7, 2016
Retailers know their website is the first point of engagement for prospective customers to experience their brand. And for savvy store owners, that engagement can result in a boost in sales. In fact, Business Insider estimates that "one-fourth of all furniture purchases will take place online this year."
Because a strong web presence is vital, it's important that retailers execute a successful web strategy that not only builds interest in their brand, but also stokes sales. Here are four tips for running a website that drives traffic both online and to your brick-and-mortar stores:
Create a Knock-Out Homepage
Your homepage is the introduction to your store. It's the place to define your brand and set the tone for your customers' shopping experience. Use a sophisticated design with high-quality imagery and a color scheme that is true to your brand. Organize your toolbar navigation with five to 10 options and a clear framework of category and sub-category items that drop down. It's also important to have intuitive search functionality. The goal is to captivate the consumer and draw them further into your site. An engaging, easy-to-use website immediately gratifies the consumer and reduces your homepage bounce rate.
Positively Position Product
Both online and in-store, consistency is key when presenting your products. Price points should be the same across selling channels. If the prices are different, consumers may be confused or lose trust. In addition, it's important to provide ample product data online to make up for the lack of a salesperson. Informational points that make a strong product page include: availability, pricing, shipping or delivery charges, dimensions, add-on products, similar items, reviews and social sharing capabilities.
Score High on Google Rankings
While Google's algorithms are not divulged to the public, certain site attributes are important for site performance. One factor is how often you update your content. Adding new products is a natural process in e-commerce, but don't forget to specifically change features on your homepage. An example is rotating impactful customer testimonials every month and keeping your banner fresh with promotions or new product collections. Other important ranking factors include mobile responsiveness and speed. There are free tools available that can help you monitor the speed and tell you exactly how to improve it. Since product is visually driven, we suggest uploading compressed images to cut down on large media file sizes that can slow down speed.
Take the Time to Analyze Website Performance
Google Analytics is one of the best free tools that captures real-time data. Categories of analysis include what your audience looks like, what sources drive users to your site, their on-site behavior, what they are buying and more. You can even capture detailed e-commerce performance such as sales analysis by product and check-out process activity. Creating goals for your site is important for reporting, analyzing your data and taking action. Plan a monthly team meeting to review the strategy and devise action items to continue to enhance your site's performance.