Why m-commerce is the new e-commerce
November 21, 2016
If you think e-commerce is the next big thing, I have bad news for you: You're already behind.
The biggest new trend in retail is small, and likely in your pocket or purse—m-commerce, or shopping via mobile phone.
According to a report from Internet Retailer, 30% of e-commerce in the U.S. is conducted via mobile devices, and mobile commerce generates around $100 billion in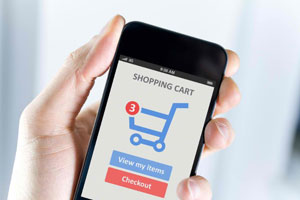 revenue per year. That's a sizeable chunk of the retail market.
So, how do you get a piece of that pie?
The first step is making certain your e-commerce site is optimized for mobile phones. Even if you don't have a sales component on your website, mobile optimization is critical. According to a recent report by comScore, 65% of all digital media time is spent on a smart phone or other device. If your site isn't mobile-friendly, your customers will move on to one that is.
Aside from basic mobile optimization, adding additional capabilities that make your site more user-friendly will increase engagement with your customers. Offering extras such as the ability to zoom in on a product photo, as well as alternate views of the product, will help consumers feel that they're getting a better idea of what they're looking for.
Another important feature to include is omnichannel capabilities, meaning shoppers can order items and then have them shipped to their homes or pick them up in the store.
Finally, keep clicks low. One initiative Amazon has found great success with is one-click shopping via its mobile app (with consumers preloading their shipping and payment information into the system for speedy processing). Personally, I love this feature and find myself making purchases on the fly that I might otherwise have left lingering in the cart had I been given a multistep process to complete the sale—that elusive online impulse buy!
While improving your mobile experience requires some investment up front, like any tech upgrade, the rewards pay off, not just in increased sales, but also by showing your customers that your business is just as innovative and forward-thinking as the Amazons and Wayfairs of the world.