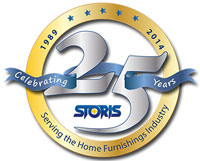 New Year, New Tech
January 9, 2017
When using business software, it's easy to get comfortable with the familiarity of a routine. Sometimes we don't even stop to think, "When was the last time I updated my software with new enhancements?" How long it's been may surprise you. While the ease of the familiar may seem great, what you're missing by not having an updated software system can be holding back your business. Here are five reasons why a software platform that regularly innovates is an advantage.
Enhanced Functionality
The obvious reason to get excited about upgrades is new features. STORIS has recently added enhancements including mobile optimized screen-design, advanced discounting logic, EMV credit card processing and integrated e-commerce, just to name a few. It's also important to consider how your technology company chooses what to add to its package. At STORIS, we use an interactive design portal, where our retailers submit and vote on features they want the most and will provide the greatest impact. This is one way to ensure the voice of the retailers is heard.
Evolving Customer Demands
Another reason to value upgrades is that your customers do. Let's face it: Today's consumer researches online and shops at fewer retailers. Many are making purchases without ever entering a store. The retailer whose software aids in delivering that seamless experience will earn the customer's purchase and gain repeat business.
Compatibility to New Devices
Technological hardware and infrastructure, such as computers, tablets, cellphones, operating, systems and websites, are evolving rapidly. Software developers have to plan to keep up with new releases. If not, your ability to service your customers on the latest devices will be held back.
Staying Current with Consumer Legislation
Protecting consumers' private information is a concern for many retailers. This may be overlooked when thinking about what updated technology means. If your software hasn't been upgraded in years, it's most likely behind on PCI compliancy, EMV liability laws and the latest in security encryption necessary to keep your consumers' information safe.
Embracing a Culture of Change
Finally, a software partner that delivers regular upgrades is a strategic advantage. You can position yourself for the future by embracing change as a normal part of business. When you receive enhancements multiple times a year, the progression of your workflow becomes natural and maintains its sense of familiarity—all while providing your company with the best resources to run your business.