Will Amazon Go Change Retail?
January 19, 2017
While everyone has seen Amazon as a harbinger of an online-only retail world, the company has recently moved in the opposite direction, opening brick-and-mortar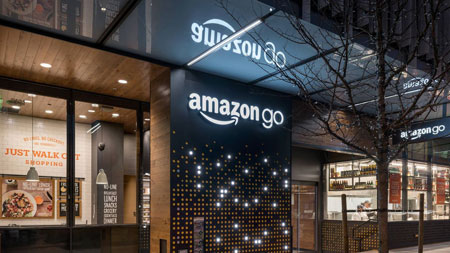 bookstores and now its Amazon Go store in Seattle.
The 1,800-square-foot shop—which opened this month—sells grocery staples, prepared foods and meal kits. Sounds conventional enough, right?
Not so fast. This is Amazon, after all, so of course there has to be a high-tech twist—in this case, an app that requires shoppers to scan their smartphones as they enter the store. While they shop, the company's "just walk out" technology tracks what items they remove from the shelves (it also keeps track of things returned to the shelves). When the customer is finished shopping, they simply walk out, and their Amazon account is charged for the items they picked up.
See related post: Three Lessons Every Store Can Learn from Amazon
Whoa. While the skeptic in me thinks about all the ways this could possibly go wrong, the impatient shopper in me (who's usually harried with a toddler in tow) sees it as the amazing next step in the evolution of self-checkout.
But will this type of shopping experience take off? And could it ever work in a furniture store?
See related post: Why I Bought Furniture Online
While checkout-free shopping certainly makes sense in a grocery store setting, for furniture it seems less likely. The nature of the product is different—the size alone makes the assistance of store staff almost irreplaceable—and most consumers want personal service from an actual human being when making such a big-ticket purchase.
Far-out techie stuff aside, the big trend that Amazon is making a major investment in is the bricks-and-clicks retail model. For Amazon, this means taking their online operation to the streets, but for traditional retailers, it means ramping up their online presence and offering a web experience on par with their in-store service. It also means offering efficient, intuitive service in the store that makes the shopping experience easy and enjoyable for customers.
See related post: Why m-commerce is the new e-commerce
No longer is it just enough to have a basic website that you update every now and then or to operate on the old-school technology that has worked for the past 20 years. The online retailers are sticking their toes in your pond, and if you want to compete, you have to be ready to show customers you're just as savvy and knowledgeable as the online giants on every level.