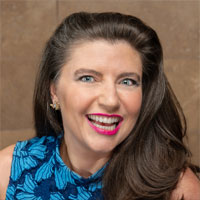 The A.R.T. of the Deal
February 9, 2017
The No. 1 thing that's keeping most everyone awake in the casual world—whether you're a manufacturer or a market official or a retailer—is the erosion of the specialty dealer base. At the same time, the No. 1 thing that most folks agree on is helping out these independent stores and bolstering their business during these days of intense competition from e-commerce, as well as all the new entrants to the outdoor category.
Enter Gloster and its annual Advanced Reseller Training or A.R.T. The two-day event, Feb. 7-8, ushered in about 30 Gloster dealers (plus design studios and contract/hospitality reps) from around the globe (Peru to Bermuda) to learn the finer details of the company's luxury furnishings at their headquarters in South Boston, Virginia.
"It's crucial that you understand what you're selling," said Eric Parsons, president. "To close the deal, you might have to convince clients that this is the best buy they can have."
Speaking of the best, Gloster rolled out the red carpet for guests, putting them up in the swank Berry Hill Resort & Conference Center, and taking care of all the expenses and details. Further, attendees got a tour of the 670,000-square-foot home base, from customer service to cushion manufacturing.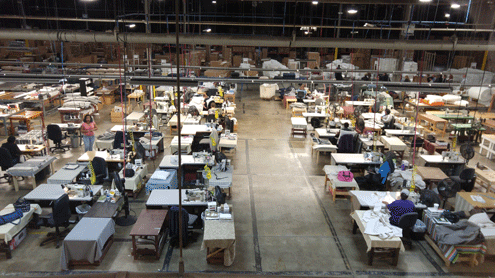 Cushion manufacturing at the Gloster facility in South Boston, Virginia.
"You're selling a sense of confidence, a sense of reliability, and the service you deliver is second to none," Parsons told the group. "Affluent consumers have very high expectations, and you must meet or exceed those expectations."
To prepare them to do just that, Gloster presented the unique qualities of its teak, outdoor lounge and woven groups, from carefully selecting timber from Indonesian teak plantations and taking the wood to its factory near Surabaya, to weaving every piece of woven furniture by hand. (Interesting nugget: Husband and wife teams weave the larger pieces.)
See related article: Gloster Introduces Archi Dining Chair
"Styling is critical," Parsons stressed. "And the craftsmanship behind it has to deliver, too."
Lori Gilbert, sales manager, Parker Furniture in Beaverton, Oregon, said she was impressed by Gloster's advanced attention to detail, and she enjoyed the education on teak farming—learning facts like 95% of the world's sustainable teak forests reside in Indonesia, where the government has made export of raw timber illegal to increase its tax base and employment.
"We couldn't produce teak furniture here if we wanted to," Parsons replied to a retailer's inquiry about possible tariffs levied by the Trump administration. "We're all expecting tariffs to be imposed on some imported products . . . We can't ramp up and have product here overnight; that will take time."
And time is one thing that Gloster is good at: spending both time and money to train retailers and dealers on how to best sell their brand. A win-win situation and a reason for a good night's sleep.