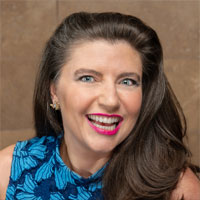 It's Elemental
February 13, 2017
Creating furniture for the outdoors or designing the quintessential "5th room" reminds me of what it's like to take a yoga class outside—a real challenge compared to practicing indoors. I'll tell you a secret: I have both taught and practiced yoga for over a decade now. It helps to keep me calm and centered in this crazy, casual world. (And after you read Gary James' 2017 regulatory compliance report on p. 34 of our February issue, you may decide to start your own practice immediately.)
Why is outdoor yoga so challenging? First, there's no ceiling, so it's twice as hard to balance. It's tough to find a focus. Similarly, an outdoor area requires a focal point—a fountain, fire pit, artwork—to balance the space. Further, practicing the asanas outside requires more concentration because of the sounds: birds chirping, traffic noise, the wind in the trees. Then there's the temperature: It can be hot and sticky, or misting rain, unlike a controlled yoga studio. And let's not even talk about the bugs. I've had spiders crawl across my yoga mat before, with me on it!
In sum, when you're outside, you have a heightened awareness of your senses and you must confront Mother Nature and her all important elements: earth, water,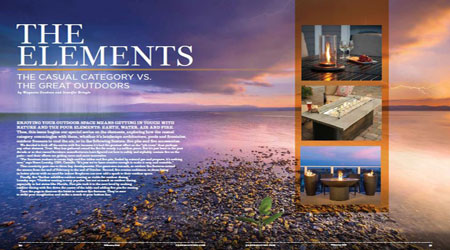 air, fire. Starting this month, we'll explore just what that means for the outdoor furnishings industry. What is the best outdoor footprint? We'll talk with landscape architects in the April issue when we address the "earth." Of course, water is a no-brainer: pools, fountains and aqua elements are a must these days when it comes to casual décor, and the surrounding furnishings must be able to get splashed on.
Air? Outdoor furniture makers are becoming masters when it comes to shade products and keeping the air cool and comfortable. Now outdoor kitchens have both refrigerators and freezers to battle the summer temps. And then there are suspension products: chairs that swing, lights that dangle, and even outdoor daybeds are getting secured to porch ceilings.
In the February issue, we start with the most important element of them all for the category: fire. It has potentially changed the outdoor industry more than any other element because it has extended the season from February to October, and it's an expensive item that calls for the complementary furnishings around it. Sofas, loveseats, chairs. Ca-ching!
Most of all, we hope this February issue finds you all cozy and warm, snuggling by the fire pit with loved ones and roasting marshmallows. Namaste.