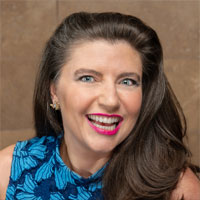 Grills Galore
March 15, 2017
Here's a confession: I have never grilled. I hope this doesn't get me kicked off the casual island. Sure, I've been to plenty of backyard barbecues, but I, myself, have never operated a grill. Not charcoal. Not gas. Certainly not infrared. (I generally stay away from anything aflame, as I tend to wear too much hair spray and other flammable products.)
So, admittedly, I approached our March edition, the annual Grill Issue, with some trepidation—but also with great curiosity about all the new-fangled grills on the market. I can only hope the issue is as educational for you, as helping put it together has been for yours truly.
On pages 18–22 of the March issue, you'll find up-and-coming products from the HPBExpo in Atlanta, the biggest barbecue event of the year and reason for all grill hounds to salivate about what's hot and now. Much to my surprise, I learned I would be presenting an award at the expo: the Donna H. Myers Barbecue Leadership Award, sponsored by HPBA and Casual Living. (I came on board last May, so this is my first HPBExpo.)
See Related Post: HPBExpo Highlights Slideshow
So just who is Donna Myers?
"She was so well-known," recalls Norman Hamilton, former publisher of Casual Living. "She was the queen of the barbecue industry. Everyone loved Donna. She was writing for us because our editor Cinde [Ingram] had assigned her an HPBA article. I met her at the expo in Salt Lake City in 2008. She was a sweetheart of a lady, and she gave us a lot of credibility with her writing."
Myers was also a pioneer for women in public relations. According to her obit, she was "widely recognized as an authority on barbecuing and grilling, at one time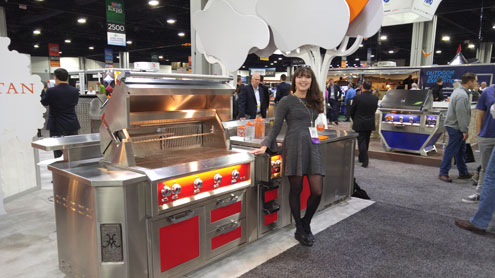 Waynette gets a crash course in all things grilling at the HPBExpo.
having more than 30 grills in her backyard. She advised countless manufacturers, contributed to numerous cookbooks, judged cook-offs worldwide, and was frequently quoted by the national media as an expert on the subject."
See Related Post: Barbecue and PR expert Donna Myers dies
One of her longest client relationships was with the Barbecue Industry Association, which later became part of the HPBA. She also worked in media relations for Big Green Egg. "Donna's magnificent media skills helped bring our company to the attention of the barbecue world," said Ed Fisher, chairman of Big Green Egg, in her obit. "She was a master of her craft. We were fortunate to partner with Donna in our early days, and her marketing expertise was a very important factor in the growth of our company."
Myers died in January 2011, and Casual Living presented her with the first award posthumously in 2012.
To meet this year's winner, Twin Eagles founder Dante Cantal, check out page 36 of our March issue. Cantal received the honor for his distinguished professional achievement and community service, combined with a penchant for problem-solving and an unwavering commitment to the barbecue industry.
See Related Post: Twin Eagles' Dante Cantal receives 2017 Donna H. Myers Award
I had a great time presenting Cantal with the award. And out of solidarity, I pledge to fire up my own grill—someday. Maybe I should get a haircut first.