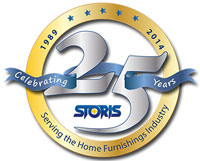 Unified Commerce
March 13, 2017
In the not so distant past, traditional brick-and-mortar retailers had their worlds shaken up by the introduction of e-commerce and the idea of multi-channel retailing. Soon the concept of omni-channel retailing made them realize they didn't have to be just a brick-and-mortar outlet or an e-commerce site. In fact, successful brands should have a strategy for multiple outlets. Fast-forward to today and we've arrived at "unified commerce." This is the next evolution of retailing, a concept driven by consumer behavior that's a strategic initiative for leading retailers.
Unified commerce is about delivering a seamless customer experience. Every interaction clients have with your brand—through their personal devices or through the technology in your showrooms—must be smoothly integrated, provide a pleasant experience, and convey your brand message.
The differentiation from omni-channel retailing is how retailers use technology to execute this strategy. Unified commerce is achieved through a single commerce platform that centralizes your data through real-time integration of products, images, customers, shopping carts, sales orders, inventory management and customer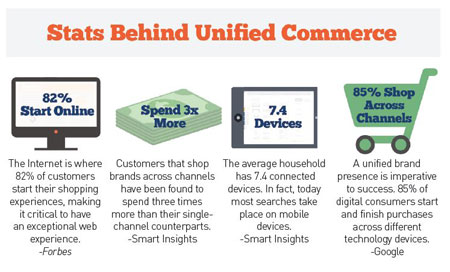 service. Here are three key steps to unified commerce:
Unified Customer Mentality
Your in-store, e-commerce and mobile customers aren't different people. They're one person interacting with your brand everywhere. Smart Insights has found that the average household has 7.4 connected devices and that the customers who shop your brand across channels spend three times more than a single-channel counterpart. Your technology should use a unique identifier to create a customer profile. Both the client and your team will want to access their information, open orders, and see their purchase history for a seamless experience no matter where they shop.
See Related Post: New Year, New Tech
Unified Inventory Management
Because 82% of customers start their buying journey by browsing online, it's critical that the inventory your website represents be the same as in-store. This includes available quantities, pricing information and delivery estimates. Any changes you make to your centralized inventory management should be reflected across all channels in real time.
See Related Post: Four Ways to Win the e-Commerce Game
Unified Shopping Carts
Have you ever built a shop- ping cart, only to return later to find it isn't there? This can be very frustrating. Shareable shopping carts maintain the stage of your purchasing cycle and let you pick up right where you left off, which helps increase conversions. This means the same cart can be accessed on your e-commerce site, at point of sale and in-store kiosks, as well as via mobile sales tools. Today only 18% of retailers offer a unified commerce experience. Evaluate your business and how it can better deliver a unified front.