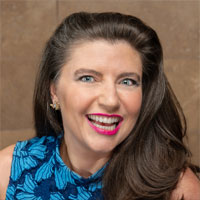 The Power of Email Marketing
April 10, 2017
Of all the marketing tools at our fingertips today, email marketing remains one of the most effective. Send me an email blast about a new product launch, and I'm a total sucker. I can't help but click through immediately. For example, I've been known to run out at lunch and buy every single piece of clothing down to the belt in a Banana Republic e-blast.
Truthfully, for Casual Living, we get the majority of our web traffic through our regular Monday and Thursday e-newsletters. Folks see an article they're interested in and click through directly to our website. Once they're on the site, they might surf around to other favorites, such as the Casual Friday video series.
At this year's ICFA Educational Conference in Scottsdale, "The Marketing Lady," Tarsha Polk, presented "60 Ways to Grow Customer Engagement," with list-building strategies. Polk stressed that email is both popular and affordable. Further, e-blasts deliver immediate and measurable results. They even have a higher engagement than Facebook (seriously!)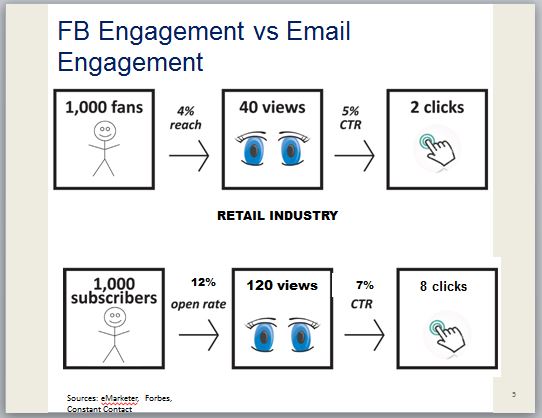 Now that I have your full attention, here are my favorite tips that Polk offered up on email strategies.
Keep It Old School
Email subject lines should do three things: entertain, warn or inform. So keep it simple. The first step is to get them to open the email. "Who it's from and what it's about determines whether it will be opened," Polk stressed.
Offer an exclusive benefit in the email, perhaps a discount that doesn't expire and incents people to come back. "They might get something special on their birthday or anniversary," Polk said. "The more you engage them, the more you're top of mind, and the more likely they are to come to your store."
By "exclusive," that means viewers can't get these deals any place else except by virtue of being on your e-newsletter list. "It's only available to email subscribers," she said.
Also, be sure to personalize the emails and have a name in the field. Lots of time, blanket emails are simply deleted.
Sign Them Up
How do you get customers' email addresses? Again, keep it simple. A paper sign-up or guestbook at the store is just fine. Fishbowl drawings at expos and tradeshows are also still an effective gathering method. Recently, at the Outdoor Design Conference in Chicago, after my presentation, I simply asked designers to sign up for our new Exterior Design magazine. That worked!
[See Related Blog, "4 Essential Online Tools for Retailers."]
Polk applauded Sunnyland Furniture in Dallas for the specificity of their email signup on their website: "Once a month, Sunnyland will send you advanced notice on upcoming events, the latest news, tips to keep your furniture looking new and exclusive coupons." The viewer is more apt to sign up because they know exactly how much they'll be receiving emails and exactly what they'll receive, including exclusive coupons.
Social media-wise, Polk provided a laundry list of ways to glean email addresses, from simply adding a signup tab to your Facebook page or creating a special Facebook offer, to using an Instagram video. In 15 seconds or less, tell people why they should sign up. Tweet about your newsletter and let folks know about upcoming deals.
I once used a Casual Friday video to let our audience know how to sign up for a subscription on our website. On this same page they can also choose to get our newsletters and Casual Friday eblasts. You might be amazed at how folks don't understand how to sign up, when it's actually very easy. All they need is that extra how-to nudge. You have to "make the ask."
And on that note, if you're not on our email newsletter list, please click here to sign up.