What is the Future of Retail?
May 5, 2017
Recently, I read an article in The New York Times on the future of retail and how technology is shaping the evolution of how we shop.
What struck me most was a point made by José Neves, the founder of Farfetch, a global online marketplace for independent luxury boutiques. In the article, Neves says: "Customers don't wake up and think, I will be online this morning or offline later; we are rarely purely one or the other anymore and tend to jump constantly between two worlds without noticing."
See Related Post: Will Amazon Go Change Retail?
Wow—so true! How many times have you just mindlessly picked up your phone and gone online? In fact, my colleague Bridget Driscoll learned during a session led by a Google strategist at the High Point Market that the average person uses a hand-held device approximately 150 times a day.
Seriously.
So what does that mean for retail? Is this the end of brick-and-mortar stores? Is mobile shopping truly the wave of the future?
While there's no doubt online and mobile shopping have a huge place in the future of the retail landscape, don't count out the brick-and-mortar retailer just yet. That same article in the Times referenced a report by Bain & Company that says although 70% of high-end purchases are influenced by online interactions, physical stores will continue to play a critical role, with 75% of sales still occurring in a brick-and-mortar location by 2025.
See Related Post: Selling to Digital Natives
The key here is for those brick-and-mortars to learn to harness the power of technology in new and innovative ways that make the shopping experience easier and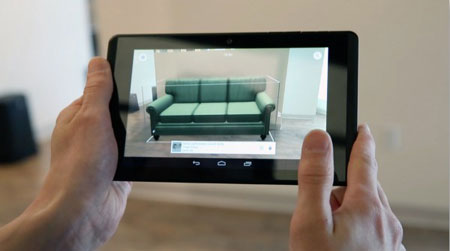 Wayfair allows customers to use augmented reality to imagine how furniture would fit in their space.
more enjoyable.
Augmented reality is one of the trendiest new ways to do just that. British cosmetics company Charlotte Tilbury introduced a "magic mirror" concept in its stores, which allows shoppers to virtually try out a number of different looks with makeup shades digitally superimposed on their faces. The mirror takes photos that are then emailed to the customer to save and share.
Similarly, Wayfair introduced a new augmented reality concept last year that allows consumers and interior designers to virtually place furniture in a space to gauge whether it will fit and how it will look.
See Related Post: Why M-Commerce is the New E-Commerce
Less flashy but just as, if not more important, is the behind-the-scenes technology of inventory management and POS systems that make it easier for customers to get exactly what they want, faster. These systems can marry a store's online and in-person operations, giving customers a nearly seamless shopping experience across channels.
Whether online or in person, that's the key to success in today's retail marketplace—catering to an increasingly savvy clientele who want what they want as soon as possible with the least amount of fuss. And with the right technology, retailers can provide it.