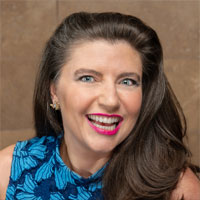 One Bumpy Ride
May 15, 2017
Like any editor worth her salt, while you're reading this, I'm actually on a plane en route to tour the Telescope factory in Granville, New York—our feature story for the June issue. I hope I live.
While connecting in Philly, I noticed that I had a seat assignment change—odd. How often does that happen? Turns out they'd "downgraded" my flight from a jet to a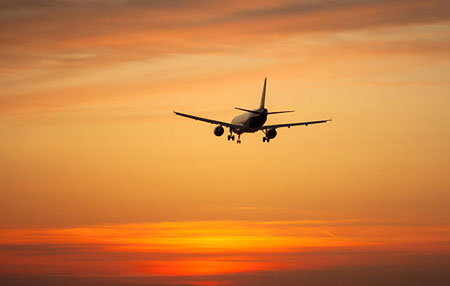 Dash 8-300 turboprop. The last time I was on a plane this small, I puddle-jumped from Miami to Key West.
So needless to say, I'm a bit nervous, especially when the pilot asks me to hop out and spin the propellers the old-fashioned way. Thank goodness I have on my sneaks! I'm kidding, of course.
Then I become concerned because the flight attendant doesn't announce the safety features, which begs the question, "Are there any on a plane this size? What if I need oxygen?" I later surmise that he did go over the safety procedures; only I couldn't hear him over the roar of the propellers, reminiscent of getting your teeth drilled—times one million.
I calm myself by taking out a magazine, only I'm afraid to turn on the overhead light for fear I'll hit the "eject" button by mistake. Then I think, "Well, I'll do some work once we reach our cruising altitude . . . .of 10 feet." Does a puddle-jumper ever reach a "cruising altitude"? Maybe we just buzz around like a giant bee.
Suddenly, the propellers soften and grow quiet. "Oh my God! We're going down!" My first thought. Thankfully, the attendant starts handing out the pretzels, so we must not be in an emergency situation. I wonder if there's enough cargo space to hold drinks. What if I asphyxiate on a pretzel?
They say that writing is therapeutic, and it certainly is in this situation. Don't ever say that I didn't risk my life to bring you the best of what's happening in the casual industry.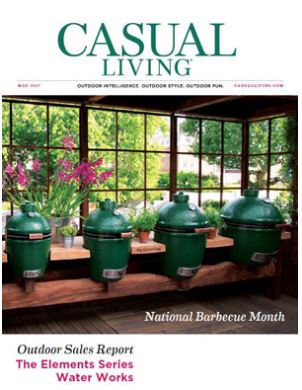 Which brings me to the May issue, with the latest installment in our Elements series—Water. Now I'm wondering what I should do in the case of an emergency water landing. This plane couldn't have those bouncy floating slides that inflate out the emergency exits, could it?
According to my safety information card (whew, there is one!), I can use my seat cushion as a flotation device. But the pictures of the plane's propellers and wings dipping into the water on either side are daunting. Apparently I should escape diagonally out the front or back exit and not out the sides so as not to list the plane.
What would Sully do in this situation?
I'm sure he's glad he's retired. I hope he's outside on his patio now enjoying a wonderful fountain, with the soothing sounds of water to calm the senses. Just as I hope this May issue whets your appetite to explore all the new aqua elements and water-resistant technology the industry has to offer. Safe flights!