How Trends Affect the Bottom Line
August 28, 2017
In the home furnishings business, we talk a lot about trends. We're constantly looking for the hot new thing, or monitoring patterns that will affect business.
At Casual Living, we have the benefit of an in-house research department with its finger on the trend pulse to keep us in the know on what's next. They talk to consumers, retailers, designers and manufacturers, offering a big-picture look at the casual industry and where it's headed in the coming years.
I'm excited to share some of that insight during Casual Market Chicago. I will present a seminar—Trends 2018: Research and the Bottom Line—that explains some of the biggest trends in outdoor, and how they can boost business. The seminar will be held Wednesday, Sept. 13, 11 a.m., in the South Sea Outdoor Living showroom (1532). The session will be worth 1 CEU credit, and lunch will be served after. Click here to RSVP.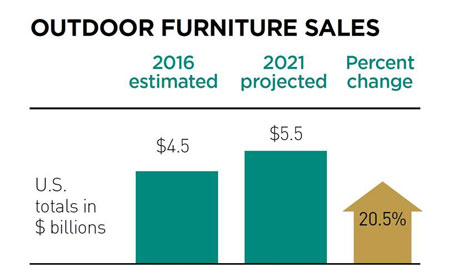 Casual furnishings are on the rise.
See related post: What is the Future of Retail?
Casual Living Editor-in-Chief Waynette Goodson also will talk trends during her Casual Market Chicago keynote address, Tuesday, Sept. 12, noon, in the presentation room on the 7th floor. Waynette will identify some of the biggest trends in the industry, and offer tips to retailers for staying competitive in an increasingly complex marketplace.
Waynette and I are both so excited to share the insight we've gained, and we hope you'll join us in Chicago for these trend-focused events.