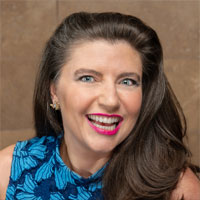 At Their Peak: An Update on Peak Season
September 11, 2017
Known for its unique use of mixed materials and fun accessories (think pillows and lanterns), Peak Season will roll out a new collection and 33 new accessories, for a total of 64 new items, at Casual Market Chicago this week.
Casual Living Publisher John Emerick and I popped in to visit John Diorio, Peak Season vice president, at their Irondale, Alabama, headquarters during our recent Editor/Publisher Roadshow.
In business for nine years, the small company prides itself on on-trend design, attention to detail and quality products. "Every inch of product is touched by human hands," Diorio says. "It's handmade so there will be variations."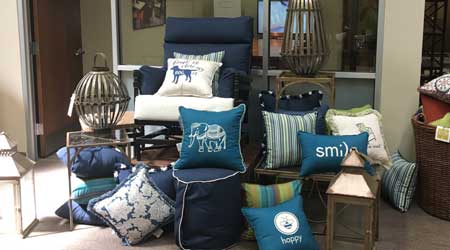 Located just outside Birmingham, the corporate headquarters boast 60,000 square feet of distribution space and 15,000 square feet of corporate office. They have embroidery machines on site to develop all the patterns; then they send them digitally to the factory for mass production.
"What makes our corporate office unique is the 'bullpen,'" Diorio says. "Typically you walk in and it's all new products and accessorized in the way you'd see it in a store."
During our visit, we found it nearly empty, as most products were already en route to Chicago for display in their showroom, 7-5061, which is 1,840 square feet on the temporary floor. "We'll lead with vignettes," he says. "It's a cluster of accessories that catches your eye from a distance."
Their new catalog also incorporates a vignette strategy. "More and more dealers come to us and say, 'I want the vignette on page 44 of the catalog,'" Diorio says. "So we have it priced so they can buy just that."
This week, Peak Season will introduce a new light frame finish to meet current tastes. "For the Southeast region, the dark finishes are still selling better than the light ones," he says. "But there's more interest now in lighter frame colors."
For example, Maddox is a new lighter frame with a gray/brown finish, which pairs well with their all natural, polished concrete tabletops.
Bungalow is still their top-selling collection; it's a plank-style deep seating set, which is getting a new ultra-high-back seating option. And the Lancaster collection will also include a new ultra-high-back seating option.
The best part: All of their accessories coordinate with their furniture. "It has versatility," Diorio says. "You buy the furniture and you have the accessories to coordinate with it."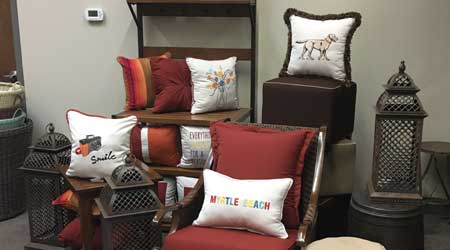 For fans of their colorful, bright pillows: Expect a new dog variety this year that reads, "Home Is Where My Dog Is." They will embroider the words, with a choice of five different breeds. In addition, another new pillow line features zip codes. They even have pillows that read "Family," personalized with the actual name of the family in cursive font, perfect as a wedding gift.
In other product news, Peak Season will introduce a garden screen to better define outdoor rooms, as well as comfy bean-filled ottomans/poufs with handles for easy transport. While they now have two fire pits in the line, they hope to introduce new tabletop options next season. Plans also call for more custom capabilities in the future.