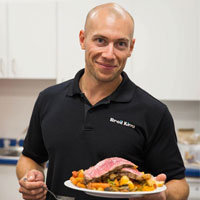 A Fresh Start: Keeping Grills Clean
September 15, 2017
A clean grill, like clean cookware or a clean oven, offers the best backyard cooking experience. A gas or charcoal grill is a frying pan, baking tray, stove top and oven all in one. Clean cooking grids don't come with the unwanted flavor of drippings from Tuesday's saucy cookout or charred bits from last week's chicken. A clean grill helps prevent flare-ups, grease fires, mold and unwanted flavors.
I've said to many grillers: "You keep your kitchen sanitary and clean; why not treat your grill the same way?" This is an important lesson to impart on your customers.
While stainless steel grill brushes have for years been the tested and true cleaning companion for every griller, they do come with some safety considerations. We often make the analogy that a grill brush is like a toothbrush for your barbecue. Ask your customers to picture the grill brush in their backyard. Are the bristles flat? Is the plastic melted? Is there grime caked onto it? Is it still an effective cleaning tool?
One of the most recognizable features of every grill brush is a small black sticker that states: "Warning: Examine brush prior to use. If bristles are not securely affixed to brush, do not use and discard immediately. Ensure cooking grids are free of any loose bristles prior to cooking." Take this warning seriously—the average griller should replace a grill brush at least twice a season. Here are several effective means of grill cleaning to share with your customers: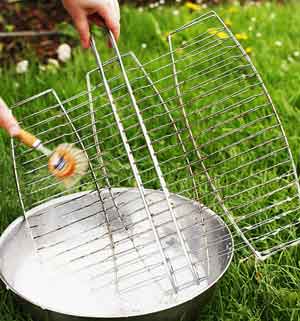 The Burn-off
Ash is easy to clean out of a grill; it can be scraped into the drip tray or vacuumed out once cool. To burn off a grill, set it on medium high and let it heat up. Once the grill stops smoking, most of the grime should be burnt off.
Turn the grill down and open the lid to let some heat out. Brush to clear most of charred bits; the grill will probably smoke a bit more. Turn it back up and close the lid again to burn the newly exposed or freed bits. Once they stop smoking, turn it off— the grill is ready for a good brushing.
The Scrub
Sometimes, a good, old-fashioned scrub is what a grill needs. Advise clients to start at the top and wear a simple dust mask to prevent inhaling ash, as well as grilling gloves to protect their hands. Smoke can build in layers and look like peeling paint over time on the inside of the lid, so give it a scrub.
Brush both sides of the warming rack and cooking grids; then brush the cookbox and burners. This is also an easy way to check the health of your grill and its condition inside. Vacuum out the cookbox or brush it all into the drip tray and dump it into the trash.
Alternative Options
Overusing a grill brush can lead to dangerous situations. Investing in a premium brush is a small price to pay for safety. Most premium stainless grill brushes are tested to standards that exceed established testing requirements. As an alternative, the Broil King nylon grill brush is a cold-use cleaning option. Since the bristles are larger in diameter and incredibly stiff, the nylon brush actually has more scrubbing power than most stainless grill brushes. Finally, should a bristle dislodge from the head, its blue color is easily identifiable on the grill—an important detail for maintaining safe grilling.