Is Amazon the New Sears?
October 2, 2017
I was surfing LinkedIn the other day and stumbled upon a fascinating article from The Atlantic shared by Summer Classics CEO Bew White (thanks for the tip, Bew!).
The piece drew a thought-provoking comparison between Amazon and Sears. Not the Sears of today, mind you, but Sears of a century ago.
Back then, the retailer introduced a new concept to turn-of-the-century consumers: mail-order catalogs. Through the Sears catalog, Americans could order just about anything, from clothing to firearms to baby carriages and even kit homes (yes, you read that right)—and have them delivered right to their door.
Sound familiar?
See related post: Will Amazon Go Change Retail?
Building upon the success of its catalog business, Sears expanded, opening its first brick-and-mortar store in 1925 in Chicago. Throughout the 20th century, the company grew both its catalog arm and its brick-and-mortar presence. It found its niche by being an "everything for everybody" company. You could buy just about anything at Sears.
Again, sound familiar?
What Sears—and the retail marketplace in general—realized was that while mail order seemed like the big bad wolf that would blow down the brick-and-mortar house, it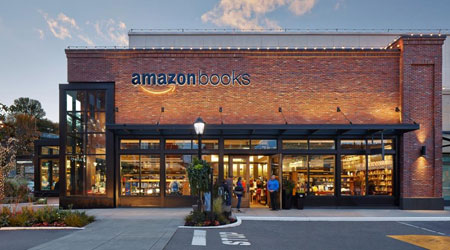 turned out consumers never lost their appetite for the physical experience of shopping.
See related post: Three Lessons Every Store Can Learn from Amazon
Today, catalogs have been replaced by the Internet. And Amazon has opened more than a dozen brick-and-mortar bookstores over the past couple of years, with more in the works. The company also recently bought grocer Whole Foods, essentially adding hundreds of additional non-virtual locations to its stable. Clearly, Amazon is betting that desire for the physical shopping experience is still strong among American consumers.
The research backs that up. According to data from the U.S. Census Bureau, during the second quarter of 2017, e-commerce only accounted for 8.9% of all retail sales. And Casual Living's 2016 Millennials report showed that more than two-thirds of Millennials still prefer to shop for outdoor furniture in person. Further, a recent report from the National Retail Federation 34% of Millennials and Generation Z consumers say they shop physical stores as often as a year ago, while 49% say they visit these stores more often.
But, while brick-and-mortar retail certainly isn't dead (and isn't likely to ever completely die), it's important to not discount the power of the Internet. Amazon knows that its future lies in both channels, and it's making investments to cultivate both. Smart retailers of all stripes would do well to do the same.