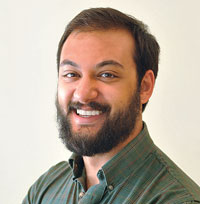 Boosting outdoor furniture sales through online reviews
October 12, 2017
We all know consumers research products online before they come to the store, but what exactly are they looking at?
Our October Casual Living Outdoor Consumer Survey has the answer: consumer reviews.
It found that 75% of consumers read online reviews before buying outdoor furniture. Nearly 60% look at a manufacturer's website, and 52% speak with friends and family who own the product when researching items. One quarter of consumers use social media to research outdoor furniture, with 42% using Facebook and 29% using Pinterest, making these the most popular social media channels for research.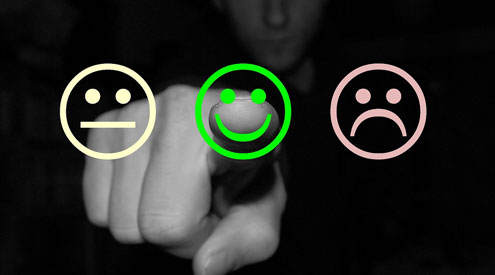 And this isn't just a trend for outdoor furniture. In general, it's been found that 92% of consumers read online reviews compared to 88% in 2014, according to a study from marketing agency Vendasta.
It should be clear by now that online reviews are important, and one of the easiest ways to get them is to simply ask. It's been found that 7 out of 10 consumers will leave a review if they're asked to.
See related: Why you should consider using chatbots
Once you have some reviews, you want them to be seen as often as possible. A great way to do this is to follow in the steps of Florida retailer Hudson's Furniture, who craft social media content out of online reviews.
Posting reviews offers an easy way to attract customers and to make sure you have plenty of content on your social networks. And since a quarter of consumers use social media to research outdoor furniture, a number that's sure to grow, there are multiple benefits to posting reviews as content.
Take a look at this post as an example: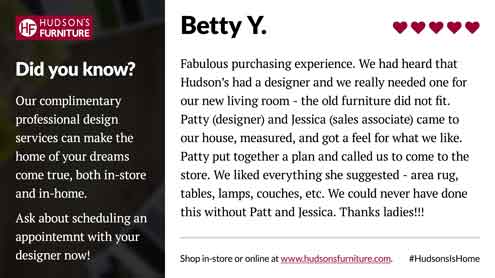 As you can see, the review is simple, easy to read and engaging, with calls to action in several places and hearts to indicate the rating. The review is specific and detailed, so others who look at it know exactly what the reviewer liked. The post also has the name of the person, making it more personal and trustworthy.
"All positive reviews are worth sharing, especially those that name members of our team specifically," says Nathan Rafter, director of digital for Hudson's. "We love seeing and celebrating call-outs like that because it is proof-positive they exceeded the customer's expectations and made a lasting positive impression."
The response has been overwhelmingly positive, according to Rafter. He feels Hudson's customers feel more confident about their purchases and the entire Hudson's team is motivated by seeing the good they do for our customers.
But this doesn't mean you should hide or delete negative reviews. When people see that you've addressed negative reviews and helped the person who was unhappy, they'll understand that you care about customers and want to make things right. This can be as powerful, if not more, than a customer seeing a positive review.
See related: 3 stats on why to carry American-made
With all of this in mind, go out there and ask for customer reviews. But remember this: you need to get the customer's contact information. Many customers say they'll gladly leave reviews, and they probably will, if they can remember. You can even offer an incentive of some kind, like a discount or a chance to win a special prize, to entice customers to leave a review.
Reach out a few days after they've purchased something from you and ask them how their experience was and if they'll leave a review. They're more likely to leave one if they receive an email or text with a link to where they can review it. The easier you make it, the more likely they'll be to review your store.
Have something you want Alex to write about? Comment below or reach out at Amilstein@casualliving.com or @CLalexM