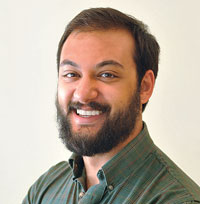 How to avoid common e-commerce mistakes
October 19, 2017
During High Point Market, Blueport Commerce CEO Carl Prindle started his seminar about avoiding common e-commerce mistakes with this idea: Shopping hasn't changed, but the best way to shop (and sell) has.
Prindle was referring to the way the shopping process –discovering a product, understanding the services offered and fulfillment of an order – is still the same, but e-commerce has made buying certain products easier, quicker and more efficient. Though he noted that e-commerce only represents 1% of retail, he said it's going to be important for retailers to pick up on the trend and up their game.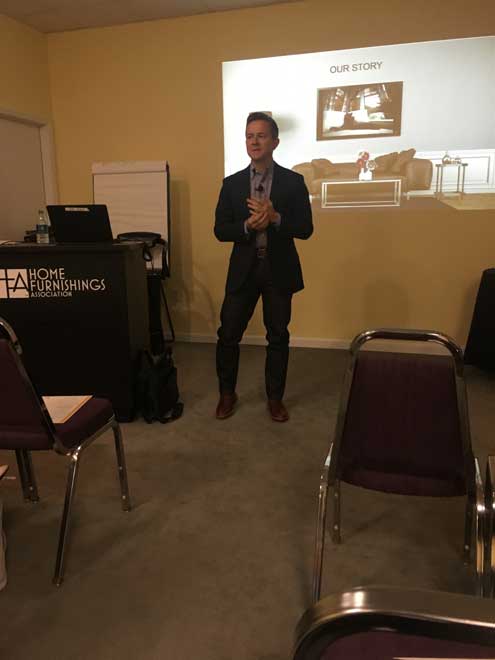 And how should retailers do this? With technology, according to Prindle. "Pure-plays are becoming more like stores, and stores need to respond by upping their technology game," he said. "E-commerce is doing things that haven't been done before. Technology like visual search, augmented reality and virtual reality can move retailers up on the scale."
Prindle broke down the shopping process and pointed out best practices as well as common mistakes retailers make in each stage.
Discovery: Make your website your flagship store.
Prindle split the discovery stage of the shopping journey into three parts: design, merchandising and prospecting. With website design, he said you want to involve everyone, especially the store staff, and to try to imagine your shoppers' journey. Some retailers make the mistake of letting "techies," as Prindle referred to them, design the whole website, which can be bad because they don't know your business or your customers as well as you do.
When thinking about merchandising, Prindle added that trying to rebuild Amazon is not a smart move. Instead, he suggested offering a true representation of your store, and not just focusing on the easy things, but focusing on where you can win. As for prospecting, you need to assume all discovery is done online, but you can't rely too heavily on one channel – it needs to be an omni-channel approach.
Understanding: Make yours the easiest path to purchase.
The role of your website and the role of your store are two separate things, but sometimes they need to be synchronized. Your website should be a gateway to all of your stores, and promote product exploration, content and configuration. Answer the practical questions and encourage both store visits and online sales.
In your store, Prindle said you need to offer an experience worth traveling for. Your store should efficiently continue the online journey, and it's important to provide a personalized experience. Product selection, regular and sale pricing, delivery information, purchasing options and quotes are all key areas of synchronization between your website and your store.
Fulfillment: Make your ability to deliver a differentiator.
Prindle noted that common mistakes retailers make in this stage include not marketing delivery, not specifying dates and not having pickup options. "Before the sale you should detail the awesome level of service you provide," Prindle said. "And if you don't have an awesome level of service, you need to focus on that first. You need to provide precision on deliver dates, highlight in-store pickup as an option and maybe even consider free delivery."
Before the delivery, you should provide regular updates and content about the item bought to the customer. You should not disappear after the sale – you need to follow through and do something that makes that customer want to come back.
This also applies to after the delivery is made. You need to keep selling and avoid letting your service levels dip after the item is delivered. Have a delivery team on hand to solve issues, survey every aspect of the experience and solicit reviews and happy customer photos. All of these actions can turn a one-time customer into a customer for life.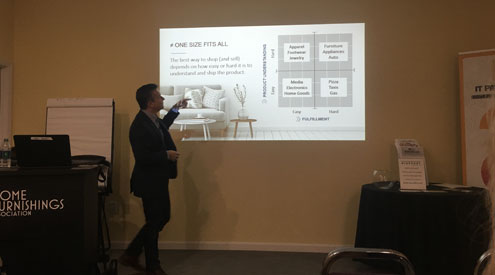 Prindle ended the seminar by highlighting the importance of a mobile-first approach – meaning your website is built to work seamlessly on a mobile device. "Thirty percent of transactions take place on a phone," Prindle said. "Don't underestimate people buying on mobile. Make sure to optimize your mobile site by adding your location, scanning codes with consumer information and important features, such as speed, images and content."