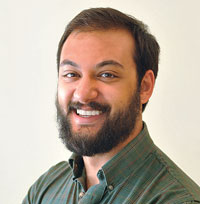 The importance of blending online and in-store experiences
October 26, 2017
During a High Point Market seminar about digital marketing and the power of simplicity, Erika Sparrow, vice president of sales for Imagine Advertising, offered this surprising statistic from the U.S. Census Bureau: Online furniture sales are rapidly approaching a quarter of the total market.
This push into the digital world means furniture companies need to adapt and learn to attract customers to their website and store through the Internet. While web advertising seems like the logical solution, Sparrow explained that 49% of digital ads may never be seen because of ad blockers.
She said that 91% of respondents to an Imagine Advertising survey agreed that ads are more intrusive today compared to two or three years ago. 83% said they'd like the choice to block mobile ads on a phone or tablet.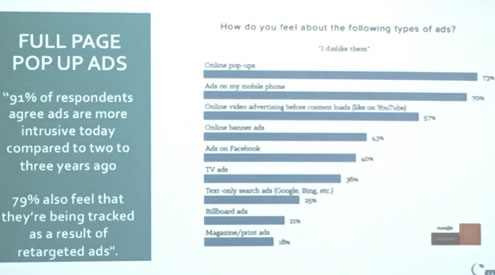 What's a retailer to do in this situation? Sparrow suggests utilizing the power of print advertisements. These are some of the astonishing numbers she mentioned in her presentation about print ads:
92% of shoppers say they prefer direct mail/ads in the mailbox for making purchasing decisions, and 70% are curious to find out what's in their mailbox.
51% of consumers prefer companies to use a combination of mail and email when communicating with them.
23% bought or ordered something as a result of receiving direct mail in the last 12 months.
This preference for print is likely due to the sheer amount of advertisements people see online every day. After being bombarded with Internet ads, print ads are a nice break from the chaos. Advertising in print can also help with visibility because they can't be blocked like online ads.
And there's another reason you shouldn't count out print: Millennials pay attention to it.
According to Sparrow's research, 77% of Millennials pay attention to direct mail and 73% pay attention to retail inserts. Only 51% and 50% pay attention to email and the Internet, respectively.
So what do Millennials want out of these print ads? Coupons. One in four Millennials want to receive coupons from in-store displays and 21% redeemed a coupon they received from an in-store display in the past 30 days. Additionally, one in five Millennials purchased something they hadn't considered purchasing before because of an in-store display.
And while these numbers are compelling, Sparrow made sure to note that your marketing strategy should blend the Internet and in-store experiences. She explained that customers who shop online and in-store are three to four times more likely to buy a product then if they just came into the store.
No matter how it may have been before, today, people will start with a product on your website. 83% of shoppers wouldn't know you existed without some kind of web presence, so you need to make sure your website is informative, easy to use and mobile-ready. It needs to have enough information that people could potentially purchase the product online without coming into your store.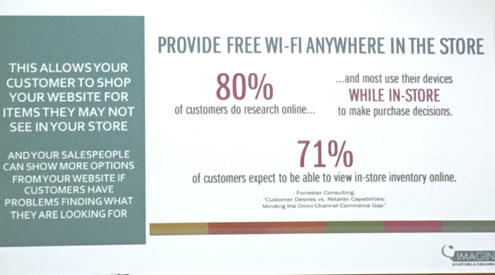 If they do come to your store, and many will when shopping for home furnishings, you need to use signage to communicate any deals, sales or specials you have going on. Stores make 15.7% more sales when they feature signs. Also offer free Wi-Fi everywhere in your store, because most people will use their devices in-store to help make purchase decisions.
The happier the consumer is with their shopping experience, the more likely they are to positively review your store, which is why Sparrow stress the importance of online reviews.
They are trusted almost as much as personal recommendations, and most people will leave reviews if you simply ask. When you get these customer reviews, make sure they are visible to consumers online through your website, social media platforms and customer review platforms like Yelp.
There's no longer a choice as to whether you need to have a prominent web presence. It's now a necessity. Blend the online experience with your in-store experience and remember that it doesn't have to be as complicated as some people make it seem.