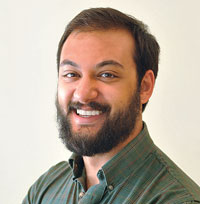 The Calm After the Storm
November 6, 2017
As Thanksgiving and Christmas near, it's important to not only remember what we're thankful for, but how we can help those who are less fortunate. There's a lot to be done in the world – from helping hurricane victims to feeding and housing the poor – and the casual industry has been hard at work this year. To showcase our industry's charitable projects, we bring you our web-only Casual Cause series.
Casual Living sent out an email calling for the category to submit their philanthropic endeavors, we received the following stories about hurricane relief efforts.
Telescope Casual
After multiple calls to national organizations and not being able to connect with anyone that would accept donations of anything but cash, Telescope Casual Marketing Coordinator Heather Paquette reached out to a former classmate who had family in a Texas shelter, and the two started brewing a plan.
Knowing that Telescope had quite a few chaise lounges they could donate, Paquette coordinated an effort to send them to Texas shelters to use as cots. They also put the word out on social media, letting local residents in Granville, N.Y., know they could contribute items to the shipment to ACTS Community Church in Deer Park, Texas.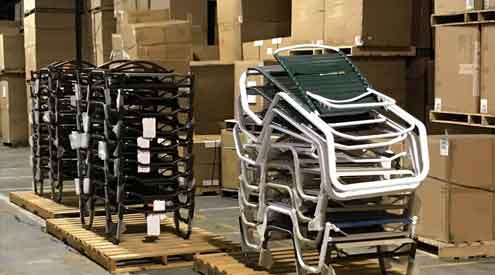 "When I spoke with Billy Bernhard, pastor of ACTS on the phone, you could hear the gladness of someone willing to help radiate through the phone," Paquette says. "You could sense the tiredness and the sadness of the amount of loss they were experiencing in Texas. It broke my heart; we needed to get them things, and fast!"
With the help of a local grocery store, one of the company's trucking partners and the surrounding community, Telescope was able to send a 53-foot tractor trailer with supplies to Texas. "We are fortunate to be a well-established manufacturer and give back where and when we can, " Paquette says. "As an organization, you don't succeed for over 115 years by not caring about your fellow man."
Pelican Reef President Allen Calzadilla is no stranger to the impact of hurricanes. Having spent much of his life in Florida and living through Hurricane Andrew, he knows that it will take time for retailers to rebuild their stores and stock them with product.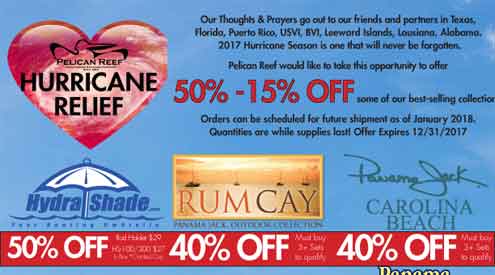 That's why Pelican Reef is offering an incentive program with discounts up to 50% off on select brands until January 1. The program is first come, first serve, and orders can be scheduled for future shipments. In an effort to help even further, the company has also donated water and key supplies to those in need.
"We want to help our friends and partners in the affected areas, especially places like St. Croix and St. Thomas who don't get a whole lot of news coverage but were also damaged severely by the hurricanes," Calzadilla says.
Bayou Classic/Barbour International
The thousands of people left without electricity or running water due to the hurricanes must rely on propane to boil water and prepare food.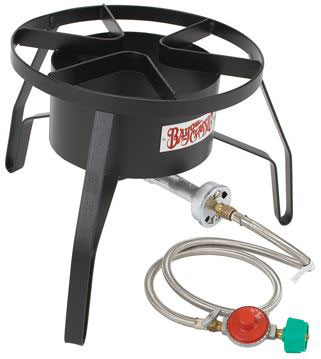 Bayou Classic sent its SP10 cookers and stock pots to aid with hurricane releif
Organizations like the Salvation Army were looking for products to help them best serve as many people as possible, and that's where Bayou Classic stepped in.
Bayou Classic is a Barbour International brand that sells a variety of cooking products. The company sent their SP10 cookers and stockpots of all sizes to the Houston area, Puerto Rico and the Key West to help provide victims with clean water and hot food.
The cookers attach to propane tanks so that water can be boiled, making it safe for drinking and bathing. The stockpots are also able to cook a variety of meals for hundreds of people at a time.
"Having grown up near the Gulf Coast, I have great empathy and respect for those who endure the wrath of hurricanes, then vigorously rebound," says Rodney Barbour, president of Barbour International. "In the midst of disaster, potable water and a warm meal are as necessary as shelter, and Bayou Classic was grateful we were able to make the jobs of volunteers and victims a little easier."
The Outdoor GreatRoom Company
Every two months, the Outdoor GreatRoom Company adopts a new cause, either donating money, volunteering individually, volunteering as a group or donating materials/supplies.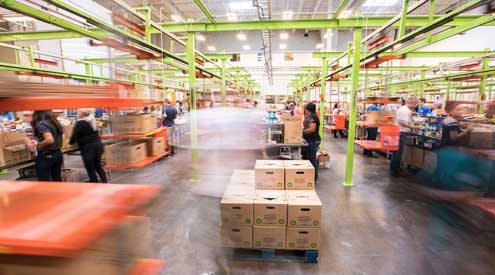 The Outdoor GreatRoom Company matched employee donations for the Houston Food Bank
When the hurricanes hit, they focused on several different forms of charity for the affected areas. First, they donated money and supplies to a local animal rescue group traveling to Houston to care for dogs in the storm-ravaged city. They also donated money to the Humane Society of the United States, an organization dedicated to protecting animals and offering them hands-on care and services.
The company also got their employees involved and matched their monetary donations. They donated these funds to the Houston Food Bank to help feed Hurricane Harvey victims.
While helping those affected by the hurricanes is a timely charitable pursuit, Hilary Reynolds, marketing communications specialist, says the company participates in philanthropy whenever they can.
"It's important for us to help out not just with emergency relief efforts but to be a good humanitarian partner locally, nationally and internationally," Reynolds says. "It's one of our corporate goals to help those in need whenever and wherever we can.
Casual Market Chicago
In the days leading up to and during Casual Market Chicago this year, Hurricanes Irma and Harvey hit Florida and Texas – two major regions for the outdoor industry. Just a few weeks later, Hurricane Maria touched down in Puerto Rico, causing unimaginable damage.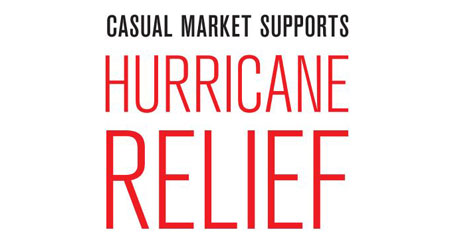 In an effort to help our casual industry friends in the affected regions, Casual Market Chicago worked together with The Mart to team up and raise money for hurricane relief.
The program allowed market attendees to text a $10 donation to the Red Cross. If they posted a picture of their contribution on social media with the hashtag #CasualCares, Casual Market and The Mart matched donations up to $5,000.