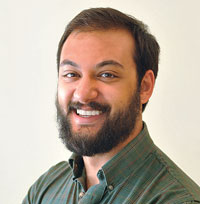 More Than Money: Kodama Zomes calm kids with sensory conditions
November 13, 2017
While many companies choose to help charities by donating time or money, few are able to donate products that help with specific medical conditions. Enter Kodama.
The company creates hanging lounge chairs called Zomes—a combination of the word "zonohedra" (a 3-D shape where every face is a polygon with point symmetry) and the word "dome." Kodama partners with several schools and organizations dedicated to children with autism and sensory processing disorder (SPD). Their Zomes serve as a calming technique.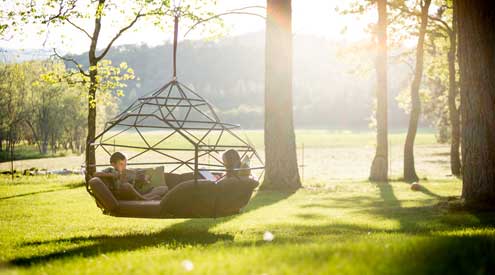 SPD is a condition in which the brain has trouble receiving and responding to sensory information. It's mostly associated with conditions such as autism and Down Syndrome, but can also apply to instances of head trauma and other degenerative conditions.
Kodama Zomes have the distinct feature of unrestricted pendulum movement, which allows for a smooth and predictable motion. Unlike trampolines or hammocks, the soft pendulum swing of the Zome does not stimulate, but rather soothes.
See related: The Calm After the Storm
Since the movement is not chaotic, the brain can predict the motion. This slow and repetitious movement helps strengthen the pathways between the inner ear and vestibular systems so that the brain can correctly interpret the shifts.
"At Victory Academy in Portland, Oregon, an accredited K-12 school dedicated to students with autism, we have donated two Zomes to the school itself and an additional Zome for their annual fundraising auction, which just raised over $600,000," says Richie Duncan, founder of Kodama. "At STAR in Denver, Colorado, we have also donated a Zome for their annual auction, as well as placed a Zome at the STAR campus."
For people with SPD, there is a disconnect between the brain and the vestibular system, which allows the brain to correctly interpret the signals of the inner ear and affects balance. The messages just don't get through. The pathways between the vestibular sensors and the brain, which communicate where the body is in space, do not function correctly.
"It was only about a week after installing the first Zome at Victory Academy that they reached out saying, 'The zome is fantastic—the kids love it and are in it all day long—can we get another one?'" Duncan says. "And so it was that we installed a second Zome for Victory. The Zomes are placed outdoors, with form-fitted usable covers for wintertime. They're used as a relaxing and centering space, and as a place to focus and calm the mind. If a student is getting agitated or is working toward an episode of frustration and chaos, the Zome has become the go-to place for tranquility, soothing and comfort."
Duncan says this cause is important to Kodama because of how seamlessly it dovetails into their products and company mission. "We chose STAR and the Victory Academy because they are forerunners in the field, and we can have a direct and major impact because of the product itself," he says. "We can donate so much more than just a set amount of time or money."