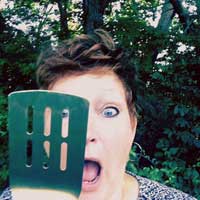 It's all about the onion
May 7, 2013
You probably know May is National BBQ Month. It turns out May also is National Vidalia Onion Month so I thought I'd pay homage to the onion in my very first Casual Grilling blog.
Colossal smothered stuffed burgers
The rain didn't stop me from giving grilled onion rings the old college try.
Who doesn't love onions? Shrek thinks they are worthy and I do, too. So I searched high and low for onion recipes and finally found one online that I wanted to tackle. Eureka! Grilled onion rings. Fun and yum, not to mention healthier than deep frying. Oh! And let's make it ALL about onions. Burgers stuffed with onions, mushrooms, and cheese topped with caramelized onions...on onion rolls.
Here's where I have to admit that I tend to be ambitious and sometimes, overly so. I think this weekend's grill meal was one of those times. Lesson learned, use the proper equipment. Knowing better, but too tired to go buy a grill griddle, I thought I could improvise. That proved to be a very bad idea. I had too much flour in the mixture and without the griddle I just had burnt, powdery onions. Naturally, one bite and they went in the trash. Good thing Doritos were available for stand-by.
My grilled onion rings were a colossal failure.
Since I had spent Saturday morning standing in the cold rain during our annual community yard-sale, the result of cold, failed grilled onion rings did little for my ego or excitement for my first blog. However, when I say I'm going to do something, by golly I do it, even if it is raining and I feel like hammered noo-noo. I will try it again and again until it is right. It is a challenge now.
The burgers were also colossal but in a good way. Deee-lish! At least that turned out well. Sunday night was nearly salvaged when my sweetie took a bite, smiled and exclaimed, "Dang, I love a stuffed burger!" He's such a good sport.
I tried, Shrek, I really tried...now, off to buy that griddle.
Colossal Smothered Stuffed Burgers
80% lean ground beef
Onion, chopped
Mushrooms, sliced
Shredded Colby-jack cheese
Grill spray
Worcestershire sauce
Garlic salt
Condiment of your choice, we like mustard. Mayo would be fine, too.
Amounts used depend on how many you are feeding. I always wing it anyhow. You really can't mess these up.
Add Worcestershire and garlic salt to ground beef to your taste and mix gently. Make your patties thinner than regular burgers so they will be cooked through and the stuffing isn't raw when it comes off the grill. You'll need two patties for each burger, one for the top and one for the bottom. Mine were around 6-inches round and 1/4 inch thick. You can make them smaller if you wish, but I like 'em big.
Generously pile mushrooms, onions and cheese (especially the cheese) on bottom burger, leaving room on the edges to seal. Top with second patty and pinch edges together then form in your hands to look like a regular burger, otherwise they will be fat, round burger balls.
Grill @ 400-425 degrees 5-8 minutes for each side on the grill to desired degree of doneness.
Sauteed Onions
Sliced onions
Pat of butter
Put in a grill-safe pan and slowly cook on low heat of your grill burner until transparent and a pretty caramel color. If you cook them on high they will burn and not caramelize.
Grilled Onion Rings
Gary House of cooking-outdoors.com made these look easy. His video shows how it is done and his look scrumptious. If you try them before I give it another shot, let me know how they turned out for you.
How to make grilled onion rings - part 1, How to make grilled onion rings - part 2.
If you know of any events or fun things going on that can be tied in with this blog, please send me an email to rwhitaker@sandowmedia.com.