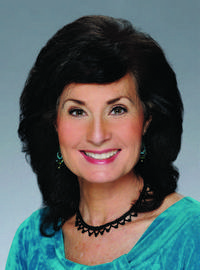 Spring Reawakens
April 10, 2013
You can expect to see wish books and catalogs of outdoor furnishings fill up mailboxes when the warmer days of spring draw closer.
Target's Patio Look Book arrived at my desk today with the words "Happy Outside" plastered across the front cover. Those crisp white words contrast with the bright red umbrella, which provides shade for a stylish young woman lounging on a neutral cushioned chaise at the edge of a pool with a pitcher of iced tea adorned with floating lemon slices.
It's a great image of the spring and summer lifestyle many Americans coveted while we endured winter's lingering grip. Inside Target's 32-page book are urban rooftop retreats, rock walled patios, a coastal enclave with dining table, grill and surf boards along with every possible outdoor accessory consumers can imagine.
In the same way, specialty retailers have set their stores for the season ahead to provide consumers with displays of products designed to foster their imagination of what their own outdoor living areas could look like. We're starting to get submissions of images from independent retailers who feel proud enough of the vignettes inside and outside their stores to compete in our annual Merchandising Awards contest. Our deadline is April 26, so please take a few high-res photos of your best-looking displays and share them.
I talked with a few of the largest full-line furniture retailers who are succeeding with outdoor furniture sales and each expressed healthy expectations for the season ahead. Relaxing and spending time with family in their yards or outdoor landscapes were two of the three top reasons more than 2,800 consumers gave in response to an online survey by PLANET, the Professional Landcare Network. Pride in their home was listed as the primary motivator by 42% of respondents and increasing or protecting their property value also won double-digit support. In fact, 81% of those with an outdoor area said its upkeep is important to the look of their home. Not surprisingly, those with children under age 18 in the household were more likely to view the yard as a place where the whole family can interact, and where children can play.
"Our members dedicate their lives to helping homeowners keep their yards and outdoor spaces healthy and inviting," PLANET CEO Sabeena Hickman said. "We're glad to see that consumers are taking pride in their well-kept landscapes and find them important areas for relaxation and quality time with family."
Consumers may also want to visit a new website, HomeGardenandHomestead.com, were they can learn about new garden products, ranging from natural personal care to vegetable seed varieties.
"It's a bit ironic that here in the Internet Age, one of the biggest trends is a desire to get closer to Mother Nature and a simpler way of life," Schultz Communications President Randall Schultz said, when launching the site. "It's a weird dichotomy of old and new - but in many ways it's simply taking the best from different eras and weaving it into a new tapestry of 21st century living."
No matter the age, blending technology with outdoor spaces encourages everyone to make time to relax, play and spend time with family and friends.