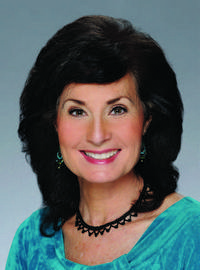 Hot sounds of summer
June 28, 2012
The summer show circuit heats up this month as temperatures climb across the nation, including at tradeshow stops in Chicago, Atlanta and Las Vegas. The shows started off strong last month with the Showtime fabric fair in High Point and the Dallas Total Home & Gift Market.
Two days before I visited Showtime in search of style trends and the latest outdoor fabric offerings, my husband Curtis made good on his recent birthday gift to me with a front row ticket to the ZZ Top concert and a backstage VIP access.
We were able to meet with this iconographic Texas-based band, which brought lowdown blues, beards and boogie to the worldwide stage. After scoring its first hit in 1974 with "La Grange," ZZ Top pumped powerful blues-based rock sounds through eight-tracks and radio then shot straight into the digital age with exposure from MTV's earliest days. Now in its fourth decade as a global musical influence, ZZ Top's Gang of Outlaws tour made it clear: Women still love a sharp dressed man.
I found out a few days later that ZZ Top guitarist Billy F. Gibbons is selling a hot and spicy BFG BBQ sauce directly to grillers through his website. Like most Texans, he says he has always been interested in BBQ. He also plans to continue to make appearances on the TV series "Bones." All of that makes me wonder whether he ever takes time to sleep.
Speaking of catching a few ZZZs, you may remember the Company Spotlight feature I wrote about Zuo Modern for our April issue. Zuo opened its permanent showroom in Chicago's Merchandise Mart last July, and added another one in Atlanta this month to show off the most transitional part of its line with a twist of modern along with its outdoor and lighting products.
In this issue, we're featuring Z-Line Designs, another company near the alphabet's end that has found better than expected results from the outdoor furniture division it launched last year. Quite a few major indoor furniture dealers have found Z-Line's outdoor furnishings to be a safety net for extending their product categories outside the traditional home. Founder and CEO Jim Sexton, who built his business by responding to consumer trends in home office and home entertainment furnishings, said he expects to see more growth in the outdoor furniture niche as people spend time in their backyard rather than endure the current hassles of commercial airfare.
In addition to drawing on its audience of full-line furniture dealers, Z-Line Designs is capitalizing on the experience of Senior VP of Casual Furniture Mark Gorr, formerly of Tropitone Furniture, and on its branding connections with NASCAR.
Brown Jordan's new Chief Branding Officer Steve Elton is also focused on inspiring consumers with the power of its brand. For the first time in several years, Brown Jordan will actively introduce products at this month's Preview Show. For a second consecutive year, it will offer more attainable choices for younger consumers through an expanded offering of Woven Advantage products.
Those of you traveling to Chicago or Atlanta markets this month will have front row seats to catch the excitement in showrooms filled with new furnishings to create sharp dressed outdoor rooms. Cheap sunglasses not required.